Governor John Carney was reflective Friday during his bi-weekly update on Delaware's response to the novel coronavirus COVID-19 pandemic, citing the state's response to crisis will likely be discussed in the future as adversity overcome. 
"We should all take some time this weekend to remember those heroes of days and years gone by," Carney said. "I think about that and my own parents who grew up during the Depression, lived through World War II, the Cold War, confronted so many things--they and their generation--that affected our country and have always come out on the other side, better off than before. And as I think about our challenges of this COVID-19 pandemic, it will probably go down in history as one of those things that our generation had to confront, and I'm pleased to continue to report that Delawareans are doing their part."
Carney's efforts to begin the "reopening" of Delaware begin during the coming holiday weekend, and continue through on June 1, which is still currently the milestone being targeted for the First State to enter Phase I of the process to reintroduce normal life activities. But he warned it's not a time to let jubilation setback the benefits of the efforts taken so far.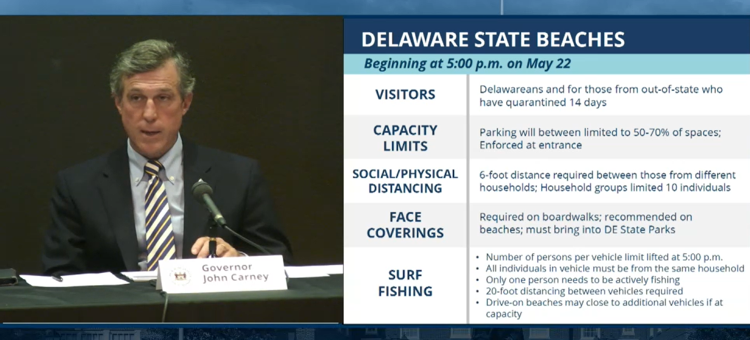 "I want to start by thanking every Delaware in for pitching in over the last 11 weeks; for following the restrictions and the orders, by-and-large, across our state," he said. "Folks have done that and, as a result, we've been able to prevent the spread from overcoming our hospital systems. We've prevented this spread from taking over whole communities.[Those efforts are] enabling us now as we go through this Memorial Day Weekend to...continue the reopening process that began a couple weeks ago. This is a critical time for us, so it's not a time to relax and to forget about everything that we've done over the last 11 weeks. Actually, it's a time for us to redouble our efforts; to make sure that we're being safe; that we're observing guidance around social distancing, restrictions on our beaches--although the beaches will be open--restrictions of lots of various activity with respect to gatherings."
While those locations will be open and certain efforts ill be relaxed, Carney said he's been doing what he can to call in favors to keep people indoors anyway. 
"We would hope that everybody has an enjoyable weekend," he said. "I apologize, I've been praying for rain, and it's raining out there today, so that, I think, will help us keep the crowds down--and I say that only half-facetiously."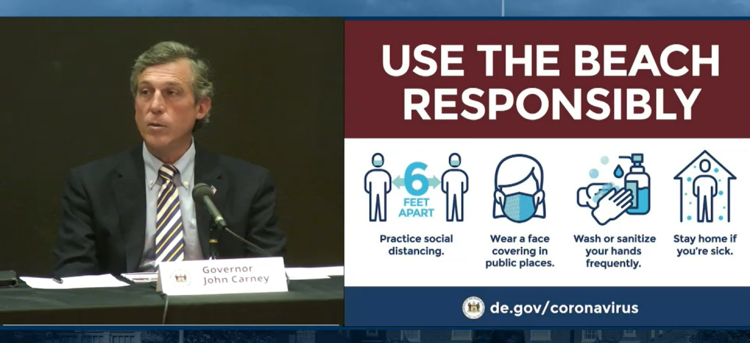 Carney again cited hospitalizations as the litmus test used for the condition of Delaware as a whole amid the pandemic, citing it as the one steady constant which can be pointed at in any given moment to get a sense of how healthy or ill the population is, as that's a number, despite the fluctuations in testing and results based on what communities are seeing focused efforts.
"The most important indicator that we look at is the hospitalization rate," he said. "At 221--it was static for a couple of days at 220, and it's way down, 25% or more from its peak at 337 about a month ago--it's really that indicator that gives us some level of confidence that we can continue to move on a gradual basis and reopen sectors of our economy."
He reminded Delawareans of many of the recent updates over the past week as they prepare for the unofficial start to summer: restaurants will be able to apply for outdoor seating to permit greater access to services for those looking to safely get out of the house, beaches will be open but limited to Delaware residents and parking restrictions will be in place to try and keep crowd sizes down, and masks will be required on boardwalks and recommended on beaches, places of worship--which were never shut down completely--have been offered guidance on how to safely host services again, community pools will be opening up.  
Particularly, he thanked small business owners, many of whom will be able to begin reopening and taking customers on an appointment-basis or provide curbside services, but ho have made a huge sacrifice over the last two or three months for the safety of the community. 
"Some of the stay at home restrictions that have been in place now for several weeks," he said. "I understand people are tired of staying at home and tired of not getting out and to the way life was, and people made big sacrifices, I hear every day from business owners, in particular small businesses and workers not have been able to go to work, not been able to get revenue, who have paid a big price, frankly, so that the rest of us can be safe. And going forward we all need to thank them, going when they're open appropriately to business safely. Go back so...they can support themselves and their family."
Contact tracing was largely the focus of Director for the Division of Public Health Karyl Rattay, who's been discussing that topic for several weeks now. Her main takeaway was that the program's expanding, an applications will be up online for Delawareans to apply for those positions as the effort gets into full-swing.
"We are super excited and grateful to the Delaware National Guard. We now have 105 guardsmen and women who have been trained and are doing contract tracing," she said. "This is allowing us to keep up with contact tracing at this point, but we know that the guard is a temporary support for us. And so, as we've talked about before, we're working with an overseer to stand up the contact tracing system that will be in place for about 18 months, and we're very excited that [Friday, May 22, 2020] at 5 p.m., contract tracing position applications will be available."
An emphasis will be placed on hiring Delawareans, and those interested can begin the process here at the NORC website's careers page. NORC is the organization with whom Delaware has partnered to build its contact tracing infrastructure.
She also sought to assuage people's ears over the process, and there's been concern, she said, over how the data and information collected will be used. 
"We know that there's people who have concerns about this, concerns that individuals may have about their personal information," Rattay said. "So we want to make sure that people know that your personal information is not going to be shared. Let's say you end up being somebody who's positive for COVID-19. The case investigator will talk to you, and they'll find out who your contacts are--which means somebody that you've spent 10 minutes or more with, at a distance of less than six feet--You'll let them know who your contacts are, information about those contacts. But contact tracers will not be sharing any information about you have had contact with, [or] any personal information about what was the incident in which they may have been exposed. So they're not going to be able to track this exposure to you, unless you tell [the traced individual] that you were positive...We just want to make sure that everyone knows that it is very important, as we roll this out, that we're protecting everyone's health, and everybody's personal health information."
She also mentioned the $67 million grant Delaware would receive for epidemiology and lab capacity.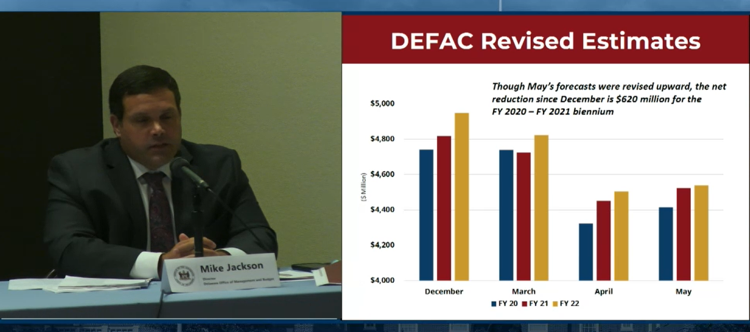 In discussing the state's looming financial forecast, Mike Jackson, Director for Office of Management and Budget, touched on the need to work closely with New Castle County specifically, as it fell under guidelines set by the federal government for aid to be designated specifically for its region. 
"The state did receive funding in the amount of $1.25. billion in what is called the Coronavirus Relief Fund and that was funding that comes to Delaware that is intended to be able to help us, as a state, be able to cover costs that are related to the pandemic that are beyond our current Fiscal Year 2020 budget. So it has been a tremendous help for us as state to be able to meet the demands, but also be able to deal with and address some of our own revenue shortfalls," Jackson said. "The funding itself, when it came to Delaware, came with a provision--not just for Delaware, but for states all across the country--that any local government that has a population greater than 500,000 would be able to apply directly for a portion of the state's allocation. It's based on a formula that is set in the actual federal legislation and New Castle County...is the one entity within Delaware, [the one] local entity, that has a population that exceeds 500,000, and as such, certified and made an application to...the U.S. Treasury for it's share of funding, which it has received."
New Castle County's slice of the pie lopped off roughly a quarter of what Delaware's state Government would receive: $322.8 million.
"Which is a significant amount for the county. I believe it's close to over 100% of their combined general operating budget, as well as their water and sewer budget. For us, as a state, our direct allocation was $927.2 million, which represents approximately 20% of our budget."