The hottest temperatures in years descended on Delaware this weekend, bringing stifling heat and oppressive humidity to the area.
An NBC10 First Alert for extreme heat continued Sunday for the entire region. The National Weather Service has also issued an excessive heat warning for all neighborhoods.
The day prior, Atlantic City, New Jersey, broke a heat record when temperatures hit 99 degrees. The previous record for that date was 97 degrees, according to the National Weather Service.
How Hot Will It Get?
The forecasted high Sunday is 100. The last time we saw these highs in Philadelphia was in 2012. In 2011, we also saw two 100 degree days.
This year we've experienced 14 days at 90 degrees so far, but that's nowhere near the record high in 2010. That year, we had 55 days at 90 or higher.
The average temperature for this time of year is 87 degrees, so we are well above average into early next week.
The Most Dangerous Time to Be Outdoors
Plan for time indoors using the air-conditioning or a fan with the windows open, check on neighbors and the elderly, use special care for pets and check the coolant levels in your car.
Also, don't forget to wear sunscreen and reapply it every couple of hours.y 
The hottest temps will occur from noon to 6 p.m. Isolated storms and tropical downpours could pop-up, but look unlikely, and power outages could occur Sunday.
The City of Philadelphia issued its first heat health emergency of the summer, joining other area communities, including Camden, Mercer and Montgomery counties and Wilmington, in launching initiatives for helping people more susceptible to the heat.
"We strongly urge the public to visit older friends, relatives and neighbors to ensure that air conditioners or fans are working and homes are adequately ventilated," Philly Health Commissioner Dr. Thomas Farley said.
"In a heat wave, the majority of the victims are older people and those with preexisting medical conditions."
The National Weather Service said that heat is responsible for more deaths each year than any other weather event.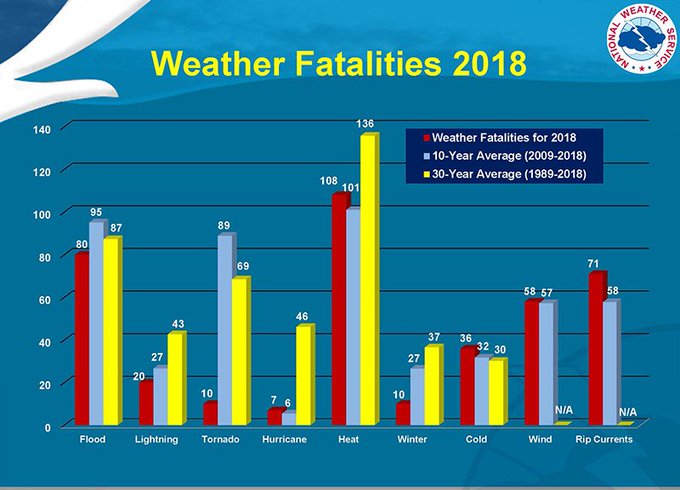 Where (Besides in an Air-Conditioned Room) You Could Get Some Relief From the Heat
The only place where you might get some relief from the heat is at the beach, where the strong sun will still pose its own risk.
Limit your time outdoors, make plans to spend time indoors as much as possible and check on neighbors to make sure they are OK during the heat wave. Take special care for pets, too.
The heat follows a couple of steamy days that also featured storms packing downpours and localized flooding.
The Weekend (and Beyond) Forecast
SUNDAY: Mostly sunny, hot and humid. High nearing 100. Feels like 110 to 115
MONDAY: Hot and humid with scattered thunderstorms likely. High in the upper 80s.