New Castle County Councilman Penrose Hollins slammed police unions for their endorsement of President Donald Trump, saying communities of color should be alarmed.
"I was really taken aback," he said at the end of county council's meeting Tuesday night. "In my opinion, their endorsement speaks volumes to the character and mindset to the New Castle County Police."
State Lodge chairman Fred Calhoun confirmed the Delaware FOP's endorsement to WDEL last week and said that groups that represent the Wilmington Police Department, New Castle County Police, Amtrak Police, Sussex County Lodge, and DRBA Police also voted to support Trump. He noted they received a "thank you" directly from the commander-in chief, but didn't comment further.
Hollins said he cannot support President Trump's idea of "law and order."
"In 1989, during the trial of the Central Park Five, consisting of Black and Hispanic teenage boys, Donald Trump spent $85,000 placing full-page ads in four newspapers to bring back the death penalty and to bring back, as he says, 'our police.' He also proclaimed during that time that hate may be necessary to achieve his idea of law and order."
Hollins said, to this day, Trump's record continues to appall him. 
"President's Trump's brand of law and order separates migrant children from their families and places them in cages on our southern borders. He has undermined DACA; he as characterized African-American nations in the most despicable terms. We have seen the president's brand of law and order laid out in Charlottesville during the 'Unite the Right' rally in 2017...the president's response was 'there were good people on both sides.'"
Despite it all, Hollins noted the Delaware FOP said publicly that its endorsement of Trump was "a matter of life and death."
"It seems to me, the president's value of life is based on political persuasion and skin tone," said Hollins.
As a result of the endorsement, Hollins said he wants off the public safety committee.
"I have no choice, but to remove myself from any future public safety committee hearings, meetings, and I will not continue to support the right-wing ideology of selective law and order, which too often and most often, tramples on the civil rights of minority populations."
"With all that's on the record...our police departments decided to endorse him; they decided to degrade Democrats, claiming that Democrats have turned their backs," he said. "We live in a state, where the Delaware General Assembly is controlled by Democrats. We also live in a state where we have the policeman's bill of rights; we have, perhaps, the most protective bill of rights for police officers...than any other state in this nation. So for me to read what our police department has done is very telling, is very selfish, and it's very self-centered to suggest that Vice President Biden did not come to them, so they decided to support Pres. Donald Trump, which is their right, and it's also my right and my legislative privilege not to further engage with this department in committee meetings or any form of support."
Councilman Dave Carter said he, too, was shocked by the FOP's endorsement.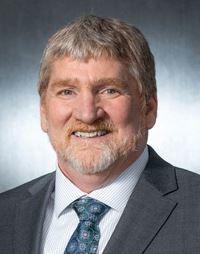 "It does give me great concern...we're in a whirlwind with a lot of social unrest, a lot of inequities that we've now seen the scab pulled off in society, because I felt this was throwing gas on a fire; you need to stay neutral in these times; you need to be fair and equitable," said Carter.
Carter cautioned, though, he hadn't spoken directly with New Castle County Police Chief Col. Vaughn Bond on the issue. 
"I certainly hope that Col. Bond and the command staff will point out where they stand as merit, government employees versus where the FOP is. I hope they will be very different here, very neutral, and very fair. We are in a tough time with tough issues, systemic racist issues, granted the police is taking a hard-hit for that because they're on the bottom end, and there are some problems," he said. "We need to deal with this, and quite frankly, this is not helpful. We need to deescalate this issue, work out these differences in society, and improve them."
Col. Bond noted while he had no involvement in the New Castle County Police union's vote to support Trump and their vote doesn't represent all officers' opinions.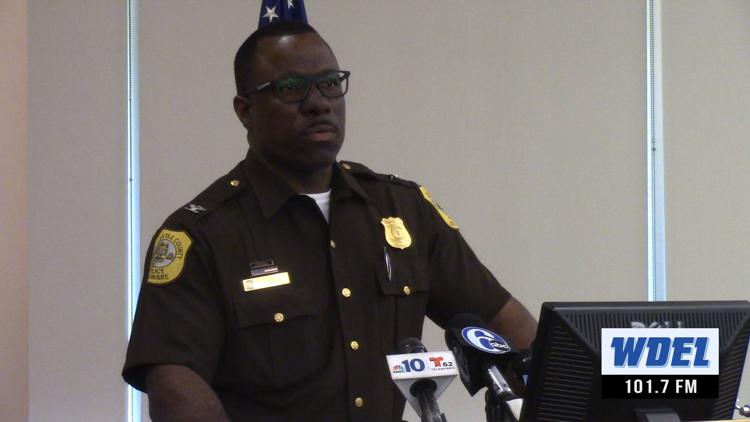 "I know first-hand many New Castle County police officers who are not in favor of what took place and are extremely upset about it, so I just wanted to put that out there because I don't feel it's appropriate to believe that every New Castle County Police officer is in agreement with what took place," said Bond.
Councilwoman Janet Kilpatrick echoed her fellow council persons who spoke out against the FOP's endorsement, saying she was shocked the police union would intertwine the badge with national politics.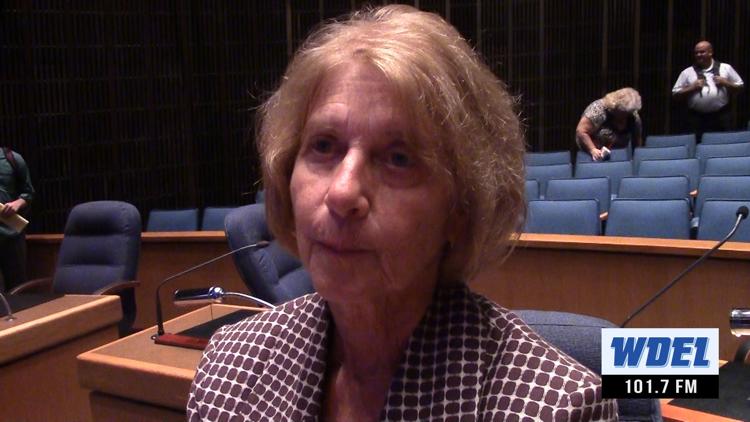 "You can't take a picture with a cop in a uniform because it might look like they endorse you, so I do have to say that I was very, very surprised that that came out and how it came," she said.
Councilman Jea Street said he concurred "wholeheartedly" with everything Hollins said.
"Initially I was angry, but not surprised because it's absolutely consistent with the response I got from leadership at the time in the police department on August 9, 2012, when a young man was shot in the back of the head by one of our police officers, and the response I got was: 'All I can tell you is it ain't a good day to mess with a county cop,'" said Street.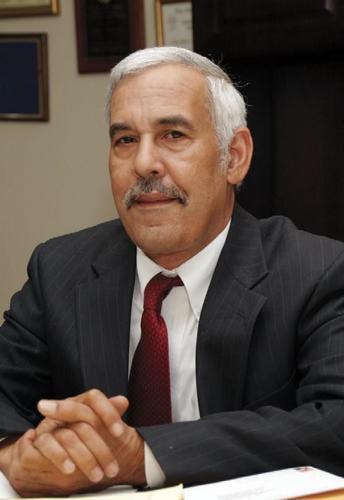 But Street said he's actually glad the FOP came out.
"Let's be crystal clear, it's not just the county police, state police, Wilmington Police, Delaware River & Bay Authority--well I'm glad--because this administration has brought the die-hard, dedicated racists out of the woodwork, and the FOP that signed off on this has made it crystal clear now who they stand with and how they stand, and they make it crystal clear that they want to continue their business as usual, that they're going to continue to fight police reform efforts...now it's exposed, it's crystal clear."
Street added, he too, wants off the public safety committee.
"I would like for you to do everything you can to help me get the hell off the public safety committee because I will no longer fight for the FOP...when they stand for what they stand for, what they made clear over the weekend, I don't want to be a part of it....things are going to get worse before they get better and why don't you consider changing the name of the public safety committee--at least it relates to Black people and the police--that it's the 'public jeopardy committee,'" Street said.
WDEL has reached out to the New Castle County Fraternal Order of Police for comment.