Interstate 95 northbound was closed for more than 10 hours, and parts of New Castle County were put under a shelter-in-place order, as the result of a crash on Tuesday, June 8, 2021.
The 5:30 a.m. wreck, just before the Route 141 interchange, involved a tractor-trailer and a pick-up truck hauling a trailer which was carrying organic peroxide, which is considered a hazardous material.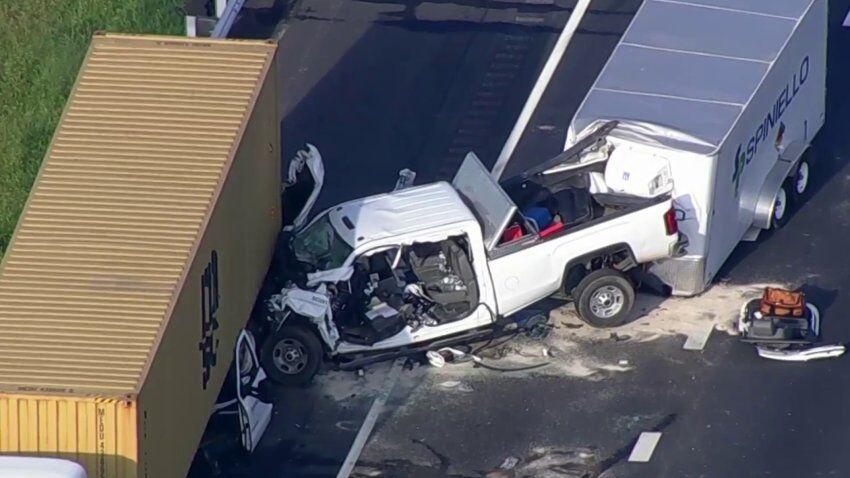 The Delaware Department of Natural Resources and Environmental Control (DNREC) said the pick-up truck hauling the hazardous material struck the tractor-trailer that was disabled in the right-shoulder.
The driver of the pick-up truck was trapped in his vehicle for nearly 45 minutes before being extricated by firefighters from Minquas of Newport and Christiana fire companies.
The 53-year old driver was then treated by New Castle County paramedics and taken to Christiana Hospital in serious condition.
Due to the volatility of the organic peroxide, I-95 southbound was shut down just before 8 a.m. while officials evaluated how to properly handle the situation.
Due to the fact the load was compromised, DNREC determined the best course of action would be to burn the material off.
That operation began around 1 p.m. and lasted about an hour.
During the burn off a shelter in place order was issued for anyone within a half-mile of the crash scene.
Delaware Department of Transportation (DelDOT) officials said the burn off also damaged a 35-foot long section of two lanes and the shoulder.
After the wreckage was cleared, contractors moved in to make repairs.
I-95 southbound was reopened after a seven hour closure, and two lanes of I-95 northbound were reopened after more than ten hours.
DELDOT says they will have to completely replace the pavement of the two right lanes that burned in the fire, they hope to have all lanes open by Wednesday morning's commute.
There were no additional injuries reported due to the hazmat situation.
Delaware State Police are investigating the crash.