It was a formality that marked a historic day for Delaware.
Delaware's three Electoral College members, former state Democratic Party Chairman John Daniello, who served as chairman of the Electoral Delegation, Marla Blunt-Carter, and Marie Mayor cast their ballots for President-elect Joe Biden and Vice President-elect Kamala Harris inside Memorial Hall Gymnasium at Delaware State University in Dover.
Secretary of State Jeff Bullock, who oversaw the process, congratulated the Delaware Department of Elections for a smooth and successful election, rising to the challenge of conducting the 2020 election during the coronavirus pandemic, which for the first time, led to millions of Americans casting their ballots by mail.
"Fair elections are nothing to be taken for granted, and we have watched as many of you put the interests of our country above all else to ensure the fairness and accuracy of this election," he said. "You are the true patriots of 2020 and all Americans owe you their gratitude."
Bullock wished the Biden and Harris administration the courage and judgment to lead the U.S. through this "long dark winter" and sow the nation's wounds for prosperity.
"As Delawareans, we cannot be more proud to send one of our own to lead this nation. We do so at an unprecedented time in country's history. The combined challenges of the pandemic, economic uncertainty, and the struggle for social, economic, and environmental justice are a test for even the greatest nation in the world," he said. 
Blunt-Carter called it an "amazing" day. 
"To be able to vote for Delaware's own Joe Biden to be the President of the United States is such an honor," she said. "It's also an honor to sign my name and to cast a vote for Vice President-elect Kamala Harris--the first woman to serve as vice president and the first person of color--and to do that at Delaware State University, our HBCU, it really moves me," she said.
Blunt-Carter also spoke of the significance of signing her name to historic documents after a time when she could not even hold a pen.
"To sign my name, it signified so much because if I can come back from a stroke, I know this country under the leadership of Joe Biden and Kamala Harris can come back from this very dark time."
Mayor also remarked on the 100th anniversary of women's suffrage.
"I want to thank the many women in America, especially African-American woman who not only voted, but they also voted many other Americans on how to register and how to vote in 2020," she said. 
Daniello recalled the first time he met Joe Biden nearly a half-century ago. Then, Biden was a young man, who Daniello was asking to run for local office - New Castle County Council.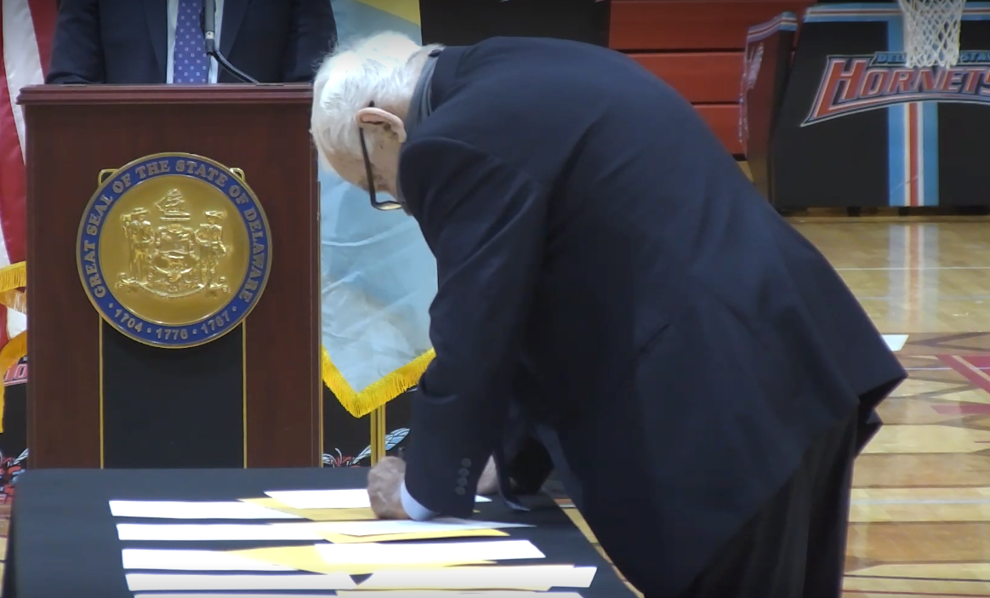 "The young man explained to me that his interest really was constitutional law and foreign affairs, and he gave me an argument, but with the help of his wife, we convinced him to run for office," he said.
Two months later, he said Biden asked him to go out to lunch to tell him he was running for U.S. Senate.
"Over the last four years, this country has been so divided. We have on both sides, radicals on the left and the right, calling for the abolition of the Constitution," he said. "I know that the man we elected president will uphold that Constitution and get us back on the road of law."
Biden and Harris are expected to receive 306 electoral votes compared to President Trump's 232 electoral votes.