Ray Parsons comes running from the door of her Middletown home with a big smile on her face, wearing an Eagles Jersey; she's got a SpongeBob slipper on one foot and a sandal on the other -- "that's Ray" her family affectionately says.
She instantly wants to hold my hand and get me ice cream on what was a sweltering day. Her favorite is the traditional ice cream sandwich, so it's what I have too.
Ray, 22, spends her summers working on her very own ice cream truck--Rachael's Special Sweets--a sparkly pink and purple truck with minions painted on it.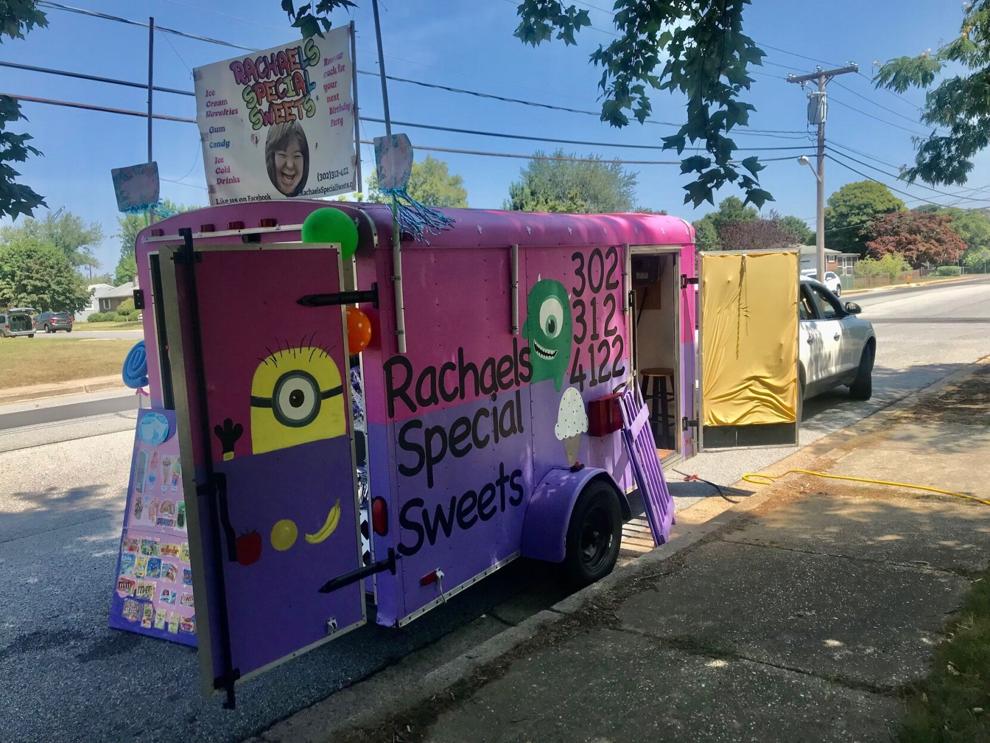 Her Aunt B is proud.
"The interaction with the other kids that are special needs like her, she lights up, she hugs them, and says hello," said Brenda Bourke. "It just warms my heart, and mom and I--she's tearing up--we have our moments. To see Ray, all of a sudden she'll be sitting there when we're out an event, and she'll just all of a sudden get up and help mom handing out the ice cream. She may only do one or two, but she always at least does it once while we're at an event. And then she always goes out, and she wants her picture taken with everybody, and we yell: 'ICE CREAM!'"
Ray's mother Jeannie Messing came up with the idea after seeing her own daughter's face light up every time she heard the familiar sounds of the ice cream truck coming through the neighborhood. 
"We got a used ambulance from the junkyard and turned it into an ice cream truck," said Messing.
In March, they upgraded to a full-grade ice cream truck, that some day they hope to turn into a food truck. They sell prepackaged ice cream that includes summer favorites like the Chipwich, Strawberry Shortcake, Creamsicles, and of course, the ice cream sandwich. 
"We've been busy all summer," said Messing. "Every year, we get busier and busier."
Rachael's Special Sweets shows up at various events blasting Ray's favorite tunes -- not traditional ice cream truck music -- but songs you can dance to think: Bruno Mars' Uptown Funk, Macklemore's Thrift Shop, and Imagine Dragons' Thunder. This summer they hit Mt. Pleasant High School's prom, an adoption party, graduations, and day camps. They hope to be at a few fall football games too and will make an appearance at the Delaware Down Syndrome Walk in Middletown on September 18th. The duo also caters birthdays, family reunions, office parties, and all kinds of events.
Plus, it was something the mother and daughter could do together, which became much-needed as Ray got older and finished school.
"She's a creature of habit, she just sat in her room all the time, she didn't want to go anywhere. I had to get her out and try to generate an income to keep her mentally motivated," said Messing. "This is something that we can do together that she likes to do, and she loves to meet the people, the kids, she loves to meet the kids. This was something we could do together, with little start-up, that we can do until we retire because it's our job, and it's our business."
This family affair is both emotional and rewarding.
"I come up to the counter like a customer, and she got everything I wanted, and I just bawled my eyes out," said Messing. "When she wants to come out and she helps with us, I think it's emotional to see her do something other than paly in her room."
But the ice cream truck does a lot for Messing's mental well-being too.
"Us moms, caring for kids that need 24/7, no matter whether it's Down Syndrome or any kind of mental or physical condition wears on us. We get stuck in that job as the caregiver, stuck in the house, stuck, almost kind of feel no help--get depressed--and knowing that she has this to look forward to , and I have this to look forward to gets us excited," said Messing.
"Who comes up to an ice cream truck that doesn't smile, you know what I'm saying? This is the best job for us."
Messing said a small business like theirs requires very little start-up capital, and she hopes this story--their story--inspires other families with children with disabilities to follow in their footsteps.
"Because of [Ray's] special needs, she has been robbed of a lot of the things that normal kids do. But this gives her the opportunity to make a difference, to be in the community, and give back," said Aunt B.
"I'd like to see other kids--maybe as functional or higher--be able to do this. It makes you feel good when you look outside--look there's my ice cream truck, there's our business, that's what we do," Messing said proudly. "Even if it wasn't Rachael's Special Sweets, let's get a fleet of 'em out there with kids all over the state of Delaware."