Carrcroft Elementary School Principal Mark Overly was livestreaming to all his students in all of their classrooms Tuesday morning, with a head of hair that had been growing unaltered for about 18 months, a promise he'd made to them at the start of the pandemic. 
"When we shut down in 2019, obviously, that was pretty traumatic and very different for all of us. And so I kind of made a joke about it, that I won't cut my hair until all the kids come back," Overly said. "Fast forward, now it's 2021. Today's the first official day for all of our kindergarteners and first through fifth graders coming back. And so now, it's time to cut all the hair off."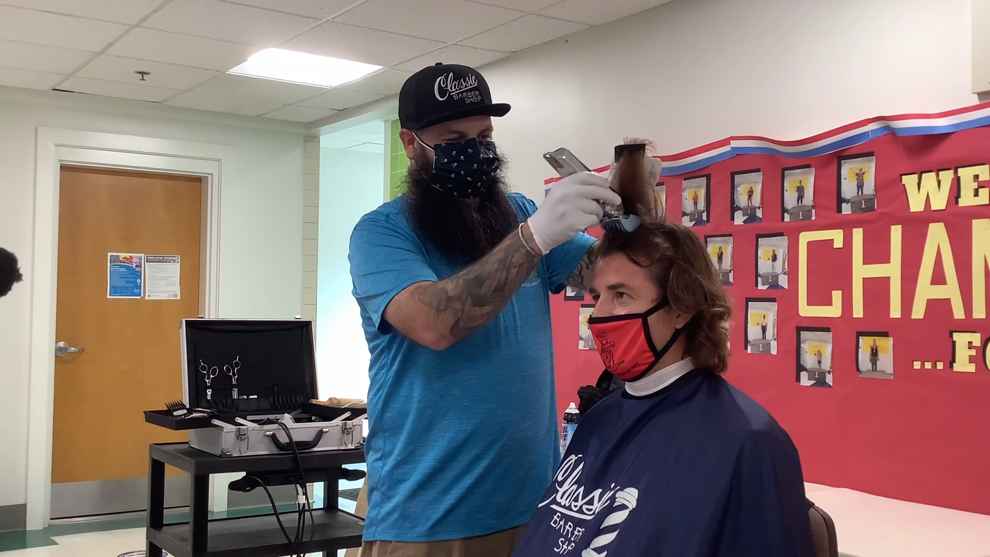 Joined by Wilmington's Casey Newman of Classic Barber Shop with 18 years in the profession under his belt, and Crofty the Carrcroft crocodile, Overly sat calmly and watched as a year-and-a-half's worth of locks littered the floor over the course of 20 minutes. 
He said it started just as a way to visualize the passage of time while they were kept apart to keep each other safe. 
"How I looked at it was, something exciting to keep going until we can get all of our kids back in school. So we're super excited to have all of our kids here today at Carrcroft," he said, adding this was a rare look for him. "Once in high school [I grew it out], but never this long before, so it's been interesting. It's been a really fun experience. But it definitely is different than having really short hair."
While it's been fun and he's enjoyed the different experiences the long hair has allowed, like letting his daughter braid it, he said his wife was also looking forward to seeing it gone as well. Overly said it was an interesting experience because they didn't realize at the beginning for just how long the pandemic would drag. 
"We thought it'd be pretty quick end to the pandemic, and hopefully to get kids back in. And it was kind of a tease last year too, because we were able to get most of our kids back here, but not all the kids," he said. "It is very emotional to have all the kids back, because we need kids back in school. I mean, teachers love interacting with the kids. I love being in front of them. Zoom was a great way to interact, but this is this is the best way to teach kids."
For his part, Newman, whose wife is friends with a PTA member and has seen Overly in the shop previously with his children, said it wasn't the worst hair he'd seen since life started moving back to a greater sense of normalcy. 
"You should see some of the hair that we've done since everybody's been back," Newman said. "It's been people with some long hair, and some messed up hair."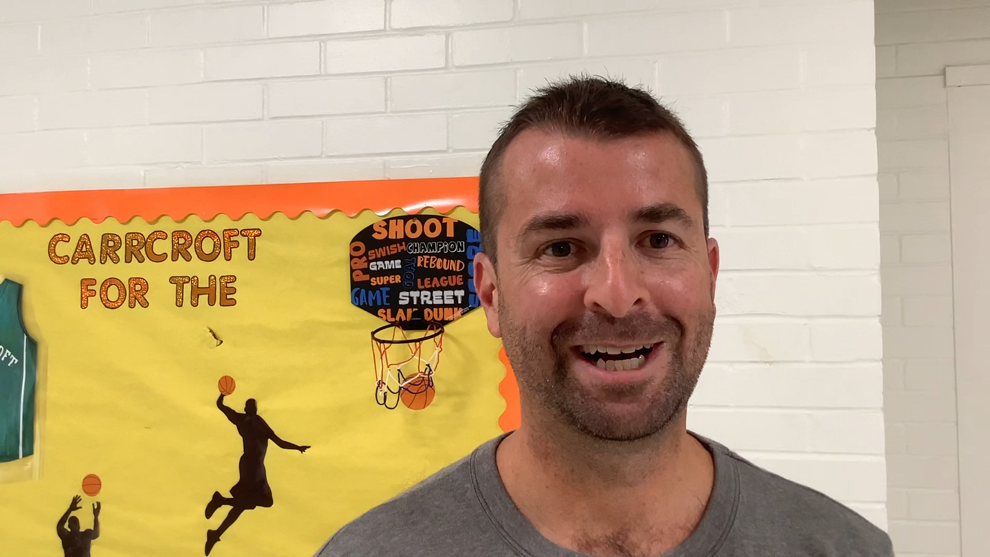 After it was all over, Overly said he felt a little lighter, but expressed that it was slightly emotional to let go of such a visual representation of the time that's passed since they were all last together. 
"I was definitely a little anxious, and it's been a while since I've sat and gotten my hair cut. I have sensitive ears, too, so I was a little nervous about that. [Newman] did an amazing job. Plus, I really liked having long hair, it's been interesting, but I am excited to get back to short hair," he said. "I feel really light. I can sense it. I can't really see it right now, but I can sense that it's gone...especially when I see it all over the floor."
It will also let him get a few extra minutes of sleep each day, he said. 
"Well, I like just being able to kind of roll out of bed and just go. I felt with long hair, I'd use some product to make it look good, keep it out of my my eyes," Overly said. "I think I'll be able to be a little bit more efficient getting out of bed and getting moving in the morning."