For many travelers, the idea of hanging in an airport lounge appears out of reach and reserved only for frequent fliers, or business and first class travelers.
So instead, you're stuck with everyone else--with expensive, subpar food, nowhere to charge your phone, and small waiting areas where fliers think their bag deserves its own seat.
But this week's JetSet is here to inform you: no matter how often you travel, these lounges are not just for the elite.
"Maybe you're going on a really special trip, and you want to start it with champagne, or maybe you have a really grueling layover, and it would be great to take a shower in-between," said Rosie Spinks, a frequent traveler and London-based lifestyle and travel reporter with Quartz. "In those cases, there are plenty of lounges that you can buy access to on the day, and they're certainly not in the realm of business class ticket costs, so that can be a really good option."
Spinks said buying access to an airport lounge can actually be a "good deal."
"I would say generally at a major international airport...you're looking around $30 to $60 or so per visit. Many of those, keep in mind, will have food or alcohol or other amenities that are included in that cost. Often, they'll have spa treatments--that's not included in the cost--but certainly, showers, Wifi, that kind of thing is the stuff you can expect to get access too.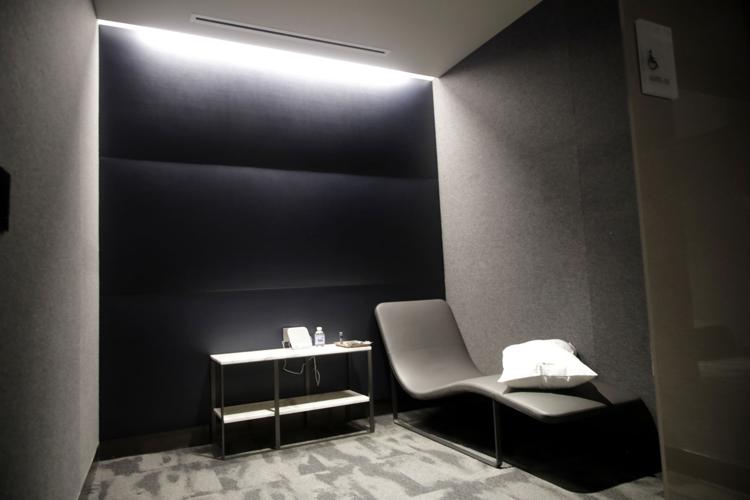 She also recommends downloading the LoungeBuddy app to stake out reviews and amenities of different lounges in various airports.
"Big airports tend to have multiple lounges so you'll want to do a little bit of research around which one suits your needs. If you're like me, you probably end up spending anywhere from $20 to $30 in an airport just buying, maybe, a beer and a snack or some sort of last-minute thing to eat on the plane. So in this case, you're sort of paying for that with your annual fee for the credit card because you'll find yourself buying less stuff if you have lounge access."
But Spinks cautions--don't expect to just show up, pay, and get in.
"If you're flying out of a busy airport at a busy time, you may find that it's booked up. If you definitely know that you're going to want that, it's worth trying to book online, and you can do that directly through the lounge's website...or you can also book through things like LoungeBuddy."
One way to get access to an entire network of airport lounges is to join Priority Pass.
"A lot of people get Priority Pass via their credit cards, so if you have a points rewards travel credit card something like an American Express Platinum Card or a Chase Sapphire Reserve card, you may already have access to Priority Pass. So this grants you permission to access a huge network of lounges all around the world, and you can get it for free with this card. Some cards have lesser access--so you might get two or three free visits a year...so if you're looking to sign up for a new travel credit card, its' worth seeing if Priority Pass is an option"
You can also just pay for Priority Pass, but the annual fee may be similar to the annual free on a prestige credit card. Cards like Chase Sapphire Reserve come with a hefty $450 annual feel attached to them, but in exchange, you get "free" Priority Pass access, and also a $300 annual travel credit as well as a refund of TSA Pre✓or Global Entry fees. So balance the cost of those benefits with the annual fee--and that annual fee turns out to be $150, which is a lot less daunting.
"So you might as well have the credit card, get the perks that that offers, as well as have the Priority Pass membership."
Another way to get lounge access?
"You can get lounge access via your status or your class of travel, so this is more for kind of an advanced traveler, but if you're traveling a lot with one of the big three airline alliances--OneWorld, SkyTeam or Star Alliance--or an airline that you fly with very often, and you have status with that airline, you can often get lounge access via your status with that airline or that alliance and any airline credit card you might have with them. That's a little more complicated because it can also sometimes be based on your class of travel and where you're flying out of, but that's definitely something to look into." she said. "And then, of course, if you're flying business or first class, that tends to come with lounge access."
Now, there's two types of travelers: those who get there super early and those who like to race to the gate because spending any more time than necessary in the airport just isn't ideal. Airport lounge access can convert those late arrivals to early birds right quick. Think of it like this--it's like starting vacation early or at the very least starting it off-right.
"I found that I like getting there early, and then I add this aspect to the routine, so I can sort of make the pre-flight experience calming, even, because I know I'm going to have space to sort of charge my phone, maybe have a glass of champagne, while I clean out my Inbox, and that makes the whole process, I think, a lot better than rushing and getting to the gate last-minute or getting there so early and spending an hour sitting in a cramped departures gate lounge."