It's the most wonderful travel time of the year...if by wonderful they mean, chaotic, stressful, and crowded on the roadways and in our airports.
Next week includes several of the busiest travel days of the year, and this year, Delawareans can expect the Thanksgiving holiday from to be busier than it's been in the past decade with AAA projecting more than 54 million Americans are going to travel this Thanksgiving holiday.
"Most of the majority [will travel] 50 miles away or more from home, and preferred mode of travel is going to be by auto," said Suzanne Aresco, Director of Travel of AAA
Attributing to the rise in travel, some of the lowest gas prices we've seen in recent years and higher consumer confidence levels.
"The economy is good, at the moment, and so there's higher wages, there's more disposable income, and you could say there's a rising level of household wealth, and that translates to more people taking off the holiday season with a Thanksgiving getaway," said Aresco.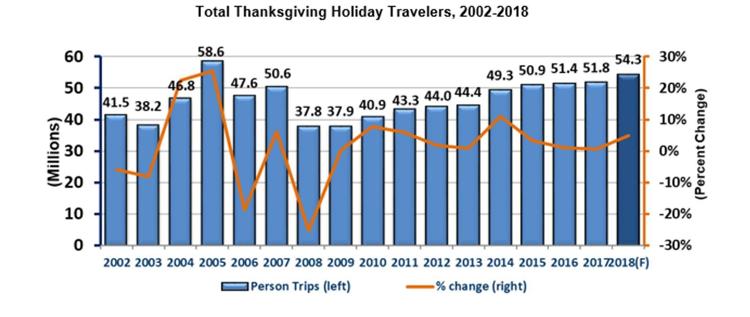 If you're flying, you won't be alone either with the Tuesday before Thanksgiving and the Monday after being the heaviest. Wednesday won't be pleasant either.
"Passengers really have to expect longer lines at the airport, especially through TSA security checkpoints."
So get to the airport at least two hours in advance of your flight for domestic travel because who knows these days what the TSA might require you to do. It's different at the airport every.single.time. Sometimes you're required to take off your shoes, other times you don't have to feel the cold, gross airport floor on your feet. Sometimes you have to take off your belt.
Once I had to take food out of my backpack.  The TSA at Newark International Airport was so grumpy about it too like how could I not know that all granola bars requirement removal from my backpack. Liquids three ounces or less in a quart-sized Ziplock bag, the iPad, all that was in my hand destined for the beat up, rectangular gray bins, but food?! That was a new one.
And don't forget to check in advance on the airline's app and pay for those bags, or simply carry-on to avoid the potential nightmare of lost luggage.
The most popular destination for travel this Thanksgiving still remains--heading home to grandma's house. Florida remains the number one destination, perhaps, because of the amount of retirees. Major cities like San Francisco, New York, and Boston will see high volume too, according to AAA's Thanksgiving travel forecast.
The Top 10 Destinations:  
Orlando, Florida
New York, New York
Anaheim, California
Punta Cana, Dominican Republic
Las Vegas, Nevada
Cancun, Mexico
Dallas/Fort Worth, Texas
Honolulu, Hawaii
Washington, DC
Miami, Florida
When it comes to cost of travel, airline prices have been pretty steady, but even Scott's Cheap Flights at this point can't help you out on a peak flight Tuesday, Wednesday, or Sunday of Thanksgiving week. That's where college students--and their parents--are out of luck. My freshman year of college, it cost $700 to fly between Boston and Philadelphia making Amtrak at $400-some dollars sound like a steal.
"Make sure that you purchase tickets in advance and don't just show up at the train station the day of and expect to get a reasonable rate," she said. "I'm seen people do it-they're on [the train] and they're looking to pay the conductor at time of travel," said Aresco. "I certainly wouldn't recommend that as an option."
AAA noted car rental prices have fallen, so if you'd rather not take your own car or need something a little bit larger--with most people planning to travel between 50 and 200 miles--that's a good option. Staying overnight in a hotel in major cities will still cost you some big bucks though.
If you want to avoid the crowds...
"If you're flying travel before Monday, [November] 19th, especially if you haven't booked your air yet; if you have booked your air, then certainly you may be locked in....to come home, some time after Monday after the holiday," recommended Aresco.
Or if you can swing it--try this pro-tip.
"Travel on the holiday itself, so for some people maybe you're going to visit grandma out on the West Coast and you take an early morning flight out to California, you'd still be able to make the holiday dinner," said Aresco. "That would be a quieter day to travel."
If you're driving, off-peak overnight hours are the only guaranteed way to avoid traffic.
"The one time that you might see people leaving their house at midnight--very popular time for the Thanksgiving holiday--the Tuesday night after midnight you'll see a heavier traffic volume on the roads than normal because everybody's trying to beat the regular rush hour traffic, and the commuters can get out there and get to their destination before the sun rises, and everybody hits the road."
For those who are out of vacation time and are stuck leaving Tuesday or Wednesday night, here's your fate:
"You can expect a two-and-a-half time longer commute than normal--and so that's something to really keep in mind--anything from Tuesday afternoon onto Wednesday evening is probably the worst time to travel within the major metropolitan areas. In major metropolitan, cities, sometimes traffic can be a delay of three-and-a-half to four times longer than the normal commute. If you've got a normal two-hour drive can you imagine it being four times longer?
That includes the heavily-traveled Interstate 95 corridor, where Delaware finds itself wedged right smack in the middle of here.