"You'll remember our last conversation...we decided to continue to stay in the Phase II of our reopening, statewide, and not move into Phase III because of an uptick in positive cases that we were seeing along Eastern Sussex beach communities among bar, restaurant, and hospitality workers," said Governor John Carney Tuesday. "And so over the last two weeks, we've done over 4,000 tests."
That increase in positive cases has led to Delaware being labeled by some surrounding states as a "risk," from which travelers would have to self-quarantine if coming to visit. Those states include New Jersey, New York, and Connecticut.
Carney said testing has been ramped up significantly in the wake of an outbreak of novel coronavirus COVID-19 at Delaware's beach communities. He said the focus of his directives are to get as many people tested as possible while continuing to mandate initiatives that help reduce the spread of the virus, and hopefully maintain an infection rate of less than 5%. 
"While we're seeing that uptick, which is concerning, we're also focused on where it might move from there," Carney said. "What we're seeing across our state, as reopening occurs, is percent positives that are a little bit higher than where we'd like to see them--in the 2.5% range where we had arrived just a few weeks ago."
The latest uptick in cases and spread isn't, however, reflected in hospitalizations, as PPE access remains stable and those requiring on-site medical care stands at 56, with a decline right before the holiday weekend and a small uptick following it, as is "most often the case," Carney said.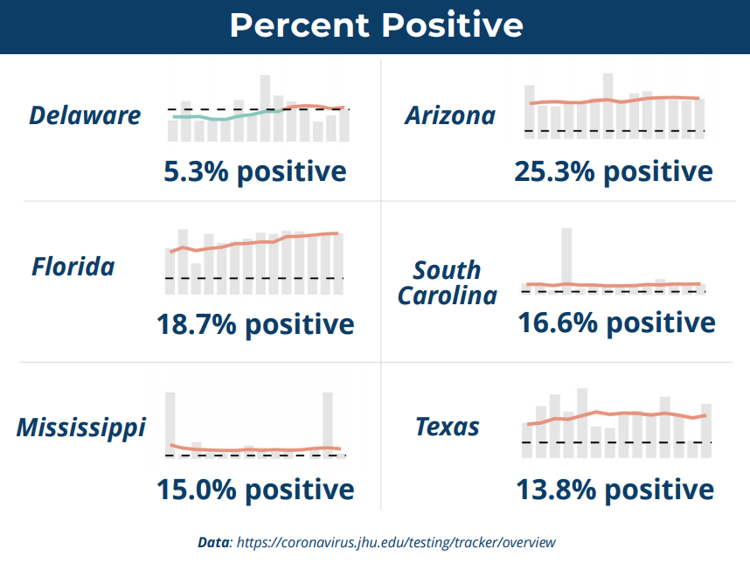 "We're a little bit over, at 5.3%, our target of 5%, and it's pretty steady," he said. "A little bit of a downward trajectory there. But we'd like to be lower than where we are, and then new positive cases, you can see up and down on a day-to-day basis, based on testing."
While Delaware's 5.3% isn't anywhere near the infection rates of 25.3% seen in Arizona, 18.7% in Florida, and South Carolina's 16.6%, it was enough for NJ, NY, and CT to identify Delaware as a risk. 
"We're learning this morning that New Jersey, New York, and Connecticut were putting us in the same category with these other states," Carney said. "I think you could conclude from what I've been saying, I believe we don't belong in the same category with these other states--notwithstanding the recent uptick we've had."
He said Delaware isn't even halfway to the professed percent positive cut-off point for those states--reported to be 10%--and hovers slightly above, and occasionally below, the number of new positive cases per 100,000 residents. 
"I don't want to be in that category," he said. "And my message is: 'I don't want to be in that category.' And that's why it's important for Delawareans to do what we can to make sure that we're not in that category. I don't believe we belong in that category, at the same time, because we're not, frankly, in the same ballpark as the other states that are identified similarly. And so I don't think that we should be singled out--certainly not by our partners in the region that we've tried to help when they needed our help."
Carney said he planned to talk to the governors about their decisions. He added he hopes Delaware doesn't have to make a similar move back to requesting self-quarantines from out-of-state visitors. 
"That out-of-state travel quarantine, I hope that we don't have to go back to that," he said. "That was a technique that we used back in March, early April, when we were seeing a real uptick, particularly from states in our region which had the highest positive cases in the country: New Jersey, New York. We were concerned about specific problems around the border."
Back to School
With fall school sessions looming, it's going to be time to make some tough decisions, Carney said, and officials will be tracking how the virus is spreading or slowing to help them make informed decisions. Continuing education, however that looks, remains a focus of all Delaware officials. 
"One of the big questions that we're getting from folks, and a question for all of us of great importance is: How are we going to educate our children next year? When are we going to reopen the schools," he said. 
The state still needs to balance wellness for children--not just to keep them from getting sick, but to address mental health and stress issues as a result of the shutdown and lifestyle changes--while also ensuring equity so all children can continue to receive their education, particularly getting those without internet devices a connection to continue learning. Things like busing students to an institution, roaming the hallways between classes, or packing them into a cafeteria present real social distancing challenges.
"Our goal is to get as much in-person instruction as possible, but to do it in a way that's safe," Carney said. "It's got to be."
Much of that decision-making process is going to come down to how well Delawareans band together to defeat COVID-19, and it won't be safe until everyone takes it seriously, the governor said. Luckily, Carney said he's seen positive movement on that front. 
"After we raised the red flag for people getting a little bit complacent with respect to mask wearing and with respect to social distancing, just anecdotally as I circulate in the community, I see more people wearing masks--still a lot of people that don't," Carney said. "I see folks that are more conscious--certainly our retail establishments are more conscious and they have better signage, they've had better markings on the floor--in terms of six-feet distancing."
Carney said he was confused by some individuals' lack of empathy for their neighbors who would attempt to turn the one thing they could do for the sake of others into some sort of "political statement."
"I guess one of the more disturbing things is the debate over wearing masks," Carney said. "One of the things that's very clear, since the beginning, the advice from the CDC and from our public health professionals, has increasingly been that wearing a face covering or mask is one of the most important--if not the most important--thing that each individual can do to protect mostly others, but also to protect themselves from the respiratory particles that're involved, particularly if you're shedding the virus, and the danger that that poses for others. So don't make it a political statement one way or the other. Just wear a mask to protect your family, to protect your elderly relatives, and neighbors, and friends, and to protect yourself. When you think about it, it's probably the most important thing each of us can do to start to press down that curve, now that we're not using shut downs and business closings to do it."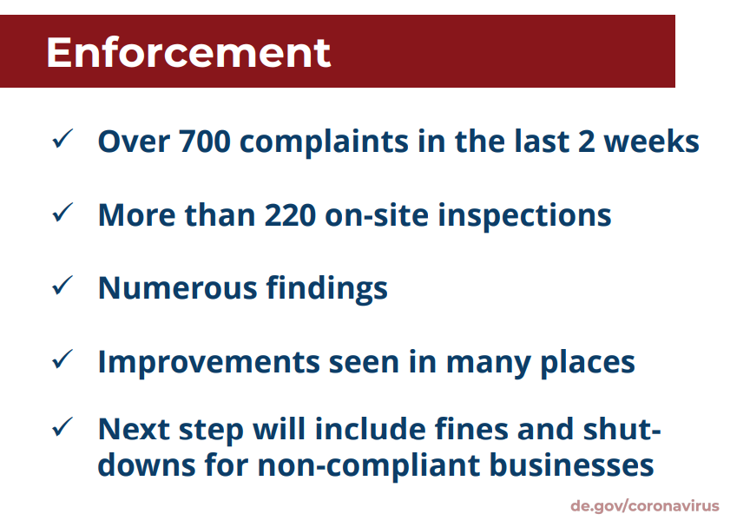 Businesses, however, will be targeted for their transgressions ignoring safety protocols, Dr. Karyl Rattay announced Tuesday. Face coverings, appropriate signage, and social distancing for bars and restaurants are required, and staff who don't follow the rules at these establishments risk financial punishment and even shutdowns, if they choose not to follow safety mandates. 
"Our HSP complaint email address, so that any members of the public or businesses could let us know if they had concerns--we received over 700 complaints through that email address that led to many phone calls, and more than 220 on-site inspections with numerous findings," Rattay said. "We also, through this time, have seen some improvements in many places. There are some places--not many, but some--who are very resistant to making the changes that they need to, and so the next step for these will include fines and possibly even shutdowns for those businesses that are non-compliant."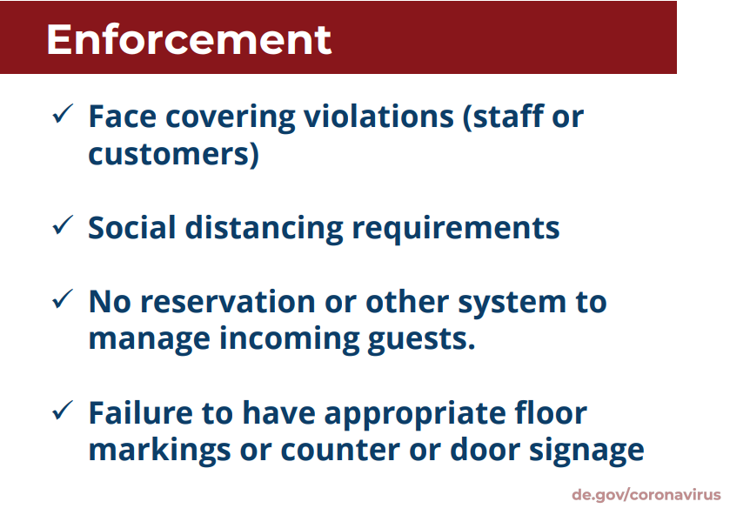 A schedule of available testing for COVID-19: