A Mastiff or Bullmastiff has been seized by Delaware animal control officers Wednesday, nearly a week-and-a-half after the dog nearly killed another dog in Banning Park outside Newport.
"We're going to get some kind of justice for Milo, and this dog will not be able to injure another animal or human being, so they don't have to go through what we've been going through with them," said Kathy Ramunno of Newport, whose daughter owns the injured pup.  
Milo, a 6-month-old Rottweiler puppy, had to have his leg amputated following an attack that occurred in the large, gated dog park within Banning Park on June 23, 2019.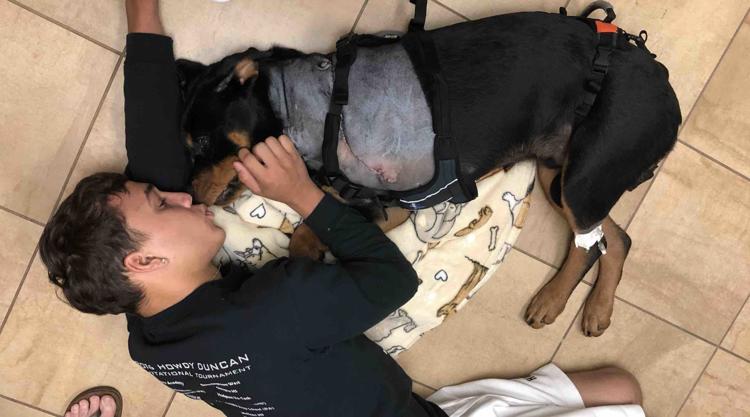 At the time of the attack, the Mastiff's owner, gave the name of "Dawn" and vowed to pay Milo's medical bills.  But shortly after the attack, her telephone number had been disconnected, and her social media accounts had vanished.
Ramunno said it wasn't until State Sen. Stephanie Hansen got involved on Wednesday, July 3, 2019, that animal control took action and tracked the Mastiff to an address near Newport--not far from Ramunno's home.
"Within an hour-and-a-half, animal control knocked on my door to give me a copy of the report, telling me that they had the dog in the back of their truck, and the dog would be quarantined for 30 days until a court date could be set."
The Mastiff will face a dangerous dog hearing.  
"The animal control officer has pictures of the wounds on Milo--they're all over social media.  He has copies of all of the vet reports and the bills, so I think she's going to have a really hard time proving that her dog was not a threat," said Ramunno.
Ramunno said the same animal control officer had previously dealt with the Mastiff, several weeks ago after it had allegedly gotten loose.
"My concern is if this dog can do the damage that he did to Milo on a leash, imagine if this dog is out loose, running around, unleashed, the damage that he could do to another animal or a person," expressed Ramunno.  
She said social media also played a role in helping nab the dog's owner, with Ramunno receiving dozens of tips daily.  
"Saying, 'look we've seen this woman in Richardson Park, this is her dog, this is where she lives'...with social media and the internet, it's very hard to hide anymore," she said.
Ramunno initially thought the dog's owner was going to do the right thing. 
"We thought she was on the up and up, she took full responsibility.  She had texted my daughter that day:  'I'm going to take full responsibility; this was my fault.'  She said that over speaker with the vet there."
But within 10 minutes of finding out that Milo's initial emergency vet bill was upwards of $800, Ramunno said she ghosted her.
"I had talked to her two or three times before she disconnected her phone, but whether or not [Dawn] was her true name, I don't know," she said.  "She, at one point, did have a Facebook page, and on that Facebook page her profile picture had a picture of her dog behind her.  Now, within a day, that Facebook page was totally gone, it was wiped out, her Instagram was gone, but luckily, somebody screen-shotted that Facebook page, and sent it to me, and said, 'Is this her?  Is this the dog?'"  
"When animal control went to her house, I asked them, 'Well, how was she?'  She said she did confirm the incident, she didn't deny it, she didn't try to hide it.  So that's a good thing, that she did admit to it."
The community has rallied to help Ramunno pay Milo's medical bills, raising nearly $6,000 so far, through a GoFundMe. 
"She will be held accountable, she is going to have to go before a judge; there are going to be fines that she has to pay," said Ramunno.  "I'm happy, [but] it's not going to change the event that happened.  It did not have to happen--it was a senseless act that didn't have to happen.  She knew her dog was aggressive, but yet she chose to bring her dog right up to my dog, knowing how her dog's behavior was.  If she would've just stayed in her half of the park, and stayed away, Milo would be running around playing with his toys, just being a normal, happy little puppy."    
Milo had a bad night, suffering from anxiety and panic attacks all night, as he relives the vicious attack.  He's got a long road to recovery.
"We've averaging one-to-two [attacks] per hour," said Ramunno.  "It's like a human suffering from PTSD, it's going to take time.  All we can do is show him love and support, let him know we're here, we're going to protect him, we love him, we're going to care for him."
--
Delaware Animal Control asked pet owners to take the following precautions when visiting a dog park in their area:
Make sure your dog is fully vaccinated for rabies, distemper and bordetella.
Ensure your dog is fully socialized and friendly and will not put other dogs or people at risk. If you are unsure, it is recommended you do not take your dog to a dog park.
Do not assume every dog in the park is friendly.
Make sure your pet is neutered, which can help curb aggressive behavior.
Pay attention to a dog's body language, including: ears pinned back; stiff stance; raised hackles; hyper-focused; bared teeth; or growling. If your dog is being aggressive or there is an aggressive dog in the park, remove your dog immediately.
Toys and treats can be triggers and cause fighting among dogs. 
Avoid bringing children to the dog park. If you do bring an older child, enforce a few rules: Don't approach a dog you don't know until you ask the owner; don't run – this can provoke the prey drive in some dogs; don't try to take a toy or food away from any dog. 
Keep your dogs closer to other dogs their own size.
If an incident occurs, pet owners should call Delaware Animal Services immediately at 302.255.4646
"Dog owners should not assume their dog – even if typically friendly – will never attack another dog or human," said Delaware Animal Services Chief Mark Tobin. "Unfortunately, dog bites do happen, so pet owners should always remain vigilant when dogs are interacting with one another."
According to state law, dog owners are liable in damages for any injury or loss to another person or property, including pets, caused by an attacking dog. When an animal owner wishes to seek reimbursement for costs incurred from an incident, it is considered a civil matter.