Following a private ceremony with family, close friends and the justices inside the Supreme Court's Great Hall, Justice Ruth Bader Ginsburg's casket was moved under the portico on the front steps for members of the public to pay their respects.
Mourners can pay their respects to Ginsburg as she lies in repose Wednesday and Thursday. President Donald Trump is expected to visit her casket Thursday. Bill and Hillary Clinton paid respects Wednesday at SCOTUS. Bill Clinton named Ginsburg to the court in 1993. Hillary Clinton is said to have had an influence in the President picking the justice.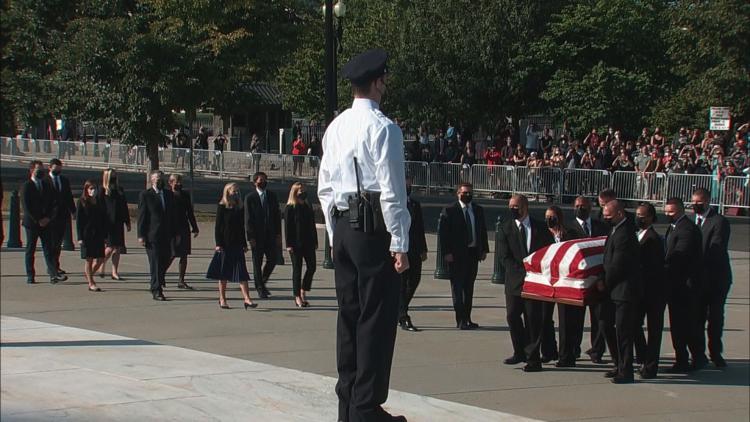 Rabbi Lauren Holtzblatt honored Justice Ruth Bader Ginsburg Wednesday. 
"To be born into a world that does not see you, that does not believe in your potential, that does not give you a path for opportunity or a clear path for education, and despite this, to be able to see beyond the world you are in, to imagine that something can be different — that is the job of a prophet," she said. "And it is the rare prophet who not only imagines a new world, but also makes that new world a reality in her lifetime. This was the brilliance and vision of justice Ruth Bader Ginsburg."
Ginsburg's legacy marked the path for "women and girls of all ages, who now know that no office is out of reach for their dreams," the rabbi said as she remembered the late justice's work on ensuring equal treatment for men and women.
"Nothing could stop Justice Ginsburg's unflagging devotion to this project. Not even cancer. Justice Ginsburg... from generation to generation. We promise to carry forward your legacy."
Supreme Court Chief Justice John Roberts said Ginsburg was the "leading advocate" against gender-based discrimination as he remembered her life and legacy. Roberts said Ginsburg's mother worked as a bookkeeper in Brooklyn.
"Ruth used to ask, 'What is the difference between a bookkeeper in Brooklyn and a Supreme Court Justice?' Her answer: 'One generation,'" he said.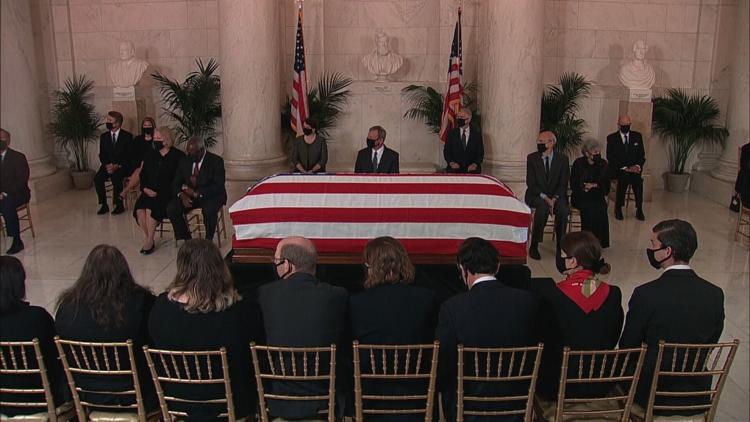 Roberts described Ginsburg as "tough" and detailed the discrimination she faced as a woman in law.
"She chose the law, subjected the discrimination in laws school and the job market because she was a woman, Ruth would grow to become the leading advocate fighting such discrimination in court."
More than 100 of her former clerks met her upon arrival to the court house. Besides her family and written opinions, Ginsburg's clerks are her most lasting legacy. They began their tenures as young inexperienced lawyers and emerged with unparalleled legal credentials that will mark their resumes for a lifetime: Supreme Court clerk.
Ginsburg will become the first woman in history to lie in state in the US Capitol when her casket is placed in National Statuary Hall on Friday. The historic event, which was announced by House Speaker Nancy Pelosi on Monday, will feature a formal ceremony for invited guests only because of the coronavirus pandemic. Lying in state is a tribute reserved for the most distinguished government officials and military officers, while lying in honor is a distinction given to private citizens.
A private interment will be held next week at Arlington National Cemetery.