The latest attempt to pass the so-called blight bill in Wilmington, first introduced in 2018, has failed yet again in a council vote 7-5 Thursday night.
The measure sought to change the city's housing code enforcement from assessing criminal penalties to assessing civil fines for owners of rental and vacant properties, holding both landlords and inspectors accountable, by calling for as many as 1,500 inspections annually.
"We will move from a lengthy, cumbersome process that can take 10-12 months and leave you with a criminal record to a system that can resolve issues in three to four months," said Councilman Bud Freel. "We have residents that live in deplorable conditions and are intimidated to keep their mouths shut. We have an obligation to these residents."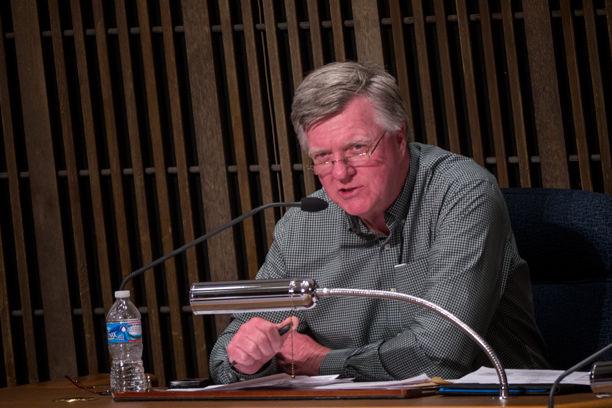 The legislation, sponsored by outgoing Councilman Freel and backed by Mayor Mike Purzycki, is greatly pared down from its original version, removing dramatic hikes to business license renewals which prompted ire from landlords last year.
"There's a sunset clause expiring in January 2024; we re-established the rent withholding clauses in the ordinance; we inserted language that clarifies the civil fines apply to rental and vacant properties only and not to homeowner properties, and we removed the increase in the business license fee," said Freel. "In my 24 years, I don't believe any piece of legislation has been vetted and discussed more than this bill. More than 50% of our residents now live in rental properties. The mission of the city is to protect the life, health, and safety of all citizens of Wilmington by monitoring buildings through code enforcement; if we cannot get compliance to a minimum of safety codes in a timely manner, we have failed these residents."
In a 90-minute debate, some on council expressed concerns that they didn't have enough time to review the extensive bill. Among them Councilwoman Linda Gray, who said she was given just the two-page amendment when the bill was in committee.
"There's no way I can support something that I don't have full understanding of," she said.
Councilwoman Michelle Harlee said she wouldn't vote for the legislation so long as Trippi Congo's District 2 seat remained vacant. Congo's seat was vacated, according to city code, after he admitted in a WDEL interview to moving out of his district.
"If we have a missing council person not represented in this full council body, I personally don't feel as though we're doing it the right way; it has come a long way, and I support this legislation but I also support a full council body voting on this legislation because the 2nd District is important as well as all other seven districts," said Harlee.
Councilwoman Loretta Walsh fired back:
"We've had almost three years to read this bill...all of a sudden there's a vacancy in one of the council seats and that becomes a problem. The vacancy was caused by the person sitting in the seat, not by any of the voters or residents of that district, who also have five other people that they can fall back on to represent them, four council at-large and the president of city council," she said. "I find it amazing that the residents that need this bill more than other areas are the residents that are not going to get representation because their council members will not vote for this this evening. I think it's incorrigible." 
Councilwoman Rysheema Dixon noted changes to the bill that should have been vetted in the housing committee. Freel called debating under which committee the bill was discussed in a "waste of time." She also said city-owned and land bank-owned properties should not be exempt from the legislation.
Councilman Chris Johnson, who asked to be a co-sponsor of what he called a "criminal justice reform bill," acknowledged angst surrounding the legislation, but said the city must take steps to solve a housing crisis.
"It's not perfect...I was the one that pushed to make it a pilot program because I knew there would some issues with it, potentially, but we're at a point, where we can't keep holding on. We held off three years ago, held off two years ago...we can't keep kicking the can down the road. Where we are with this COVID economic crisis is, we're going to face at tremendous bubble that's going to hit in 2021 unless we get a lot of federal intervention, landlords may not be able to pay; tenants can't pay," said Johnson. "We need to do what we can to make sure this [housing] crisis--we give [Licenses & Inspections] the tools they need to save our citizens."
Johnson said those who criticized the bill clearly haven't read the bill in its entirety.
"Anything big is scary. Look at some of the biggest pieces of legislation in our lifetimes, even the Social Security Act, when that was originally passed, it wasn't perfect...and it was worked on and amended through time."
He called for council to cut through the misinformation.
"The misinformation about tenant rates being raised--that has been deleted--fines will not be raised, and if they raise rent because now they're being held accountable, well now that's a problem with the landlord," he said. "I do understand, and I'm respectful of my colleagues--there are regional differences. Some districts, a lot of folks are against it. Some districts, such as mine, a lot of constituents support it...you have to look at really who is being hurt, and it's Black and Brown communities, being hurt by this not being passed."
Public comment centered around "mistrust," missing representation in the 2nd District, and a lack of protections for tenants, particularly during a pandemic.
Congo, who spoke during the public comment portion of the meeting, said he if he were on council he would not have supported the measure, and he implored members not to pass it.
"There could be a full council in three weeks...I'm not sure why this is being rushed, well, I am sure why...Ms. Darby could be positioned in that 2nd District seat, and she would not support it, so I think that speaks volumes. Councilman Johnson, we have not been kicking this down the road; we're trying to get it right. You yourself said it's not perfect, we should not pass legislation of this magnitude unless we have it perfect," said Congo. "Councilman Freel, I understand that the work you have put it in...your district will not be affected the way other districts will, so I don't buy that Councilman Freel is a hero because he doesn't have anything to do with it--that's why he's pushing it--because his district will not be affected."
Freel fought what he called misinformation surrounding the legislation.
"This idea that we're going to seize rental properties is just not realistic; there's no landlord that's going to let you seize his property, I mean he's going to eventually start fixing the property up and at least bring it up to minimum code because it's a source of income for him, and the idea that he can just raise rents isn't realistic either...the market will drive the rental rates."
"This is in compliance with the [state] landlord tenant code, and the landlord tenant code does have protections for tenants...so we are not in conflict with that. The land bank is not exempt from code enforcement...it is exempt from vacant property fees, but not code enforcement, and there's language in here talking about quarterly reports before a housing committee, and if the land bank isn't doing its job, that needs to come up," he added.
District 3 Councilwoman Zanthia Oliver, who ultimately voted "no" on the legislation, said her district is riddled with vacant properties, and this legislation won't fix that.
"Everyone keeps saying 'blight legislation'-- it's not blight legislation--there's nothing in here discussing blight legislation. It's legislation to amend the code to provide civil fines as opposed to criminal fines. I don't think anyone on this council has more blight in their district as I do...I have rows and blocks of vacant properties, absentee landlords; we have homeowners that live next-door to a house that owners haven't came out in years to even look at the home; they are blighted on the inside and the out; we have raccoons running through 'em," she said.
Before calling for the vote, Freel addressed critics' concerns and expressed frustration, sensing the legislation would not pass.
"This bill has been out there, even this version's been out there for almost a year...we want to help our tenants, and we want a better housing stock here in the City of Wilmington because that helps everyone," he said. "It's just frustrating to hear some of these comments...there's no games being played here, we're trying to do what we think is the right thing for the citizens of this city....either we side with the tenants or do we something to help them or we side with the slumlords--most of them live outside the city, they're probably laughing right now as we watch this--but that's the choice."
The measure ultimately failed with councilmembers Gray, Oliver, Harlee, Turner, McCoy, Dixon, and Guy voting "no." Councilmembers Freel, Johnson, Adams, Walsh, and president Shabazz voted "yes."
Mayor Purzycki expressed disappointment, but said he wouldn't give up on trying to get the bill passed.
"We are disappointed, of course, to see council fall prey to the same poor excuses for doing nothing while our poorest tenants live in squalid conditions. Council had a choice to support landlords or to support our most vulnerable citizens. They chose poorly," said the mayor in a written statement. "We will continue to pursue this legislation and hold landlords responsible for improving the living conditions of their tenants and of our neighborhoods. Sponsor Bud Freel, who is leaving council, has been a tireless champion for the people of Wilmington, so it will also be an honor to continue this effort as a tribute to him."