A leader in the state's Hispanic and Latino communities is slamming the state for its approach to vaccine equity, saying there hasn't been any so far.
Maria Matos, President and CEO of the Latin American Community Center in Wilmington told WDEL that Hispanics and Latinos want to get the COVID-19 vaccine, they just can't overcome barriers the state has put in place. Those barriers begin with the state's vaccine registration system being primarily online, which has been a challenge for all of the state's seniors. For Hispanics and Latinos, it's even worse.
"Then, they have the language barrier."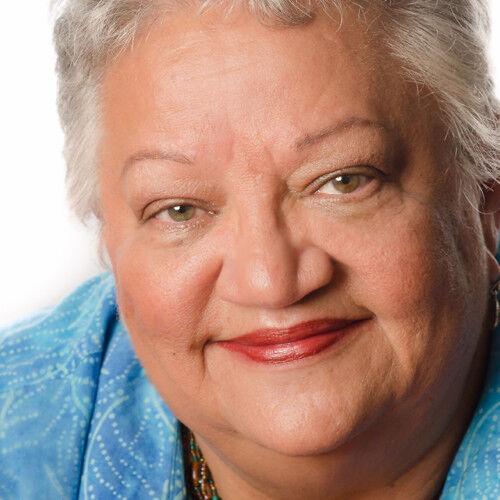 She said the state needs to go directly into the communities it says it wants to see higher vaccination rates for--as it had to do with COVID-19 testing.
"We haven proven to them that we can bring out, overnight, 94 to 100 people, old people, seniors, abuelitos to get vaccinated--so let's do more of that," said Matos. 
Recent data from the Delaware Division of Public Health revealed just 4% of those vaccinated were African Americans and just 2% were Hispanic or Latino; however, race was not identified in more than 30% of all vaccine administration data. Governor Carney sought to change that with an executive order that now requires vaccine providers to submit complete demographics to the state within 24 hours of inoculation. Providers that don't comply could see fines.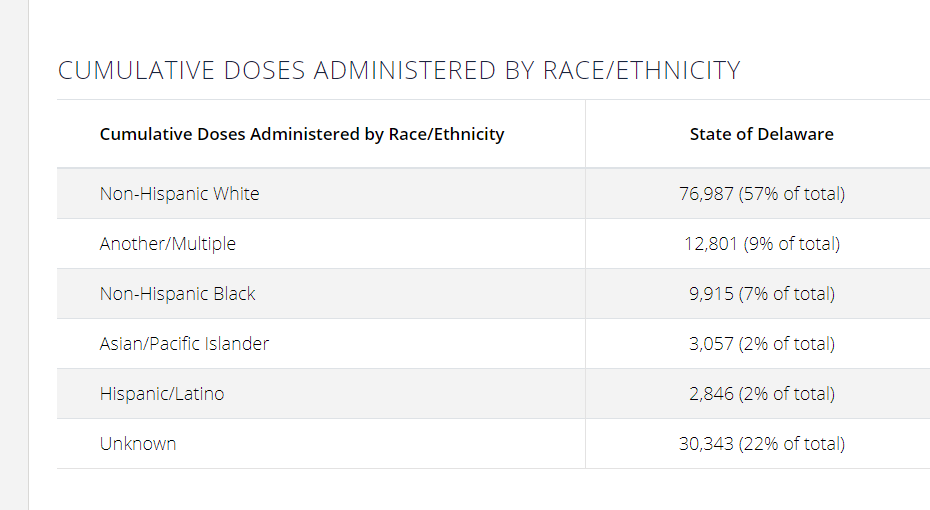 At the time the data was released, Dr. Karyl Rattay, director of the Division of Public Health, said:
"These numbers are not OK with us."
Rattay has since pledged that vaccine equity is a state priority. 
"In public health, I think we often recognize as state government we're not always going to be the best messenger in the community, and our goal and role is to put the community leaders in the driver's seat, and for us to enable and support them to reach members of the community."
"Make sure that they've got what they need to reach this population, of course what everyone needs now is more vaccine, and although we can't get as much as want, it is a priority to get vaccine to these partners so they can reach these higher risk populations."
Gov. Carney also called it a top priority.
"To make sure that we get equity in the distribution of first and second doses. Therefore, our partners show that they will be evaluated on a week-by-week basis based on whether they're achieving our equity goals, and we will be able to re-allocate to others who are doing a better job of meeting those equity objectives," said the governor.
He pointed to two federal initiatives, under Pres. Biden, that will send additional vaccine doses--outside the state supply--to Walgreens locations in underserved communities and federally qualified health centers--both steps, he said, will lead to more vaccine equity in the state.
But since those comments, Matos said she's seen no action.
"Equity means that you have to do things differently. And it's OK to say 'I'm not happy with those numbers.' Then, do something about it...think outside the box but don't stand in a press conference Mr. Governor and tell me that you're not happy with the 2%, but you're not setting aside any vaccine that will go directly to the people that need it the most because the people who are getting the sickest the most are Latinos and African Americans."
She called a lack of vaccine an excuse. 
"I don't think people know the definition of equity," she said. "If you have 100 vaccines, and 10% of your population is Latino, then you take those 100 vaccines, and you set aside 10%. If you stick them all in the basket, which is what they're doing now, they're sticking all their vaccines in a basket, and hoping that Latinos and African-Americans are able to reach in and get some of their vaccine, it's impossible to do it because there are barriers."
She said the state continues to set up large-scale vaccine clinics at difficult-to-reach sites instead of going directly into underserved communities.
"We have Westside Health clinic, and we have ChristianaCare, that know how to reach into the community, but what does the state do? They want DEMA to do it, or they've hired this company from I don't know where to do it," she said, referencing Curative, based in Los Angeles, California."
"The same thing I'm telling you, I tell them all the time...you're talking about vaccine equity. Equity means that it has to be different for every single community," said Matos. They have to reach right back into the community there is a community there that is willing and able to volunteer to help the state vaccinate those populations that are difficult to reach."