They're living illegally.
Nearly two dozen residents of Glasgow Court Mobile Home Park remain trapped on a double-edged sword--which could leave them homeless in the dead of winter.
"They forced me to come to this property here," said Rick Stevens.
More than two years ago, Stevens' trailer was uprooted and moved several hundred feet to a different space in the park so that landowner Kelli DiSabatino could begin steps to transform the trailer park.
"I didn't get my heating system or air conditioning system. I have drainage problems [with] water going under the trailer; so many issues," he recounted.
Stevens was homeless for nearly three months during the in-park move. It was so stressful, he ended up in the hospital--but was grateful that at least he had a warm bed to sleep in and a roof over his head during that time.
Before Stevens was permitted to move back into his home, he claims he was forced by park management to sign a new lease that included a lot increase to $650 per month, which manufactured housing advocate Bill Kinnick claims is far above the consumer price index.
"These are our homes, and we're renting land space, and the land values never really truly go up, so why is our lot rents always going up every year?" asked Kinnick. "I was appalled at the way things are going with manufactured housing; we're supposed to have been an equal identity, but the landowners think they can just keep raising the lot rents as much as they want, and we have to fight them through arbitration and court system to keep their lot rents down, so it's been a hard process."
The contractor behind the unfinished work, who a WDEL investigation revealed was Kelli DiSabatino's husband, Robert Redick with Capital Builders, has been cited by New Castle County.  
"They're not builders or developers--never have been--and that's part of their problem here; they can't even do math," said Stevens.
Stevens has to layer up and keep close to an electric space heater to keep warm; his unit, two years later, still has no heat.
"He didn't have an oil furnace...he would move his heater from each room where he was at," said Kinnick. "They should have provided him with an oil tank and had that hooked up when they moved him. It should have all been part of the move."
Many residents of Glasgow Court won't speak about their issues because they fear retaliation from DiSabatino and park management. Stevens was scared to talk for so long because after the move, he was never given a certificate of occupancy because the work was never finished the work. He called it a double-edged sword. The moves resulted in a litany of code issues; in turn, those code violations could lead to eviction.
"The management can turn around and call the code enforcement on you, and write you up for all this stuff. They don't want to help nobody, they just want to drive you out of here. They don't want you to live here because they think they can make more money in the new process here."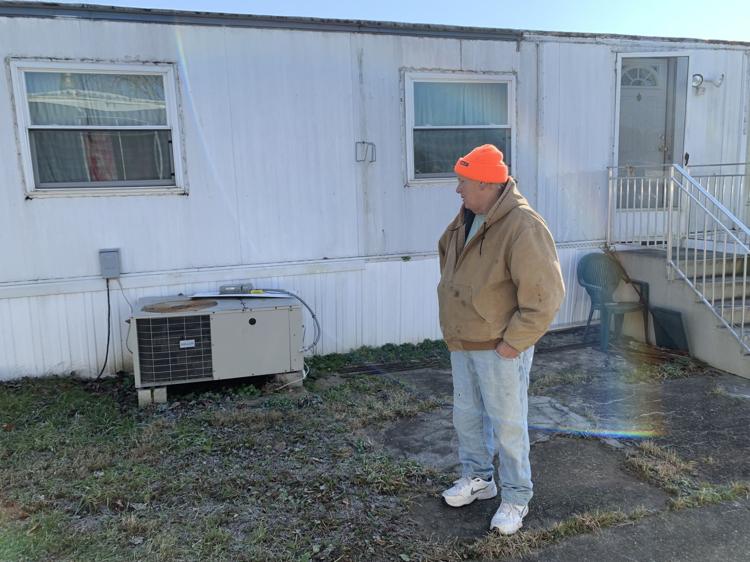 Without the certificate of occupancy, Stevens can't legally live in his home. He's been withholding rent for quite some time because without the occupancy certificate, he's not a legal resident. Stevens lost his latest bid to withhold rent in court, but is appealing the decision, Kinnick said. 
Stevens got choked up talking about it. He--like so many others in manufactured housing--have no where else to go.
"They need to be arrested for what they've done to these people here," said Stevens.
WDEL connected Kinnick to New Castle County, which claims to have been aware of nearly two dozen residents who are technically living illegally within Glasgow Court because DiSabatino's husband, as the contractor, never completed the work that goes along with in-park moves.
"The responsibility is always on the contractor," Dave Holston, the licensing manager for land use, who oversees permit inspections and customer service, told WDEL.
DiSabatino's husband didn't show for a mandatory county code violation hearing on January 4, 2019. Decisions obtained by WDEL show Redick was fined hundreds of dollars and no longer has a valid contractor's license in New Castle County. Redick couldn't be reached for comment.
"Because the permits were expired and [there] was no real intent to address the issues, we immediately considered the permits abandoned, and we're moving forward," said Holston.
Assistant Deputy Land Use Manager Jim Smith said they're working quickly to help these vulnerable residents.
"They're in a hard place because their homes were relocated--probably against their wishes--and now they need to get their certificates of occupancy so they can legally reside, and [they] possibly need it for funding--if they need any kind of financing--but our goal is never really to have someone have to vacate their home, especially at this time of year," said Smith.
The county will use Redick's $50,000 bond to pay another contractor to complete the work.
DiSabatino has big plans to turn Glasgow Court into a mixed-use community--a move that would force many of the park's residents from their homes. Those plans are on hold after WDEL exposed she owed--at one point--more than a half-million dollars in sewer taxes--in what, at one time, amounted to the highest delinquency in the county.  
The sewer delinquency for DiSabatino's Glasgow Court remains at more than $40,000 in arrears after a credit from the county, and the account remains in the top 10 delinquencies in the county--which doesn't include the latest billing that shows she owes $250,000, though not all of those charges have come due yet.
A WDEL investigation has further learned DiSabatino owes hundreds of thousands of dollars on more than a dozen other properties she owns under other aliases. WDEL has requested a list of the top 10 property and school tax delinquencies in the county from the Department of Finance.
DiSabatino hasn't returned multiple requests for comment since coverage of the issue began nearly two years ago. Her attorney Chris Koyste also did not return a request for comment.
County Executive Matt Meyer, who began his legal career representing those who live in manufactured housing, said the situation at Glasgow Court is unacceptable.
"We hold people accountable when they break the law; when you don't pay your taxes, you're violating the law; we're certainly doing that with other large landowners, including Miss DiSabatino," he said.
The Meyer administration has been aggressive in its efforts--even hiring a collections agency to go after delinquent taxpayers whose accounts are in arrears longer than a year.
"I have said from day one in this job that if you're not paying your taxes, if you're not paying your sewer fees, we will hold you to account. Now, because the problem was so large when we came in...we can't hold everyone to account on day one, but we're getting there, and certainly anyone listening who is not paying their taxes or sewer fees, you should know we need to pay up, and if you're not paying up we'll find you and come after you," said Meyer.
After the credit for the leak at Glasgow Court, the county called it their "final offer," saying this wasn't a negotiation. Continued delinquency could result in sheriff's sale. Other properties, where delinquencies are mounting, could also be at risk.  
"We're looking at those delinquencies across the county that are the highest, and my understanding of Miss DiSabatino right now is that she does have delinquency that's among the highest, so sure, we we will go to pursue our legal right on behalf of the taxpayers."
Until DiSabatino has paid up on all properties, the county said her plans to transform Glasgow Court are at a stand-still, despite a WDEL investigation revealing she was permitted to submit plans while owing hundreds of thousands of dollars. At the time, the county blamed conversion to an electronic process that caused a glitch that allowed DiSabatino's plans to be submitted, despite the delinquency.  
Kinnick said the halt to transform the trailer park is good news for Glasgow Court residents.  
"Without these manufactured home communities, we won't have affordable housing; there's over 50,000 people in this state that live in manufactured housing, and it's affordable. We have seniors, disabled, first-time basically home-buyers and low-income families, so it's important that this stays alive, and if it doesn't, you're going to have a lot of people on the side of the road being homeless," said Kinnick.