After 14 months of examination, Johns Hopkins Bloomberg School of Public Health and the Bloomberg American Health Initiative determined that Delawareans suffering from opioid addiction have inadequate access to medication treatments and can't get connected to appropriate services in a timely manner.  
Their report also concluded that those addicted to opioids often need support in other basic areas, like housing and employment.  
"Delaware is in the midst of an unprecedented public health crisis," the report indicated. "There are indicators that both prescription pain reliever and illicit opioid misuse is much higher in Delaware than the national average."  
Survey data showed more than 1 percent of persons over the age of 12 in Delaware had used heroin at some point in 2015--triple the national average.  
"Through the Port of Wilmington, Delaware is connected to the illicit markets for high-purity heroin that supply the Philadelphia and Baltimore areas."  
Despite crackdowns on drug prescribers, researchers said Delaware continues to have the highest rate of all states in the country of prescribing high dosage and long-acting opioid pain relievers.  
To close the gaps, the collaborative presented four strategies aimed at reducing opioid overdose deaths in Delaware:
Increase the capacity of the treatment system
Engage high-risk populations in treatment
Create incentives for quality care
Use data to guide reform and monitor progress
Dr. Kara Odom Walker, Secretary of the Delaware Department Health and Social Services (DHSS), which commissioned the review, said they're working to embrace the recommendations and enact some of them quickly.
"We know that there's a tremendous loss for the state whenever a loved one, friend, or colleague is lost, so we're working immediately on increasing the number of sober living beds," she said. "Thankfully, we received new funding in this fiscal year."
She added the First State needs to further expand access to the overdose-reversing antidote Naloxone, which has saved countless lives in Delaware.
Odom also stressed the recommendation that calls for targeting high-risk populations.
"[We're] working really hard to help those who have babies born to substance exposure to make sure that they have the best and most promising options for their future," she said.
HB 440, which passed this year, established an overdose system of care.
"Every minute counts. We want to reduce the number of deaths; we want to connect people to treatment whenever people have experienced an overdose," she said.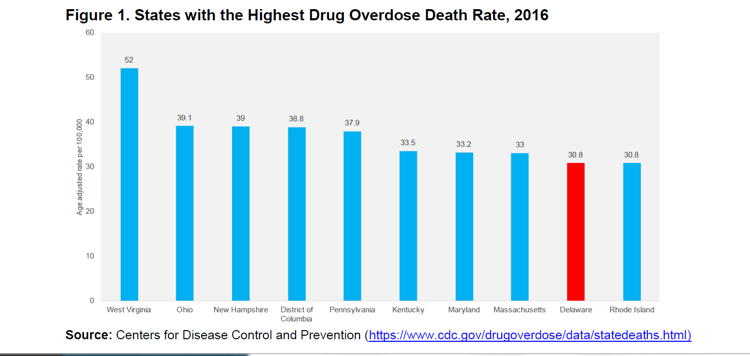 In Delaware, Johns Hopkins said the high-risk population continues to be at-risk for drug overdoses due to a lack of capacity in prisons to start or continue treatment with medications. The panel recommended that the Delaware Department of Correction offer opioid use disorder treatment which included all FDA-approved medications to all individuals in its detention facilities. It also said Delaware should upgrade its three existing withdrawal management centers so they're capable of helping individuals in the aftermath of an overdose
Researchers also found emergency medical services personnel lack tools to support overdose survivors and connect them to care beyond transporting them to the hospitals.  
So far, this year, Delaware has had 89 confirmed cases of overdose fatalities, according to the state Division of Forensic Science. Suspected cases of fatal drug overdoses are much higher. In 2017, 345 Delawareans died of drug overdoses, an increase of 12 percent from 2016, when Delaware tied for ninth with Rhode Island for the most overdose deaths.
The report concludes: "A major crisis requires major action."