Nearly 80% of 1,500 Veterans Affairs employees recently surveyed nationwide said racism is a problem at the VA, according to new data presented by the American Federation of Government Employees (AFGE) National VA Council--and Delaware is not immune.  
According to the results, 78% of those surveyed said racism is a moderate to serious problem in the VA, and 76% said they had experienced racially charged action. More than half reported seeing discrimination aimed at the veterans served by the organization. 
There are roughly 250 members of the AFGE union branch that represent the Wilmington VA's workers. AFGE Local 342 President Marcellus Shields said during a July 22, 2020, union webinar that that he's currently handling 64 discrimination cases workers have filed with him.
"We are in a battle for our very existence," he said at the time.
WDEL spoke with more than a half-dozen women of color--all former or current employees of the Wilmington VA--who were interviewed for this story, and each shared experiences they believed to be racially motivated. They called the issues systemic. The conversations were conducted in the presence of a Delaware state Representative. Some described verbal exchanges, some described what they believed to be targeted actions, while others described what they said was unfair treatment compared to their white colleagues. 
None wished to be identified because they all feared retribution for sharing what they said they experienced. The interviews were held prior to the release of the results of the nationwide survey with workers speaking of problems before the issues came to light as being so widespread. 
"Our VA has a lot of this. There are VAs across the country and doing the same thing--Virginia, in the Midwest, out to Texas. It's a problem with the VA...but this has been going on here for years, in this little cluster," said Shields. "It's systemic. It's internal...[Management] needs diversity that we don't have."
As president of their union, Shields volunteered to be the face and name of the story because he said the stories these women had to share of the things they'd experienced were too powerful to keep locked away in emails and reports he'd accumulated over just a year-and-a-half, but he understood the importance of not presenting a faceless story. He wanted the public to know these Black women were hurting, and they deserved change that he said had so far been unachievable. 
'I'll get one of my slaves to do it.'
Some of those who spoke to WDEL shared stories that are indefensible. Some shared stories Shields said others might try to dismiss as distasteful, a poor choice of words, saying something off-color or inappropriate. But in context, with women of color as the target of these statements, he said they come across as far more sinister. 
One of the VA employees said she overheard a nephrologist--a kidney doctor--informing a patient he'd have "one of my slaves do it," in reference to an upcoming task for care. The nurse being referenced was a woman of color. She said when she reported the incident, the doctor was reprimanded by being taken out to lunch. 
One reported already working for the VA and being passed up for a position that would've been akin to a promotion in favor of an external hire of a white candidate, despite having more degrees and years of experience than the ultimate hire. 
One reported working in the background when a phone call came in from someone in upper management for her. The nurse said she was identified because the caller had said "put the black girl on the phone." 
One reported a white nurse using a slur for a Black person three times in a row, then laughing it off as a joke. The nurse said that individual was eventually promoted to a position a in upper management at a higher level office.
One said, after one of her counterparts--a nurse of color--was fired, a manager said to someone else in the office: "Oh, I got rid of one of them, I've got one more to go."
One employee reported having a "medically fragile child" at home, and at the start of the novel coronavirus COVID-19 pandemic, she asked if she could change her schedule or rearrange her work hours. That nurse reported the response from VA management was: "Well, we all have family at home," without any additional questioning or concern for what that nurse might be bringing home to her compromised child. 
Another reported a similar instance where she claimed she was retaliated against because she used FMLA leave with a disabled child at home. She said she was given a different COVID-19 test than the other nurses in her ward--a less-reliable rapid test--and was ordered to show up at a nursing home--a less secure facility with more people and more opportunities to catch the virus--hours after her test was given or she would be reprimanded for insubordination. 
Another VA employee reported being the only individual from her team denied COVID leave. She said her white counterparts were permitted telework options, but she was made to drive into the office to sit alone, despite having a child at home once school buildings closed. 
Ruth is a VA employee who said she didn't mind her first name being used in the story. In her position, she "oversees" the care of 1,400 patients. Ruth said one of her charges committed suicide, and she was blamed.
"I'm sorry for the loss for his family. In my clinic, I'm responsible for 1,400 patients, so he was one of my 1,400. I think I might have talked to him once. But the point of the matter was he talked to 10 or so other people about his wanting to commit suicide. I was not one of them. But I was determined to be at fault. The manager...said, 'I didn't know that he committed suicide.' But they made her write the report and put her signature on it, so there's a lot of, 'Oh, I didn't know.'"
Shields went to represent his member at a meeting with human resources and confirmed Ruth's claims. He said the manager reported not knowing how the patient had died, and ultimately, placed the blame on Ruth for some reason, despite writing the report. 
"She had no idea that this man committed suicide. But if it wasn't for Ruth bringing up these things, and HR catching it--they had to retract all this," he said. "It's still damaging. When the staff reached out to me, they're distraught to the point where you can hear it in their voice. Their energy for working in the VA, their careers have now been sucked into a little black hole. It's stressful for them. They went to school for this. They love their jobs. We've got to do something about this, because they're bubbly and excited and they love their jobs...and it's disheartening to see how they're treated by upper management, and how they're attacked."
Shields also said the disproportionate response isn't a one-way street. A white nurse who walked away from a patient that ultimately died in their vehicle after receiving care at the clinic was "detailed"--suspended--for three months. Shields reported the nurse just went to lunch while failing to provide care and, instead of being fired or having her medical license revoked, she received the equivalent of a slap on the wrist. 
Meanwhile, another reported being called in for a meeting with an Administrative Investigative Board in 2016 under the pretense of needing to discuss some "things going on" in her unit. She didn't discover until she arrived at the meeting that it was about alleged behavior on her part. 
"When I got in the meeting that morning they told me [I was the focus]. I had to respond, not knowing what the initial complaint was about. I was told I caused some psychological damage to people, and caused pain and suffering to someone who has already had a psych history, and who has a previous history of targeting Black women. I'm...not working as a nurse."
She's no longer working at the VA, but has spent time earning a higher degree. 
Shields also claimed the VA has falsified documents used to ultimately fire an employee, but not enough of the full documentation was provided for WDEL to verify these claims. 
A nationwide problem
The survey results led to the national AFGE union challenging federal officials in charge of VA operations to work toward change and acknowledge the difficulties and discrimination they say they've faced. 
"It's time for the leaders at the Department of Veterans Affairs to take action and address the deep inequalities and racism that persist within the VA," said AFGE National VA Council President Alma Lee. "We are coming together as a union and demanding that our Black, Brown, Asian and Pacific Islander colleagues be treated with respect, dignity, and be given equal opportunities. We all want the same thing – to be able to care for our veterans, families, and ourselves while remaining free from racial discrimination. It is outrageous that, as federal workers, our members have been subjected to this level of injustice."
The AFGE alleges the VA is "empowering" racism in a number of ways, outlined in a recent webinar. The VA's actions include, verbatim from the AFGE: 
"The most obvious thing is the new law – the VA Accountability Act – which gave the VA the ability to fire almost at will. And the people they fire the most are not managers but the disabled veterans with at the lowest grades who are overwhelmingly Black and Brown.
"The VA is trying to eliminate every part of our union contract that allows us to challenge racism in hiring, firing, assignments and promotions.
"They're trying to take away our ability to represent our members in EEO matters so that victims of discrimination have to go out and pay a private lawyer if they want to pursue an EEO claim. Many people cannot afford a private lawyer. They want and need their union, and the agency knows that. So they're trying to take away that ability to challenge racist management.
"They're also trying to take VA employees out of Title 5 and make everybody Title 38, which gives the VA almost total discretion in hiring and pay – a perfect way to empower racism, to avoid hiring Blacks and Hispanics.
"They give lower pay, worse assignments, and no career development to Black and Hispanic employees."
As a result of the survey findings, Lee sent a letter to Secretary of Veterans Affairs Robert Wilkie--a former member of the Sons of Confederate Veterans who gave a speech to that organization in 2009. In the letter, Lee called for Wilkie to do the following: 
Acknowledge that racism and discrimination is widespread at VA facilities nationwide.
Withdraw the contract proposal to ban staff representation in EEO interviews.
Affirm that all VA workplaces must be free from bigotry, harassment, and retaliation, and take the appropriate steps to ensure that these basic rights are upheld.
Meet with AFGE leadership to discuss best practices and next steps in combating racism at the VA.
Wilkie responded to Lee in an open letter issued August 11, 2020, staunchly defending the VA's progress on race relations and calling out AFGE's own leadership as being problematic for the union's own ultimate goals. 
"It is apparent your organization needs to look within itself first and is in no position to lecture others on such important topics [as racism, bigotry, and harassment in the workplace.] VA does not tolerate harassment or discrimination in any form, and we do not wait for lawsuits to start caring about our employees' well-being."
He claimed the VA has had no support and, in fact, what could be classified as "outright opposition" from the AFGE. The full response letter is available below: 
A work in progress
Delaware's Congressional delegation works diligently to address the needs of First State veterans and governmental employees. Collectively, U.S. Senators Tom Carper and Chris Coons, along with U.S. Representative Lisa Blunt Rochester, submitted a joint response to the allegations presented: 
"Complaints of discrimination — in any workplace — must be taken seriously and thoroughly investigated through the appropriate processes. We need to do all we can to ensure that we have a safe, diverse, and inclusive work environment at the VA at both the state and federal levels to provide the best care and service to our nation's veterans." 
WDEL made attempts for weeks to arrange to have an on-the-record conversation with someone of importance in Wilmington VA leadership in response to these claims.  
First, the VA communications department requested, verbatim: 
the date the alleged incident took place
the specific employees involved
specific details regarding the allegations
When WDEL explained the employees in question feared retribution and wouldn't be named, but provided the details of the allegations almost exactly as they appear above, the details weren't specific enough for the public affairs department at the Wilmington VA to determine which incidents to which WDEL might be referring. Public Affairs Officer Jacob Dillon also didn't consider the number of individuals interviewed for the story to be substantial. 
"The Wilmington Veterans Affairs Medical Center does not tolerate the alleged behavior referenced below, but we remain concerned that you are unable provide us evidence for the allegations," Dillon said on July 24, 2020. 
He referred to the allegations included above as being too "vague."
"Since we cannot respond to vague hearsay and unconfirmed allegations, we offer the following comment," he wrote, citing, "VA does not tolerate discrimination, harassment or retaliation in any form. Any employee who feels he or she is experiencing these issues has multiple outlets through which they can address them, including:
The Equal Employment Opportunity office, which is explained in new employee orientation and through routine training during the year at the main medical center and Community Based Outpatient Clinics.
The chain of command, which includes an open door policy with an employee's supervisors.
The Office of Accountability and Whistleblower Protection."
After numerous additional exchanges, Dillon was again specifically requested on August 13, 2020, to arrange a conversation with Wilmington VA director Vincent Kane. He again failed to arrange this interview. Instead, he reached out to WDEL management. 
"I wanted to flag some interactions we've had with DJ McAneny.

He seems intent on going to air with numerous allegations that he cannot confirm through his reporting.

We know this because we've asked DJ on multiple occasions to confirm that he could verify the referenced allegations and he has refused to do so.

What's more, he's refused to provide us with basic information - such as the time and place of the allegations - so that we can look into the situations and respond appropriately. This experience is much different than what we've encountered with other outlets.

Given the severity of the allegations, we wanted to flag this for you because DJ's actions are preventing us from responding to his inquiry appropriately and his bar for publication seems much lower than that of other outlets we work with."
Again, Dillon was sent the allegations in almost exactly the same form as they are included above. WDEL and DJ McAneny feel the volume of individuals who shared their experiences and witnessed and confirmed the experiences of others more than meet the requirement for vetting allegations worth reporting, and have since spoken to additional sources from within the VA, but outside of AFGE representation, who confirmed that there is occasionally a questionable culture that exists at the Wilmington VA. These interviews were arranged and conducted without assistance from the office which exists specifically to achieve such interviews.  
Sources currently or previously connected to the organization all explained, on the condition of anonymity, that nationally, the government agency is looking to restrict local leadership from commenting on these ongoing issues.
However, WDEL obtained documents circulated at the Wilmington VA which provide insight into their acknowledgement of the issues at hand and the need to address such issues at such an important time in the zeitgeist, as the United States experiences what many are calling a new Civil Rights Movement.
One high-ranking source from within the organization said, particularly in matters dealing with claims of racial discrimination, the VA would be unable to comment on ongoing Equal Employment Opportunity investigations. 
"As a health care organization focused on delivering exceptional care to veterans, we do our best to build and maintain a team that reflects a culture of inclusivity, but at the same time, are not immune to some of the same societal issues experienced in our communities and in the current climate," the source said. "We handle all EEO matters diligently, addressing the concerns of our team members to ensure they all have a workplace where the feel safe and respected."
The source explained management and VA leadership in Wilmington were aware of what these complaints mean and the added weight of this particular moment in time. 
"We are actively taking actions to create lasting change beyond this moment related to racism, disparity and system biases that negatively impact staff and veteran care. We are constantly working to improve employee engagement and promote equality among staff in order to focus on providing exceptional health care to our nation's Veterans. We are highly focused on staff engagement through training initiatives addressing gender and racial biases to fulfill a core goal of making a VA better for all its employees."
A Diversity and Inclusion Council has been established at the organization, made up of "front-line staff" from across the VA's provided services, which reports directly to Wilmington VA Director Vincent Kane. The Wilmington VA has also engaged the National Center for Organization Development to discuss the VA's approach to "[promoting] teams, civility, increase self-awareness, psychological safety, and help to mitigate bias when it comes to how we work together to care as a healthcare organization."
"Again, we do not not condone discrimination, harassment or retaliation in any form. However, I am aware we are not immune to what happens in our communities. When it does enter our healthcare system, we must work together to eliminate it. Everyone needs to feel safe and valued," the source said.
Additionally, WDEL obtained a message circulated to staff by Director Vincent Kane, wherein he acknowledged the work that needs to be done and his commitment to continuously improving the environment in which employees find themselves as they work to assist our nation's veterans. 
"I want to talk today about the importance of equality to enhance our culture of inclusivity in the workplace. Without mutual respect and open communication, we cannot function as a team to provide the highest level of care to Veterans.

I want us to constantly strive to make Wilmington a better workplace for every member of our team. If one person feels he or she has been treated unjustly, that is one too many. Each of us has a responsibility to one another to report and be receptive of feedback involving discrimination. If any issue cannot be resolved, it can be reported through EEO.

We encourage and support staff to confront any form of discrimination and implement efforts to address the implicit biases of coworkers and senior staff members without fear of reprisal or retaliation.

We are in the beginning stages of developing a work group to help facilitate these tough conversations between staff and leadership around workplace discrimination. Only with this open dialogue can we address issues at the beginning stages.

Thank you all again for doing what you do to make our team as great as it is and your continued contributions to our future success.

Enjoy your weekend,

Vince"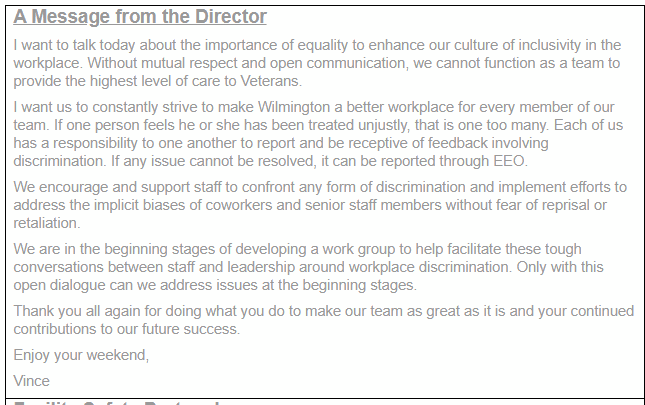 Do you have a story, thought, or concern to share about an experience with the Wilmington VA? Send a message to WDEL's DJ McAneny.