A new birdhouse was erected in Tubman-Garrett Riverfront Park, paying homage to Delaware's own presidential hopeful Joe Biden.
The birdhouse features the train station that bears Biden's name and the White House and was designed by artist and craftsman Tom Burke.
"Just the fact that Joe Biden took this rail road station from Wilmington Washington, D.C. for 37 years, and it represents the city of Wilmington," he said.
He'd been working on the birdhouse off and on for a few years.
"This is the best this has been, getting this thing up in the air," he said. "This is very cool."
When he first made this birdhouse, Biden was vice president.
"Rather than the White House, I had the Naval Observatory, which has a bell tower and a wraparound porch on it, as the railroad station does, so they combined perfectly," he said. "When Joe decided to run for president, I tore the Naval Observatory off and put the White House on it. It's from This Train is Bound for Glory, from Wilmington to the White House.
As Biden's vice presidential announcement looms...
"I would like him to come down here and give his vice presidential announcement in the next couple days," he laughed. "It's outside, and it would be great."
Crews also installed a birdhouse that's a replica of Dr. Martin Luther King Jr.'s childhood home.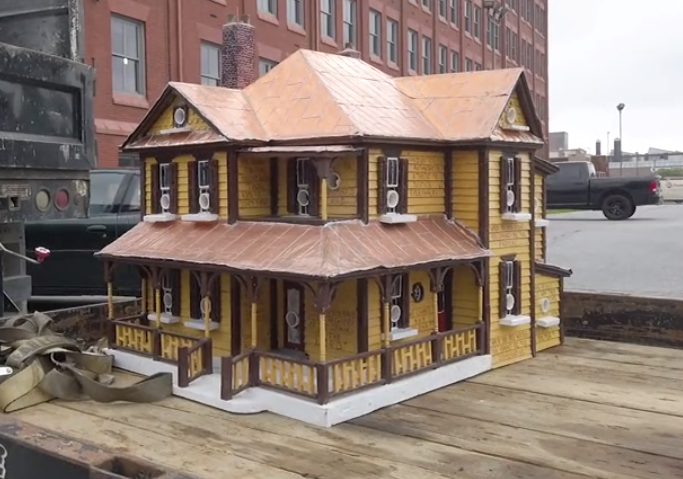 "That's Martin Luther King's boyhood home in Atlanta, Georgia, called Sweet Auburn. That's going down next to the Harriett Tubman statue."
"I've been trying to get away from just doing people's homes and just bird houses. I want to take this to a whole other level, and there's been an awful lot of bad things going on with...anyway I thought with the Black Lives Matter...Martin Luther King... he's a special person, so I want to put more birdhouses down here that mean something. I have a Holocaust birdhouse;  I've got a couple black churches have been burned...they're not just happy little birdhouses, these are birdhouses that mean something, I think.