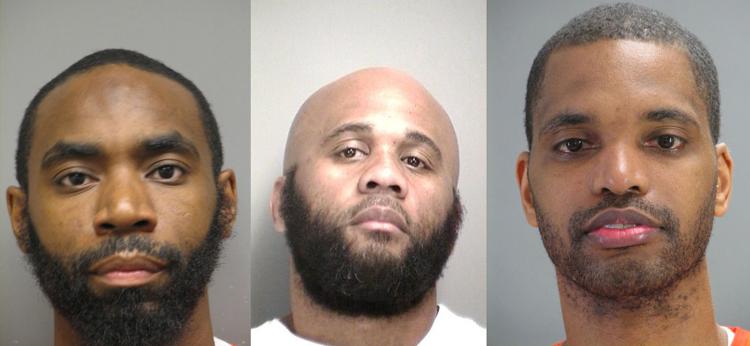 February 1, 2017 was an "unimaginable" nightmare--a nightmare from which Lt. Steven Floyd's widow, Saundra, said her family has never awakened.
"Words will never be able to express the hurt and pain that my family felt. I cannot understand why, I cannot understand why. Steven was an amazing husband, father, grandfather, son brother, friend, was murdered...a day does not go by that I do not cry for him, I call for him. Why his life meant so little to others I will never understand," she sobbed. "I have been unable to move on in my life...I don't think I ever will be...it ripped my soul apart. He did not deserve this. My family did not deserve this."
During victim impact statements, Floyd's widow said despite their sentence, God will have the final say.  
"Delaware law has no answer for when a person convicted of murder, murders again. We are left with the circumstances here today. That means Mr. Staats was able to do what he did with no legal consequences," said prosecutor Brian Robinson in his appeal to the judge for the maximum penalty.
Dwayne Staats to spend 'natural life' in prison
Dwayne Staats, 37, the self-proclaimed mastermind of the riot, will never see his freedom. While found not guilty of first-degree intentional murder, he was convicted in November 2018 of first-degree murder, first-degree murder of a law enforcement officer, two counts first-degree assault, four counts first-degree kidnapping, riot, and second-degree conspiracy. 
The judge sentenced him to prison for the rest of his "natural life"--a sentence that includes two life sentences plus 153 years. Carpenter also stated Staats had "never spoken an ounce of remorse," during the trial.
When it was his turn to speak, Staats did not apologize. He, once again, claimed responsibility for the riot, and said he "sympathizes" with the Floyd family.
"While critics question the methods we employed to carry out our mission, none of them--not even in hindsight--has offered any viable alternative that would urge higher-ups to address concerns," said Staats.
"I accept fully responsibility for the uprising; I still sincerely sympathize with the Floyd family...and always had the utmost admiration for [kidnapped counselor] Patricia May because she was truly for the people," he said. "Before I close, I pose a question: why must tragic events happen for real changes to occur?"
During victim impact statements, May chose not to speak about the horrors she encountered while being held hostage during the two-day siege, but instead about forgiveness.  
"I am coming here to offer forgiveness and also to appeal to the state to bring back programs into the prison.  There needs to be forgiveness on both sides of this issue; there needs to be healing," she said. "I'm going to do my best to bring that healing and that forgiveness and I appreciate the time in court that Mr. Staats apologized to me, that brought a lot of healing. So I'm going to continue to try to bring new programs, encourage the state to take a look at how we treat people, not only inmates, but staff, police officers, everybody."  
Jarreau Ayers gets 125 years in prison
Jarreau Ayers, who was cleared on murder counts, but convicted of the same lesser counts of riot, kidnapping, assault, and conspiracy--was sentenced to more than 125 years in prison. He received 25 years for each of the kidnapping charges, 10 years on each assault count, three years for riot, and two years for conspiracy. He's already serving a life sentence for two past murders.  
In his sentencing, the judge noted Ayers' violent criminal history that began at age 13, after both his parents had died.
"What was most striking, your life was going pretty well as a child. Mom and dad weren't the best, but they were there. You talked about the fact that they argued a lot, but they did right by you, sent you to Christ Our King school; you clearly were a good athlete, your dad dies, mom dies, and things just went south for you, which is unfortunate because in a courtroom you have been very articulate, and you represented yourself, and it is unfortunate," said Judge Carpenter.
But he did not show any leniency to Ayers, because he noted, "nothing really justifies an officer being killed."  
Royal Downs:  3 years in prison
The state's star witness, Royal Downs, will return to Maryland to complete his life sentence, then head back to Delaware to serve an additional three years--the maximum punishment available to the courts following his plea deal and testimony for the prosecution. He could've faced no additional time added to his sentence in exchange for his agreement to testify for the state. 
But Judge Carpenter noted: "you deserve nothing less" than the three years permitted under the maximum penalty for riot.
Prosecutors had argued that Downs received a suspended sentence because any additional time spent in a Delaware prison could put his life at risk, since he's been dubbed a "snitch."
"He was never a star witness, he was one of several [witnesses], but that information that is out there would make it difficult for Downs and DOC for safety concerns, we're asking he be able to returned to Maryland, where he has a life sentence and will not be released," recommended prosecutor John Downs.
Royal Downs, during his time to speak, apologized to Saundra Floyd, who could be heard sobbing.  
"I hate, I hate, hate that she has to experience that... I pray for Mrs. Floyd and her family. I know me standing here isn't going to make things easier for her, let alone wont change what she thinks or feels about me...most of my life, I live with regret or remorse, however, what happened on February 1st, I don't think should've happened. I don't believe that Mr. Floyd deserved what happened to him. I just pray for her and her family, and I wish I could've done more, I wish I could've done more," said Royal Downs.  
Reaction outside the courthouse
Some could be heard calling Staats a "hero."  
But new Delaware Department of Correction Commissioner Claire DeMatteis begged to differ.
"It's ridiculous to say this was the only option, absolutely ridiculous, and we have improved programming in the prisons," she said. "If you want to communicate concerns, do exactly the avenues that we have available through the grievances, through letters, you don't try and take down a building and kill an officer."  
Tuwanna Ayers, Jarreau Ayers' first cousin, expressed anger at the court's decision. 
"He came home and see that his mother was dead in the bed, and cry one time and bottle that up? What did ya'll think? His first charge, yes, he was 13. But what did juvenile system do to rehabilitate him? That's what it's all about--rehabilitation. If they would've given him some doggone counseling...they didn't' do no mental health on him, no nothing. Nobody just grows up and says, 'I want to do this' Period, point blank. So the justice system needs to start way back to juveniles. Work on our kids cause they the future, cause they don't give a f*** about our kids, and they don't give a f*** about these older ones that's sitting in jail, all they want is mass incarceration, so they can get paid off of us like cattle."
Roman Shankaras, who was cleared of all charges in the Vaughn riot, also attended sentencing.
"Jarreau Ayers, look at his life, his upbringing, they got no answers for that. What was the preventative steps that was taken back that? The judge even said, 'I'm just sorry man.' He insinuated that the system failed," said Shankaras. "Dwayne Staats never been in prison before...he was in jail because he protected his family, and he, life. He's stuck in here, man, no leniency whatsoever, so it's the entire system, man, that they're speaking about and that they're up against, and it's going to continue and it's been going on before them, it's just now being highlighted here in Delaware for real."  
Despite the riot, Shankaras wasn't confident their actions would bring about their desired results.
"I don't think it's ever going to change."
DeMatteis said while Friday's sentencing brings some measure of accountability, true justice won't ever be achieved.
"But under the circumstances, no sentence will really serve the true interest of justice for the men and women of the Department of Correction who have lived with this now for two-and-a-half years. I think the best thing we can do...is be there for the Floyd family and really understand the pain, and the loss, and the sacrifice, that they're going to live with for the rest of their lives."
Geoff Klopp, Correctional Officers Association of Delaware union president called the prosecutions in this case an "epic failure."
"We pray that this never happens again," he said.
Klopp called for the General Assembly to reinstate the death penalty in Delaware.  
"What we had today is in no way, shape, or form justice. Somebody that is already doing a life sentence, there must be a deterrent to stop someone from doing an action, and until we have a death penalty that is able to be used properly, it will continue to be a sour taste in the mouth of all Delawareans and everyone else," he said.  
Commissioner DeMatteis said she would support the death penalty under these circumstances as well. From the riot, she said the Delaware DOC has learned of the need to strengthen training and security in the building.
"We have committed resources to technology to help our offices do their jobs better; we have learned to improve communication up and down the ranks so that when an officer at Lt. Floyd's level expresses concern about safety, that that reaches the top, and there's actions taken," he said. "There isn't a day that every single officer doesn't live with this, and we will never let it happen again."