Delaware is readying itself to reopen on June 1, 2020.
Governor John Carney on Friday detailed his plans to get the state into Phase I of reopening and all the specifics that would entail. He spent some time talking about what's to come and what it will take to get back into full swing Friday during his bi-weekly update to the First State's response to novel coronavirus COVID-19. 
"I've had a lot of questions, over the last week in particular, from people who think we're moving too fast in reopening, and frankly from people who think we're moving too slow in reopening," Carney said. "We are trying to balance out the needs of of workers and businesses with the protection of public health, which is very essential to the economy."
Just prior to addressing the public, Carney released a document with greater detail on what the state will need to accomplish as it heads into Phase I, with a rolling approach as certain services ramp back up to full service with guidance provided by state officials.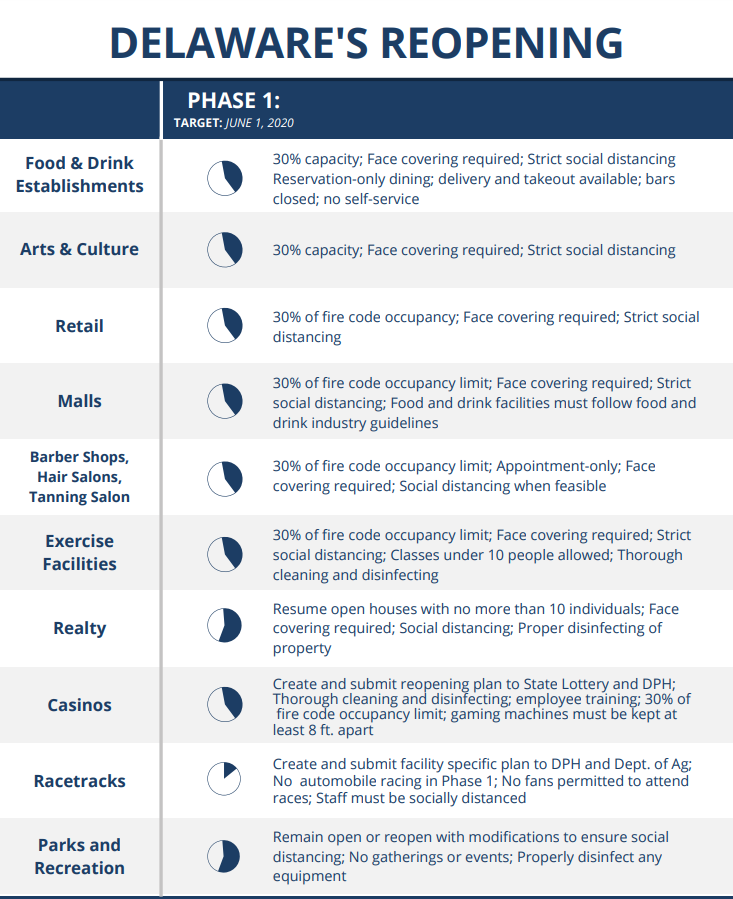 Face masks will still be required in public, and strict social distancing requirements will still need to be followed, public health officials said. Strong hygiene habits like frequent hand-washing will also play an important role in daily life. But some old experiences can slowly begin to be reintroduced. 
Restaurants and retail establishments will be allowed to open their doors for public consumption, but at severely reduced rates. The general limit on capacity will be 30% of what the fire code occupancy would previously have allowed, excluding staff, and common areas where employees would typically congregate should be closed off. Bars will remain closed.
Telecommuting, whenever possible, is still strongly encouraged. 
"We've been accomplishing for the past several weeks what's referred to as flattening the curve, which essentially means, reducing the spread of the virus in our state," Carney said. "I guess we have mixed messages a little bit today as we talk more about reopening. Now is not the time to let down. Now's not the time to...go right back to the activities in a way that that we conducted business prior to the COVID-19 pandemic. Now is the time to be careful, to continue to stay at home, to practice appropriate personal hygiene, and to continue to lean into the efforts to protect yourselves and the broader community, and to be thoughtful of others around you as your neighbor, and recognize that the things that you do affect your neighbor and his or her health, particularly if that neighbor is a senior citizen."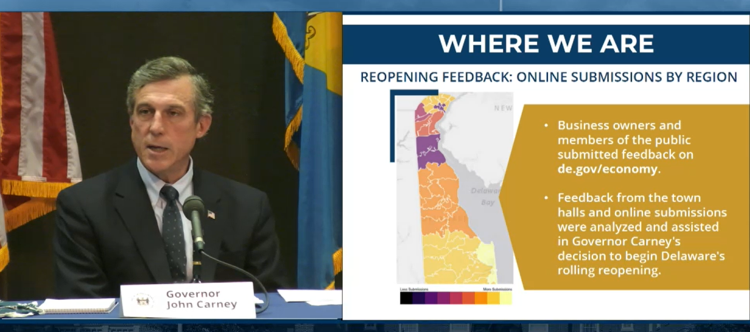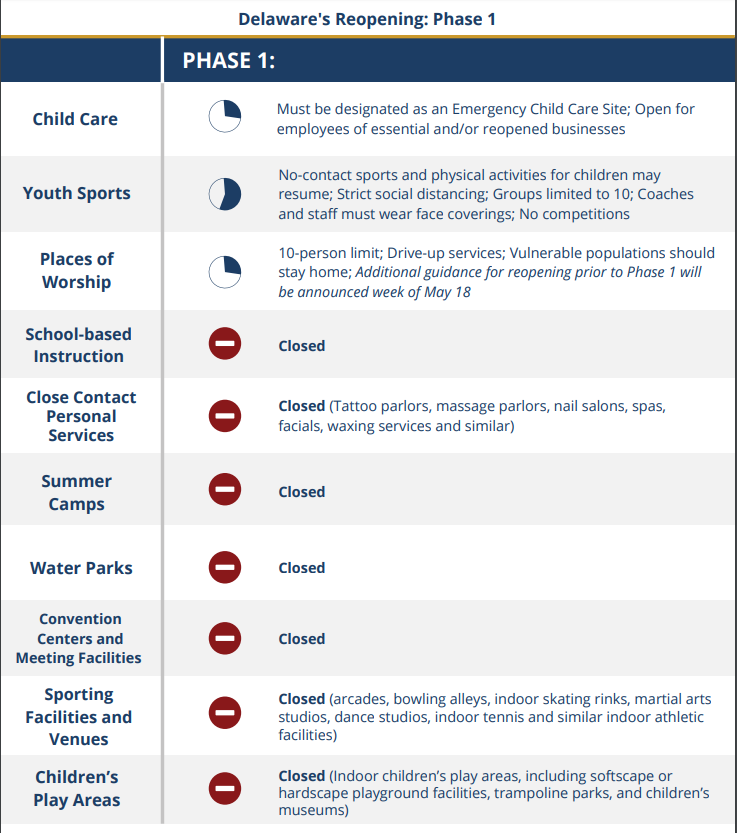 Director for the Division of Public Health Dr Karyl Rattay reinforced the idea of cautious optimism, as people may be excited as places like beaches and community pools reopen, they may find themselves itching to rush out and celebrate some newfound freedoms. 
"When we think about this from a public health perspective, none of us want to go backwards. None of us want to have to turn backwards after we start with reopening," she said. "I really want to emphasize the importance of a shared sense of responsibility for all of us to ensure that we are successful in reopening, which does mean we have to stay six feet away from each other. I worry that message might get confused as we start to go back to what feels like a sense of normalcy...we are excited to--in a measured way--reopen pools, but it's not the time for pool parties."
The most important piece of information Carney is studying as the state prepares to begin its journey to reopening is the hospitalization rate, which he said provides the most realistic look at the severity of COVID-19 in Delaware. 
"That hospitalization rate is the one that we're most confident with because it shows the actual number of people in the hospital with COVID-19 symptoms, their degree of seriousness which has been assessed by hospital personnel," he said. "So one of the things--the criteria that I leaned on the most and look at the most--is that hospitalization rate. Because if you think of the overall objectives of the shutdown and preventing the spread, that's mostly to protect your hospital critical care capacity, your ICU units, your critical care units, your ventilators, and we've been well below that capacity throughout the last 10 weeks and, increasingly, that day-to-day numbers is going down and the total number is well under 300 again, even at a time when the number of positive cases--in Sussex County and across the state for that matter--are rising."
So even though the state has seen positive movement and slices of life are beginning to be reintroduced, Carney cautioned residents not to run afoul of precautions in place to protect everyone, which would threaten rollbacks on those reopenings. 
"It's a bit of a mixed message, now's not the time to go wild and run to the beach, and and get out there with lots and lots of friends and have a party on the beach with 20 or 30 people. In fact, that would not be permitted. You would be allowed to go on the beach within the limitations of each of the beach communities, so that they can manage."