"One of our strengths at Odyssey is our diversity," said Eva Jannelli, Greek Arts and Language teacher at Odyssey Charter School. "We are a school that is racially, culturally, socially, economically diverse. Some of our students come, of course, from affluent families, some come from middle class families, some come from low-income families. And this pandemic has affected all of us, especially people who were food insecure before that."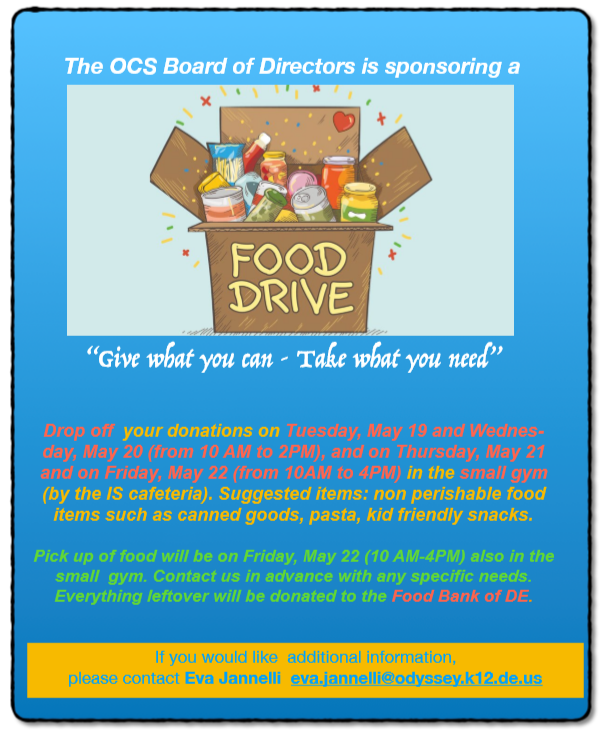 So Jannelli, also a member of the Odyssey Charter School Board of Directors, came up with an idea. She wanted to organize a food drive so that those inside the Odyssey family could help one another. The idea grew out of the principles ingrained in their very name. 
"It was a pretty simple idea: 'Give what you can, take what you need.' I feel that, as an educational institution, we have a responsibility to model for our students how to be members of a society, how to care for each other," she said. "In addition to that. we are an educational institution that is based on the Hellenic values; that's our charter, Greek language. It's not accidental that the word in English for philanthropy comes from the Greek 'philanthropia,' which means exactly that: love for fellow human beings. So we wanted to do as much as we can for our community, to the immediate community, and the OCS community, but also for the greater community and, in doing so, to practice this principle philanthropy and to bring our people together."
She brought the idea to Elias Rigas, President of the OCS Board, and found full support, as he understood the novel coronavirus COVID-19 pandemic was tearing its way through his community and creating economic conditions many families had never faced before. 
"Eva came to us with this great idea about trying to have a food drive, particularly to help support Odyssey families," he said. "As a result of COVID-19 and the impacts of that, we're seeing a lot of strain on families with respect to food insecurity. Nationally, statistics show that 40% of current folks that are going in to receive food support from organizations are new people that have never...requested access or help for food--for themselves or for their families. So there's a new demographic that's starting to show up across the population. It's difficult times, right now, with job loss and things of that nature. A lot of people need help, they need support for their families."
First, all week leading up to and including Friday, May 22, food can be dropped off at the Odyssey gymnasium, between the cafeterias of buildings 21 and 22, between 10 a.m. and 2 p.m. Tuesday and Wednesday, and from 10 a.m. to 4 p.m. Thursday and Friday. 
The first three days are for drop-offs only, and during that time, buses will be making pickups for those who have nonperishable food items--preferably packing in a box or bag weighing less than 20 lbs., to be transported on and off the bus by the driver easily--to donate but can't make it out to the school a any of the charter's normal bus stops at the following times: 
Route 1
STOP 1: 10:00 a.m. - 10:20 a.m. | Talley Day Park
STOP 2: 10:30 a.m. - 10:40 a.m. |  14th St and Bancroft Parkway
STOP 3: 10:50a.m. - 11:00 a.m. | 9th St and Broom
STOP 4: 11:10 a.m. - 11:30 a.m. | Concord Pet at Faulkland Rd
STOP 5: 11:40 a.m. - 12:00 p.m. | Prices Bowling Lanes at Kirkwood High and Albertson Road
Route 2
STOP 1: 10:00 a.m. - 10:20 a.m. | Pike Creek Shopping Center (Kmart)
STOP 2: 10:40 a.m. - 11:00 a.m. | Harmony Plaza Shopping Center (Lot next to McDonalds)
STOP 3: 11:30 a.m. - 11:50 a.m. | Peoples Plaza
STOP 4: 12:05 p.m. - 12:25 p.m. | Governors Square Shopping Center (Bear Library)
"We'll have locations for folks to drop off food over the course of several days, as well as potentially even going to homes to pick up donations or even money, as well," Rigas said. "Money helps us buy items that aren't donated that we need as part of the bags we're going to be giving away to families and individuals."
Items on their suggested donations list include, verbatim: 
Canned goods (soup, tuna, chicken, fruit, pasta sauce, vegetables, beans)
Canned meals (chili, beefaroni, ravioli, stews, etc.)
Pasta
Rice
Ramen noodles/cup of noodles
Peanut butter
Jelly
Macaroni & Cheese
Nuts and dry fruit
Crackers & cookies
Coffee & Tea bags
Shelf-stable milk
Kid friendly snacks (when possible, please opt for low sugar items)
"We're hoping to do this possibly more than once," he added. "We want to try it out this first time and see how it goes and see what the demand signal is and if it's successful. We hope to expand it and continue doing it over the coming weeks and months."
The pickup date for Odyssey families in need of assistance will be that Friday, May 22, from 10 a.m. to 4 p.m., when boxes will be issued. Any food not distributed to families of the Odyssey community will then be delivered to Delaware food banks.
Those facing specific needs or who have items to donate but can't make it to any of the above listed drop-off sites can reach out to Janelli directly at her email: eva.jannelli@odyssey.k12.de.us.