Gulftainer hosted state and local dignitaries Thursday to debut a new, cleaner operation at the Port of Wilmington, and the energy at the event was electric. 
Joe Cruise is the CEO of GT USA Wilmington, which took over the Port of Wilmington lease three years ago to the day on October 3, 2021, he said. He opened the commissioning of the port's new cranes on September 30th, and detailed a number of other improvements made around the site. 
"Obviously one of the larger projects that we have undertaken is a yard densification project that you see behind me went to Konecranes," Cruise said. "This will not only make our operation more efficient--that, I'm sure, will make our customers very happy--but also, they're all electric. There are no emissions from these cranes. We estimate that these cranes will save thousands of tons of carbon being put into the atmosphere. So it's one small step, but these are the small things that we're doing here in Wilmington, and when we move to Edgemoor, the entire facility will be electric."
In addition to the electric cranes, Cruise said other investments around the facility included new racking and modernization of refrigeration doors in warehouses, the renovation of Berth 6, the extension of crane rails to be more flexible on where it was possible to work with vessels, and the achievement of food safety certification qualification.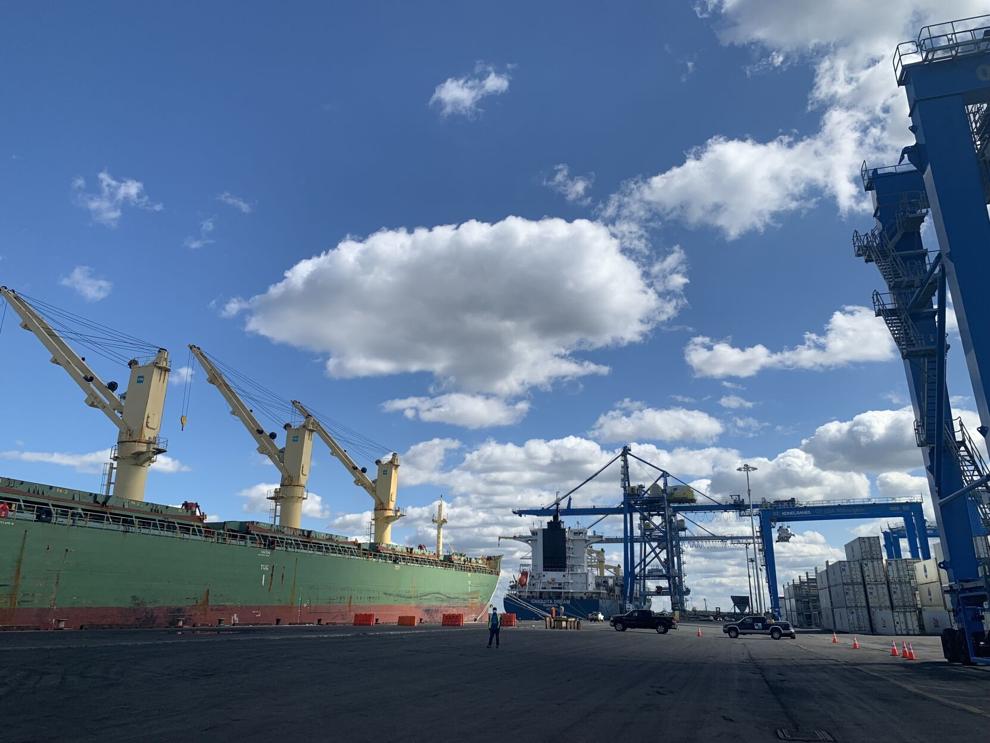 Gulftainer executive board member Peter Richards, formerly the company's CEO, said the moves the company was making across its map were unprecedented. 
"As you're aware, Gulftainer has 15 ports around the world. And I can tell you that the same situation as is happening here and in your ports is happening there as well," Richards said. "It's something that nobody in the industry has seen before. I've been in the industry for 40 years now, and so it's something of a shock for us to pass through this."
These upgrades, which represent an investment in the city and the state, are Gulftainer walking the walk, said Governor John Carney, who commended the company on its efforts to continue providing jobs for the people of Wilmington and, soon, Edgemoor. 
"Actions speak louder than words, and today we're celebrating the actions of Gulftainer and their investments of dollars--tens of millions of dollars--in the...electrified equipment that we have behind us, which is going to save all those carbon emissions.," Carney said. "We're going to produce cleaner air for the neighborhoods that surround this port."
Not only is it an effort to protect the communities around the port, but it allows those who live there to continue making their own investments, he said. 
"The jobs that are involved in this port, and this employment center, are as important as any employment center in the whole state of Delaware," Carney said. "For the families that they support, the individuals that they support, and the communities in which those workers live that they support as well."
Michael Hall, Chief Operating Officer of GT USA Wilmington, said the cranes were more of an upfront investment than the traditional equipment previously found in ports, but the investment will pay for itself exponentially over time. 
"They are what we would call 'seven container lengths wide,' with a travel lane for the truck to pull underneath, to pick up, and they can stack five [containers] high and carry [a container] over that, so they're roughly 90 feet up in the air," Hall said. "The cost of maintenance goes down dramatically; the lifecycle of them goes up because, not only are they all electric, they're also non-hydraulic. So, all of the drives on the crane, when [it's] going up and down and lifting, or going back and forth, all of that equipment and all of that machinery is done through electricity. So they last longer, they're easier to maintain, and they're obviously cleaner."