After a protracted battle over how to clean up a notorious train trench that has been co-oped by some of Philadelphia's most vulnerable victims of the opioid epidemic as a place to use drugs and live, crews began Monday clearing and securing the area known by many as "The Tracks."
Conrail, which owns the trench that slices west to east between E. Tusculum and E. Gurney streets in the city's Kensington and Fairhill neighborhoods, moved in heavy construction equipment in the late morning and a staging area near Kensington Avenue.
A nearly three-quarters of a mile stretch of the trench has for years been a place for the drug addicted to get high (mostly) out of sight from police and neighbors. The steep earthen sides are shielded from the street by trees and heavy brush. Those who venture down onto the tracks are at risk of becoming victims of sexual assaults, robberies and homicide.
On its western end, adjacent to and under the N. 2nd Street bridge, a homeless encampment — known as a El Campamento — has shacks made out of wooden pallets. In some cases, people sleep on mattresses among trash, human excrement and countless used needles.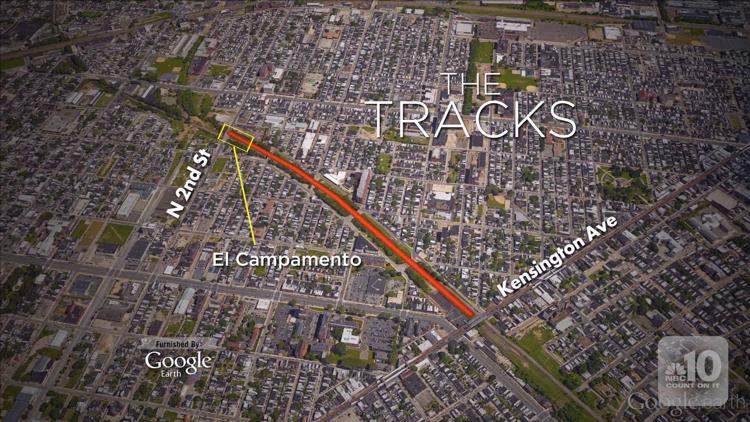 With the heroin and opioid epidemic worsening, overdose deaths along the tracks have mounted. Last year, seventeen people died in the trench from drug overdose.
For years, officials played round robin over who should be responsible for cleaning and securing area. With increased attention focused on the trench from local and national journalists, city officials and Conrail announced they would clear the area.
Seven months of negotiations carried on and in June, Conrail said it would clear brush, remove trash and erect a prison-grade fence on street level to prevent trespassing, among other efforts.  
As part of the cleanup project, the city also announced it would seal vacant buildings in the surrounding area, fix street lights and make other quality of life improvements to deter open-air drug use.
City officials said they will be providing services like food, homeless shelter placement and access to drug rehabilitation programs to those who are removed from The Tracks as part of the cleanup project.
Trailers will be positioned at the corner of 2nd and Indiana through Wednesday to provide these services. A mobile trailer will also be placed daily at Tusculum and A streets for the entire cleanup process, city officials said.
Philadelphia's Health and Human Services departments said 84 people accepted city assistance since officials increased outreach efforts in early May.