President Trump arrived at Joint Base Andrews for his final farewell ceremony Wednesday, marking the first time he's been seen in public for over a week.
On the stage where Trump will deliver what are likely his last public remarks as President, there's a podium with the Presidential seal. There are no teleprompters.
He will be in Florida when President-elect Joe Biden and Vice President-elect Kamala Harris are sworn in at noon, at which point he will no longer be president.
President Trump and his wife, Melania Trump, just walked off Marine One and onto the stage at Joint Base Andrews for his send-off ceremony.
As he began his remarks at Joint Base Andrews, President Trump focused on his family, who were in attendance to the side of the stage.
He recognized his children, saying, "People have no idea how hard this family worked. They could have had a much easier life, but they just, they did a fantastic job."
He also recognized his chief of staff, Mark Meadows, before calling up first lady Melania Trump to make brief remarks.
He called the first lady a "woman of great grace and beauty and dignity," and said she was "so popular with the people," despite CNN polling that finds she is the first lady with the lowest popularity rating in recent history.
Melania Trump took the podium briefly, saying, "Being your first lady was my greatest honor."
After she concluded her remarks, the President retook the microphone, saying, "What else has to be said, right? That's true honey, great job."
In his closing remarks as President, Donald Trump promised to "always fight" and wished the incoming Biden administration "great luck."
"You are amazing people. This is a great, great country. It is my greatest honor and privilege to have been your President," Trump said to a crowd of his family and staff.
"I will always fight for you. I will be watching. I will be listening, and I will tell you that the future of this country has never been better. I wish the new administration great luck and great success. I think they'll have great success. They have the foundation to do something really spectacular," Trump added.
He also thanked Vice President Mike Pence, Second Lady Karen Pence and Congress.
Trump is taking his final flight in Marine One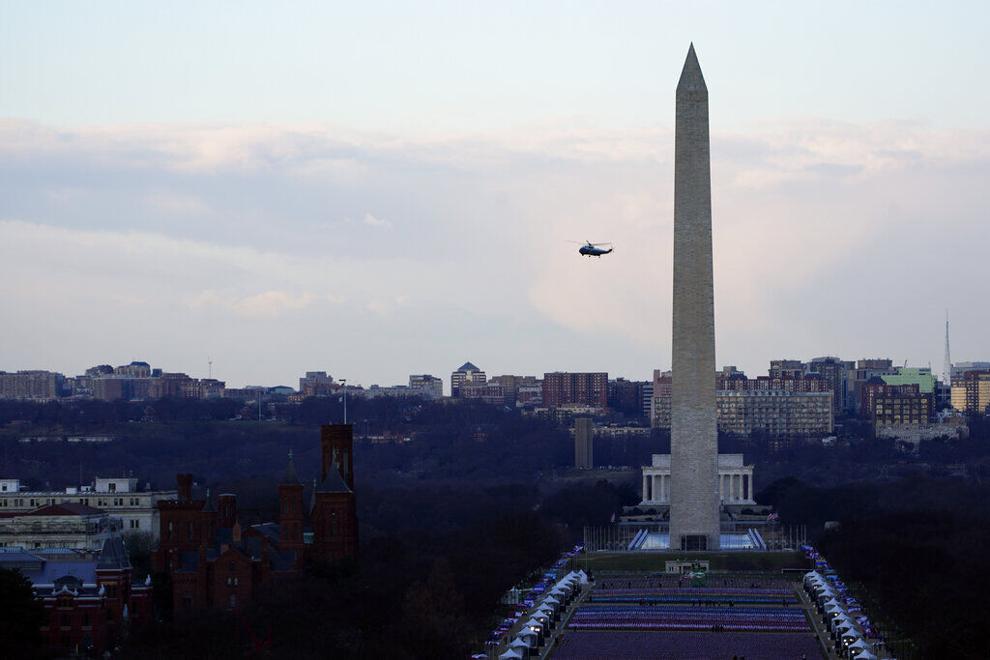 Marine One just took off from the White House lawn, carrying President Trump to Joint Base Andrews for his send-off ceremony.
But it is not typical for a president's final flights to be officially called Marine One and Air Force One, since those craft only have those names when the President is on them. (Typically, presidents leave DC after the new president is inaugurated.)
The helicopter flight for the outgoing president typically becomes known as Executive One.
This is how President Trump spent his final night in the White House
A source close to the White House said President Trump spent his final night in the White House working on pardons and signing the final paperwork just before midnight.
His daughter Ivanka was with him until 10 p.m. ET and left to make phone calls to some of the people pardoned until 2 a.m. ET. Ivanka had been very involved in recent days in the criminal justice pardons for non-violent offenders.
The sources said the feeling is "bittersweet" as the family departs today. Another source says he's relieved to leave behind the pressure of the presidency.
His daughter and son in law will not be joining him on Air Force One.
Trump said it was a "great honor" to serve as President in parting remarks to reporters
After he walked out of the White House, President Trump told reporters it was a "great honor" to serve as 45th President of the United States.
He said it has been the "honor of a lifetime" and that he just wanted to walk over and say goodbye.
He added he hoped it would not be a long goodbye, CNN's Jeremy Diamond reported.
"It seemed the President was trying to take this in and say one final goodbye here," Diamond said.