Did State Rep. Mike Ramone get his political opponent fired from an animal welfare non-profit organization he's supported in the past? The answer is unclear.
The Republican, who represents the Pike Creek area, helped PAWS for People secure $5,000 in Grant-in-Aid funding this past legislative session through his seat on the Joint Finance Committee.
He reached out to PAWS via email after his Democratic opponent Stephanie Barry sent Facebook messages soliciting donations and claiming she had PAWS' support to run against Ramone. Barry worked full-time for the animal welfare non-profit in the Newark-area for more than a decade until August 27, 2018, when she was fired, six weeks after Ramone's inquiries.
WDEL has seen at least one of the Facebook messages and Barry confirmed sending them.
"I did send some Facebook messages, private messages, to about 12 of my friends; in the message, I did say to them that I had the support of my employer to run for office," she told WDEL. "I understand this probably could be interpreted a bunch of different ways, but the support from my employer was simply the support and permission to run for office."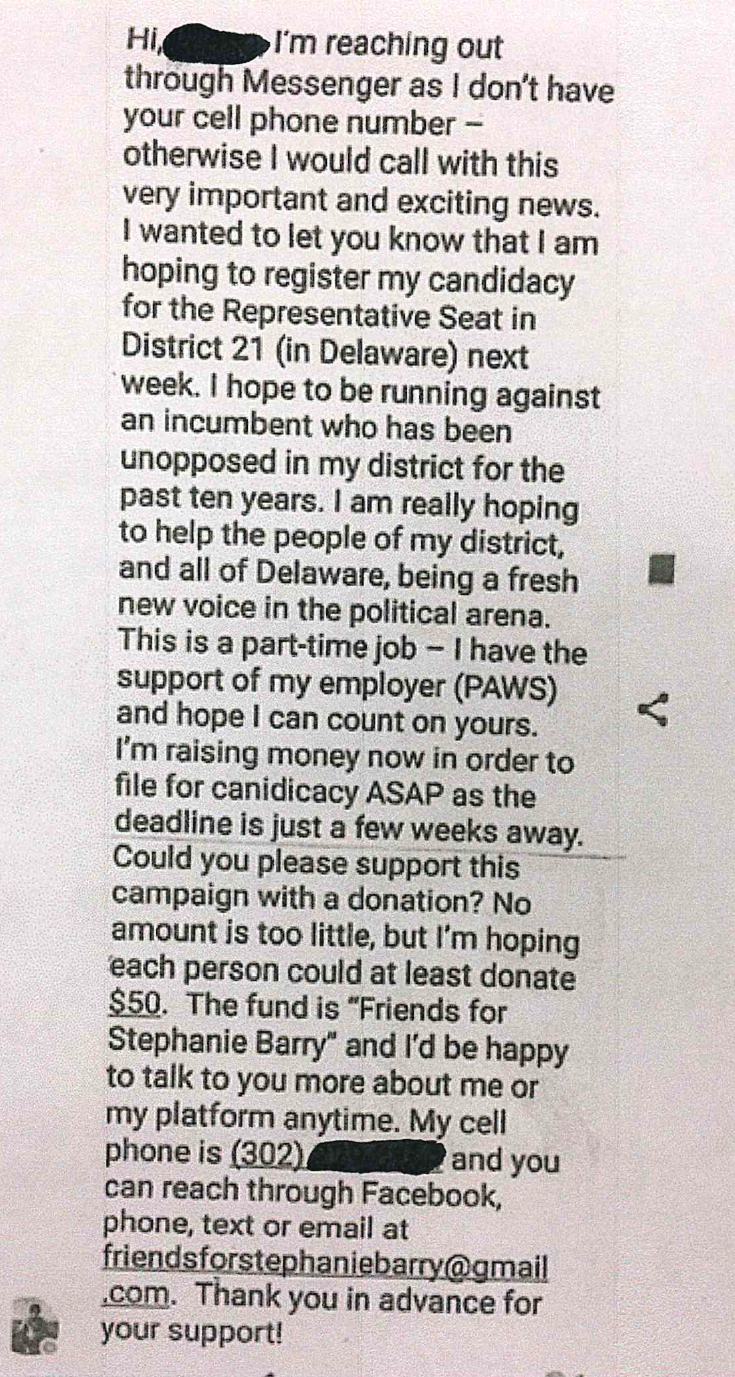 Barry said she informed her employer and got permission to run for the state House seat and did not file until June 29, 2018, after permission was granted.
Ramone said he received a copy of Barry's message from a campaign supporter of his own.
In emails obtained by WDEL, Ramone wrote to PAWS in mid-July to ensure the organization is following policy to get Grant-in-Aid funding. Via email, he requested a call from Executive Director Lynne Robinson. He added no one within the organization responded to his request.
Robinson replied: "PAWS for People has adopted a strict policy related to political campaigns and I am not at liberty communicate with you."
Ramone then received an email from a PAWS board member, which stated Barry was "informed of PAWS policy to keep PAWS employment and resources totally separate from her political activities. As far as I am aware she has complied with that policy," the email said. "If you identify the posts to which you refer, they will be looked at and appropriate action taken."
From there, Ramone asked both Robinson and the board member to see PAWS' policy.
"I only wanted to ask for some clarity on posts made about PAWS. Could I please see a copy of that policy. I was just confused about PAWS endorsement of my opponent [as written in her posts] without ever speaking with me. I thought that odd viewing the fact that you were a Grant and Aid [sic] recipient and was looking for some direction but a copy of your policy would help me better understand," he wrote in an email to Robinson.
"I do not want to hurt anyone in a negative way. I only requested a copy of your 'strict' policy so I could understand the position taken by PAWS and their decision to not speak to any political candidates....I requested clarity since on Mrs. Barry's post, it states she is being supported by PAWS and then requests monetary support from those whom she solicited."
Robinson did not return WDEL's requests for comment, nor did PAWS' board chairman. They also ignored requests to see the aforementioned policy regarding political campaigns.  
In an interview with WDEL, Ramone stressed he wanted to make sure the organization was following "certain rules" and "guidelines" in place to ensure organizations which receive Grant-in-Aid, like PAWS, are held "accountable," though he acknowledged to WDEL:
"A non-profit, quite frankly, can do whatever they want; they set up whatever rules they want. We have many legislators who work for non-profits. It's not illegal for a nonprofit to help or work for someone; it's not illegal for a nonprofit to support someone, but it is unusual that a nonprofit would support someone without going through some kind of an interview process.

"My concern was I didn't want to have somebody that I recommended--a recipient of a Grant-in-Aid fund--and then have that person or that organization then be brought up next year, 'Look you did such and so, and that was against the rules.' I just wanted to make sure they had a policy in place, and I wanted to know what that policy was...the only correlation to Grant-in-Aid was because you got grant in aid you have the need to follow certain rules, and I just wanted to make sure they were aware of that and they were following that."
When asked what rule he was checking on, Ramone referred WDEL to the Office of the Controller General within Legislative Hall. Controller General Michael Morton sent WDEL a list of rules, which included:
No agency shall use Grant-in-Aid funds to pay any part of an elected official's salary or benefits.
No funds appropriated in this Act shall be expended in a political campaign or for partisan political purposes.

(b) No funds appropriated in this Act may be used to hire lobbyists.
Morton confirmed the rules do not govern a non-profit's support or endorsements of candidates. Organizations just can't use Grant-in-Aid dollars for political purposes.
Barry refused to comment or speculate on whether her original Facebook messages got her fired or whether Ramone's email inquiries led to her termination.
"I'm just moving forward with my life," she told WDEL.
Ramone said any insinuation that he got his opponent fired is ridiculous.
"I have a hard time firing people in my own company, I don't know how I can get someone fired in another place," he said. "And it's [not] like this enormous amount of Grant-in-Aid is going to be pulled from this organization--it was a very small grant--but it still means you need to follow the rules, and I was trying to make sure they understood that, that's all."
Ramone denies sharing Barry's message with anyone, constituents or PAWs, despite the organization asking for the posts and/or messages.
"The last thing I would want is for her to lose a job...two months before the campaign so she can campaign full-time and try to use this as a political motive," he said.