The Wilmington Farmers Market makes its triumphant return to Rodney Square with vendors selling their wares, food trucks, new café-style seating, amid a new backdrop: fountains.
The upgrades were unveiled Wednesday, June 2, 2021, amid a serenading by the New Orleans-style jazz band, Boysie Lowering Jazz Residency Alumni band.
New fountains in #WilmDE's Rodney Square. #inwilm #itstimewilmde #netde pic.twitter.com/HuAzNTEJIP

— Amy Cherry (@acherry13) June 2, 2021
The square has been undergoing a years-long revitalization, involving a public-private partnership, driven by Mayor Mike Purzycki. So far, $4 million has been spent, and another $5 million is planned.
"It's just so good to see something happen, and you can put your arms around it and say 'this is what we did,'" he said. "To see it reinvigorated, beautifully planted, kids playing here are very power images to me, very invigorating."
He shared a story that someone snapped a photograph from high above, overlooking the square after noticing some kids having a blast playing in the new fountains.
"I want kids to be here. I want kids to come to this park and say 'this is ours too.' It's not just the business community. It belongs to all of us. I want kids to come downtown, to come here, to come to the Riverfront. We're in this, as they say, together."
Prior to running for mayor, Purzycki said he had a vision for Rodney Square.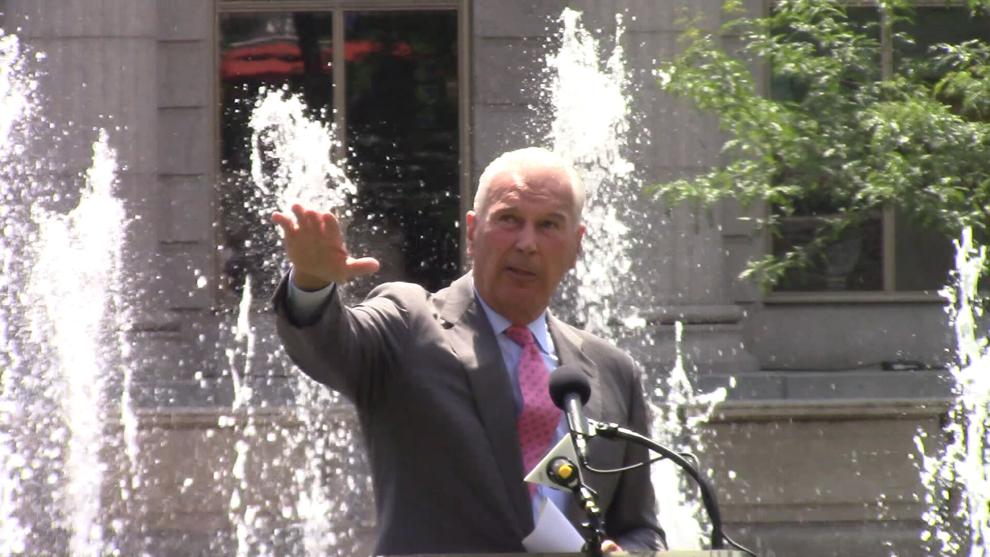 "For years, I've looked at this place, and thought it was just so tired and so neglected that it didn't say much about our self image, about what we felt about our own city," he said.
Phase 1 of the project, which focused on the interior of the square, was completed last summer. The improvements first announced in 2019, came a year after the city had moved its bus hub from Rodney Square at the request of business leaders.
Wilmington Mayor Mike Purzycki sits in his office, staring at a black and white photograph o…
Phase 2, which is underway, includes improvements to 10th Street in front of the Wilmington Public Library. 
"These are important updates to this historical square, and as part of our future plans for the square--it includes programming with various elements and performances to benefit the citizens of the entire city of Wilmington and the surrounding areas," said Marty Hagerman, executive director of Downtown Visions.
The farmers' market will be on the square every Wednesday through October from 10 a.m. to 2 p.m. while other events are also planned for the space.
"We do the jazz festival here--that's going to be fabulous this year," remarked Mayor Purzycki.
The mayor added he hopes a re-envisioned Rodney Square spurs an ongoing revitalization of some of the older buildings downtown.
"We've got a bunch of empty buildings over there that's approximate to a beautiful, central square, with a very vibrant legal profession, and a beautiful hotel, and the new Le Cav restaurant, which is off-the-charts gorgeous. It just gives me this sense that we're going to start to see some real investment in this part of the city."
Not returning to the square, at least not right now, is a piece of its history: the Caesar Rodney statue, which was removed nearly one year ago, along with a statue of Christopher Columbus, amid a nationwide reckoning over racial injustice.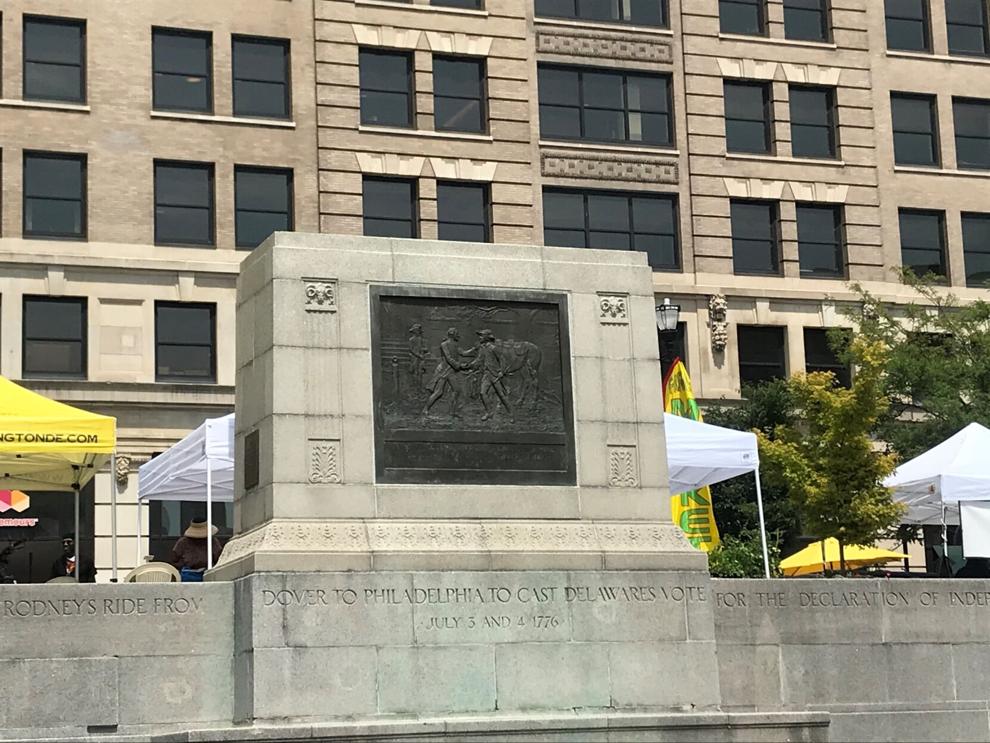 "The plan is to play it by ear. The entire civil rights issue is so fraught nationally that the idea to press this now would be so foolhardy, and I just won't do it," the mayor told WDEL.
The mayor promised community conversations surrounding the future of the statues would be held, but to date, those conversations have not occurred.
"We're going to get everybody together and think about how we're going to do this. Whatever we do here is because we build a consensus around that decision, and hopefully we'll be able to have some real productive talks about that as well," he said Wednesday.
In April, Wilmington City Council failed to pass a resolution encouraging permanent removal of the statues, which remain in storage.
But Mayor Purzycki told WDEL he's hopeful the Caesar Rodney statue will ultimately return to its home in Rodney Square.
"I hope the statue goes back, but it's going to go back when we can build a consensus around doing it. We're not going to jam it around anyone's throat. We want people to understand why it's the right thing to do."