"It's a great feeling. I mean, everybody's been so wonderful to us since Keith passed," said Tracey West-Ney in Glasgow Park Wednesday. "It's just like having a second family. I mean, they're so supportive, they're always there for you. We just feel really, really great to be involved in these events and stuff."
Every year, a bike ride is held that brings thousands of police officers from across the country to the East Coast, where they participate in the Police Unity Tour, making stops in various locations, before ultimately ending up at the memorial wall in Washington DC featuring all of the names of fallen police officers.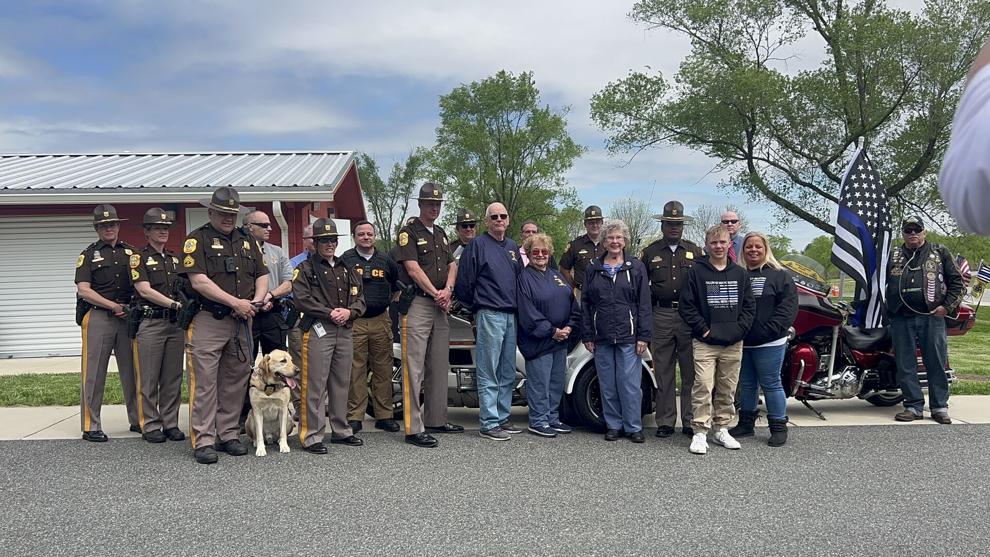 This year, on the second day of a chapter stopping in Delaware, the event took on particular meeting as riders were greeted by the Tracey West-Ney and her son Matthew Heacook, the family of Delmar Police Cpl. Keith Heacook, who was killed in the line of duty in April 2021. Despite the somber message, the Heacook's were in good spirits. 
"This is the first time seeing them for both of us, so we're pretty excited. This morning, we got to see the Unity Tour leave Delaware State Police Troop 7 in Lewes," West-Ney said. "It's pretty exciting, and, I mean, we have the utmost respect for these guys that are out there riding for the fallen officers."
On the first Police Unity Tour ride in two years due to the pandemic, the chapter rolling into Glasgow Park was halved from the typical 600 riders who would be present pre-COVID, according to Ronnie Williams Foundation Executive Director Jennifer Hawkins. She said Matthew Heacook would be joining police in DC this year.
"He'll be going down to Washington for his first time, as his dad's name is added to the wall. We invited Matthew and his mom up here today because...it's a great place for him to get to know and meet and greet other officers from around the country," Hawkins said. "He is not riding with the chapter--although he has aspirations to ride with the Delaware Thank You Ride, which is in September...he's gonna do that as his first official bike ride--but eventually he hopes to ride with the Unity Tour down to Washington. This week, he'll be going down with his mom and spending the time down at the memorial with them."
Concerns Of Police Survivors (COPS) will be joining the, according to Betty Wagner, mother to Delaware State Police Trooper Sandra Wagner who was killed in the line of duty in 1996. Wagner said they're there to help those who "unfortunately have to walk in our shoes," and will be there to help the Heacooks through a grief that never goes away. 
Its an experience that's all about holding each other up, said New Castle County Police Chief Col. Joseph Bloch, who added their goal every year is to not add another name to that wall. 
"If you haven't been there, it's unbelievable. The amount of support that goes into this event is just astonishing. And we're really there to support those who have fallen before us, those who have blazed a path before us. We're there in support of the families," Bloch said. "We have the Heacook family with us today, and we're here to support them--and we'll have a contingent, along with COPS, of people down there to support their family, because this will be their first year at the event. But [COPS are] there every year to support anybody in Delaware--or anybody else--that gave the ultimate sacrifice."
It was meetings like this, LAPD Chief Michel Moore said, that refocus him and remind him its about more than a nice bike ride on a beautiful day. 
"We've had great weather both yesterday and today, and I'm just enjoying the scenery, a lot of good hospitality here, and really just enjoying the ride and remembering why we're riding," Moore said. "This young man, we're here to recognize his father was killed last year in line of duty, and so number of agencies are here--not just LAPD, but the LA Sheriff's Department, as well as agencies from across the country--and we want to just let him know that we never forget, and just honor his dad's service."