Firefighters, paramedics, and members of New Castle County's Swift Water Rescue Team, helped corral a wayward pup from an icy pond at Carousel Park in Pike Creek on Wednesday, February 24, 2021.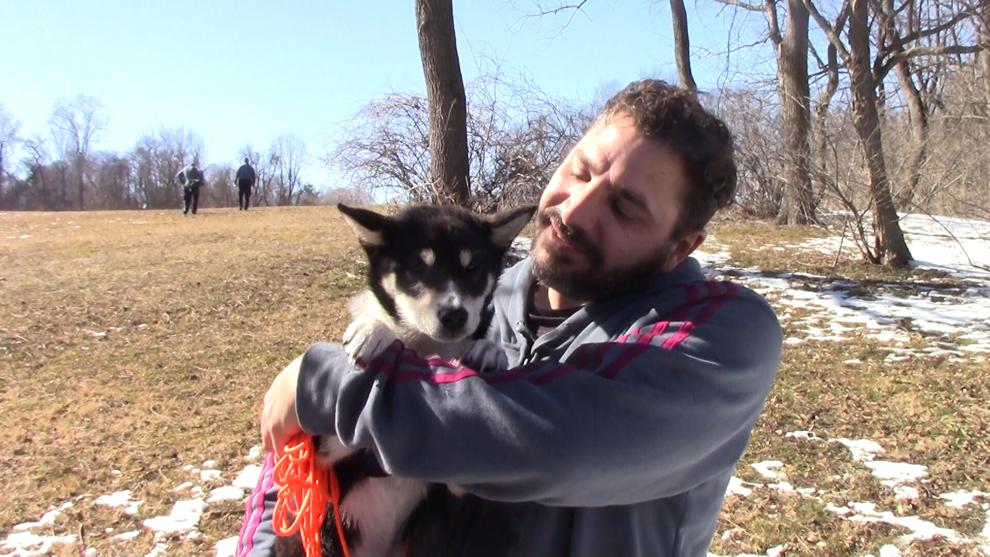 Bowie got away from his owner at Carousel's Bark Park shortly before 1 p.m.
New Castle County police officers were unable to reach the animal and called out area fire companies for assistance.
Crews from Mill Creek, Cranston Heights, Hockessin, Minquas of Newport, and other fire companies, responded within minutes, donned cold water gear, and used an inflatable raft to enter the waters, which were still about 50-percent covered with a thin layer of ice, despite the sun and warmer temperatures.
After several minutes of trying to coax Bowie with treats and a dog toy, the four-month old Husky pup finally was scooped up by one of the rescue techs.
He was returned to shore, into the arms of a New Castle County paramedic, and then to his owner Larry Gladnick, who was very thankful for the large turnout of rescuers.
The pond has been the previous site of ice rescues in which humans have gone onto the ice to retrieve canines and then found themselves in need of rescue.
Gladnick said he knew the ice was not thick enough to support him, although he said if Bowie had fallen through he was prepared to grab a life ring from the pond fence and try to get the animal himself.