Police have identified a female store employee, who was shot and killed in a robbery inside in a cellphone shop in Elsmere over the weekend.
Now, they need the public's help in finding the suspect.
Elsmere Police said Leslie Ruiz-Basilio, 28, was fatally shot inside the Metro PCS store on the 900 block of Kirkwood Highway at 5:30 p.m. on Saturday, May 15, 2021.
"Upon arrival, [officers] found the store empty and the cash register empty; they checked the building, where they found the victim in a back storage area with one gunshot wound," said Elsmere Police Chief Laura Giles.
Police said surveillance video shows Ruiz-Basilio did not put up a fight. 
"Unfortunately, she has been the victim of robberies in the past; she's always been cooperative as she's been with this robbery, just things had a different outcome, unfortunately," said Giles. "It's very unusual. I just think this is unusual for any town. Usually crimes of violence have some uptick as to why it happened; here we have no reason to know why this victim was murdered in cold blood."
Police said the armed gunman, shown in the photograph above, fled in Ruiz-Basilio's black 2008 Cadillac Escalade with license plate "PC194769."
"We really need the public to help us locate this vehicle. If they see anything suspicious, a black Escalade sitting on their block, please call. Don't approach it, just call 911, we'll go out and make sure and just check it out," said Giles.
The vehicle does not have a GPS tracker, according to Giles.
They believe he arrived at the Metro PCS store, which also goes by the name Metro by T-Mobile, on this blue bicycle.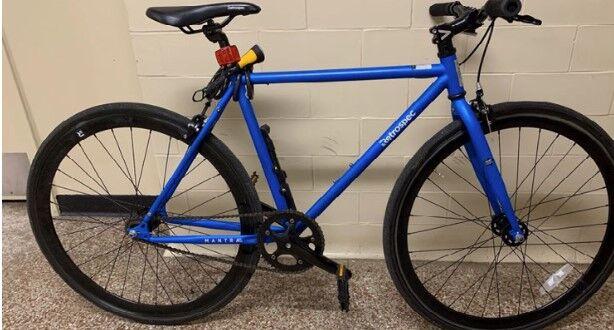 Additionally, Monday evening, police released an additional photo of the suspect, wearing a fanny pack.
"We are hoping someone might recognize this unusual fanny pack or pouches the suspect wears on his belt," she said. 
Police said the suspect is considered "armed and dangerous," so if you see him, you should not approach him, and instead, call 911. 
"The victim was a hardworking wife, mother, sister, daughter, who came to the United States to try to make an honest living, and Satan walked in the door Saturday; there's no other way to describe this animal," said Giles.
Anyone with information about the suspect is also asked to contact Det. Scot Sowden at scot.sowden@cj.state.de.us or 302.998.1173 ext. 208 or contact Delaware Crime Stoppers at 1.800.TIP.3333.