After Delaware received more sleet and freezing rain than snow from part one of a double-barreled, end-of-the-week storm, a second low pressure may bring similar conditions on Friday.
Wilmington officially received 1.4 inches of snow/sleet and 0.12 inches of freezing rain at the New Castle Airport, with Hockessin getting 2.8 inches and Georgetown's Delaware Coastal Airport gaining 0.25 inches of freezing rain to lead the state on Thursday.
That low pressure has passed to the northeast, but now a second low is preparing to ride along a stalled front just off the coast on Friday.
Before it approaches, there remains a chance of patchy freezing drizzle throughout Delaware in the overnight, and is why a Winter Weather Advisory is posted for the entire state until 4 p.m. Friday.
Like Thursday, there remains a question of how close the low approaches the area in terms of precipitation type, but this time there is also a question of how much moisture will drop in the various forms.
The NWS said in their 9:59 p.m. forecaster's discussion that some models put precipitation along the I-95 corridor, while others keep it more along the front, and off the coast.
Also unlike Thursday, temperatures on Friday may sneak above freezing in northern Delaware, introducing plain rain into the equation.
The NWS is projecting the occasional freezing drizzle to continue until about daylight, when it could mix with a little snow as it gets briefly heavier in the morning.
By noon, temperatures in New Castle County could approach 35, meaning the system likely ends as rain in the early afternoon.
In Kent County, the changeover to rain could happen earlier, closer to 7 a.m., while northern Sussex County could have freezing drizzle until about 3 a.m., and then they would jump back above freezing as well.
The NWS is projecting about .10 inches of ice accumulation in New Castle, Kent, and northwestern Sussex County before the various changeovers. Kent and New Castle could also pick up less than an inch of snow or sleet.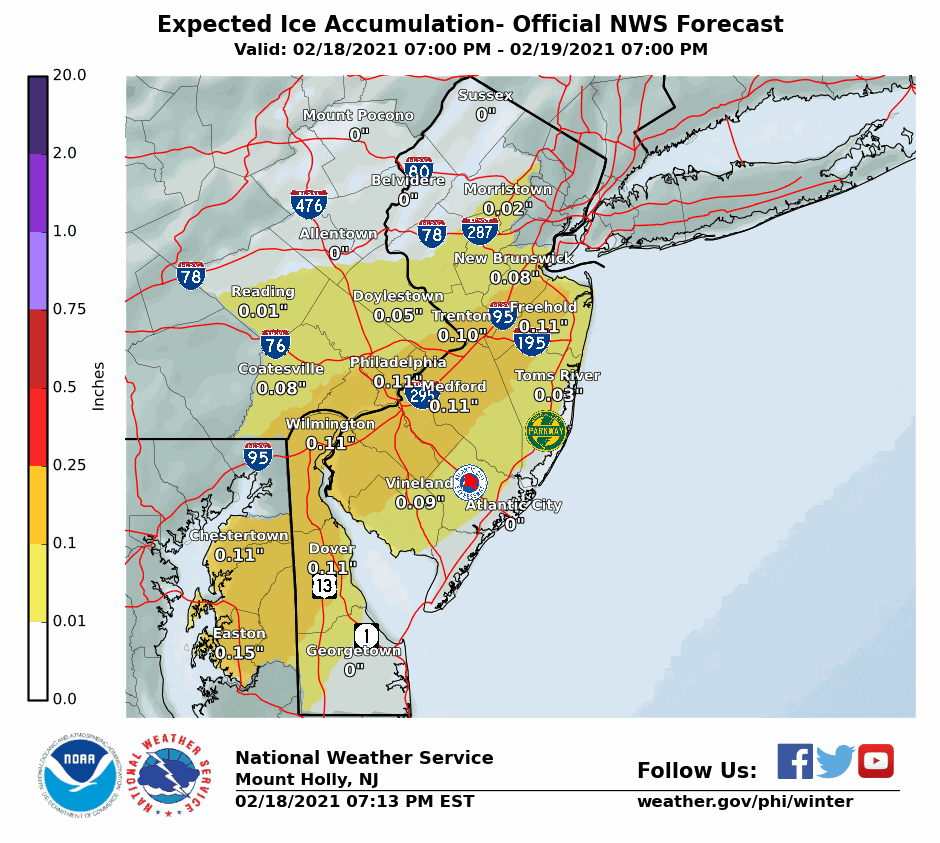 Sunshine is expected to take over for the weekend, although Saturday could be quite chilly with highs near freezing, and 25 mph gusts.
The next storm system is expected for Monday, with forecasters believing that even if it starts as snow, it will likely quickly change to plain rain.