When a Dover High School educator heard that a colleague who tested positive for COVID-19 was told to continue to report to school, it was the last straw in what's been a struggle rife with concerns as the pandemic continues to rage.
"[The teacher was told] to remain on-site in the building, in-person at Dover High School in Dover, and that she was not to take any days off related to COVID, but she was to continue to report to work," said Leann Ferguson, who also serves as a building union representative for the school.
It was at that point that Ferguson, concerned about the health and safety of teachers, students, and staff, reached out to WDEL about a myriad of alleged complaints against administrators from the Capital School District.
According to Ferguson, a district official denied the teacher was told to return to work when questioned about it.
WDEL spoke with that teacher on the condition of anonymity for fear of retribution. They confirmed that they were told to report to work in-person, despite receiving a positive COVID test.
When asked directly about this by WDEL, Capital School District Director of Human Resources Mary Cooke wrote:
"This is a question for DPH, since they inform us of clearances to return.  We are in constant communication with DPH regarding the return to work status of our employees.  Our district has a DPH liaison, and we work closely together to ensure that our employees are meeting CDC and DPH return to work guidelines before they return to work."
Ferguson accuses district staff of making phone calls to teachers about COVID protocols, instead of emailing them, which would leave a paper trail.
"We are instructing staff to decline to engage in phone conversations and to restrict all communications to emails," said Ferguson.
The social studies teacher said district administrators are making "arbitrary decisions" about risk factors, leave granted, and accommodations being afforded under the Americans with Disabilities Act (ADA).
"There is no uniformity, consistency, or clear rationale as to how or why decisions are being made in this manner," said Ferguson who pointed to the teacher who tested COVID positive as an example.
Reasonable accommodations requests under the ADA are a hot-button issue for some teachers.
One teacher, who also requested anonymity for fear of retribution, confirmed to WDEL they initially requested reasonable ADA accommodations to teach remotely. When that request was refused the teacher sent a letter to the Capital School District Board of Education asking for unpaid leave. Instead, they were let go.
The district denies the allegation.
"That is absolutely inaccurate. No one who requested accommodations has been terminated," said Cooke.
However, WDEL has obtained their request for leave letter, and an email response from the district, dated November 30, 2020, indicating the teacher's contract would be paid off and their insurance ended. The teacher is considering litigation in the matter.
WDEL also reviewed emails from a second teacher who submitted notes from multiple doctors, supporting a request to teach remotely under ADA reasonable accommodations.
In the email the teacher wrote:
"At the advice of multiple doctors caring for me right now, I am requesting accommodations to continue to work from home. I have been experiencing chronic respiratory conditions for the last year that put me at high risk if exposed to COVID-19." 
Her request was also denied.
The district responded with a list of what they deemed were reasonable accommodations:
Provision of face shield and eye protection, if requested
Provision of disposable gown and gloves, if requested
N95 mask
Plexi-glass barrier for your desk
Plexi-glass barriers for the student desks in your classroom (will need to know number needed so order may be placed ASAP)
Review of your duties to ensure limited exposure to larger groups of students
"We cannot have any universal policies since the ADA requires us to engage each employee with a documented disability in an interactive process to determine what, if any, reasonable accommodations we can provide," wrote Cooke in an email to WDEL.
Ferguson was also critical of district notifications about COVID positive cases at Dover High School.
"We are having our health, safety, and well-being endangered by withholding COVID exposure or potential COVID exposure information from us," said Ferguson.
Capital School District officials did announce at its Board of Education meeting Wednesday night, January 20, 2021, that 17 district staff members were in isolation with 49 others in quarantine due to coronavirus.
In addition to staff, district officials said 10 students were in isolation with 42 in quarantine.
"If a student, parent, employee or visitor has been in the school and tested positive, and we have learned from DPH of this occurrence, DPH directs us to notify certain individuals or groups of individuals," wrote Cooke.
"We always follow their guidance unless we choose to notify a broader than recommended population.  For example, we letters [sic] and make phone notifications to building staff and families when we are made aware of a confirmed COVID-19 test result in our buildings."
Ferguson pointed to the neighboring Lake Forest School District and their notification process.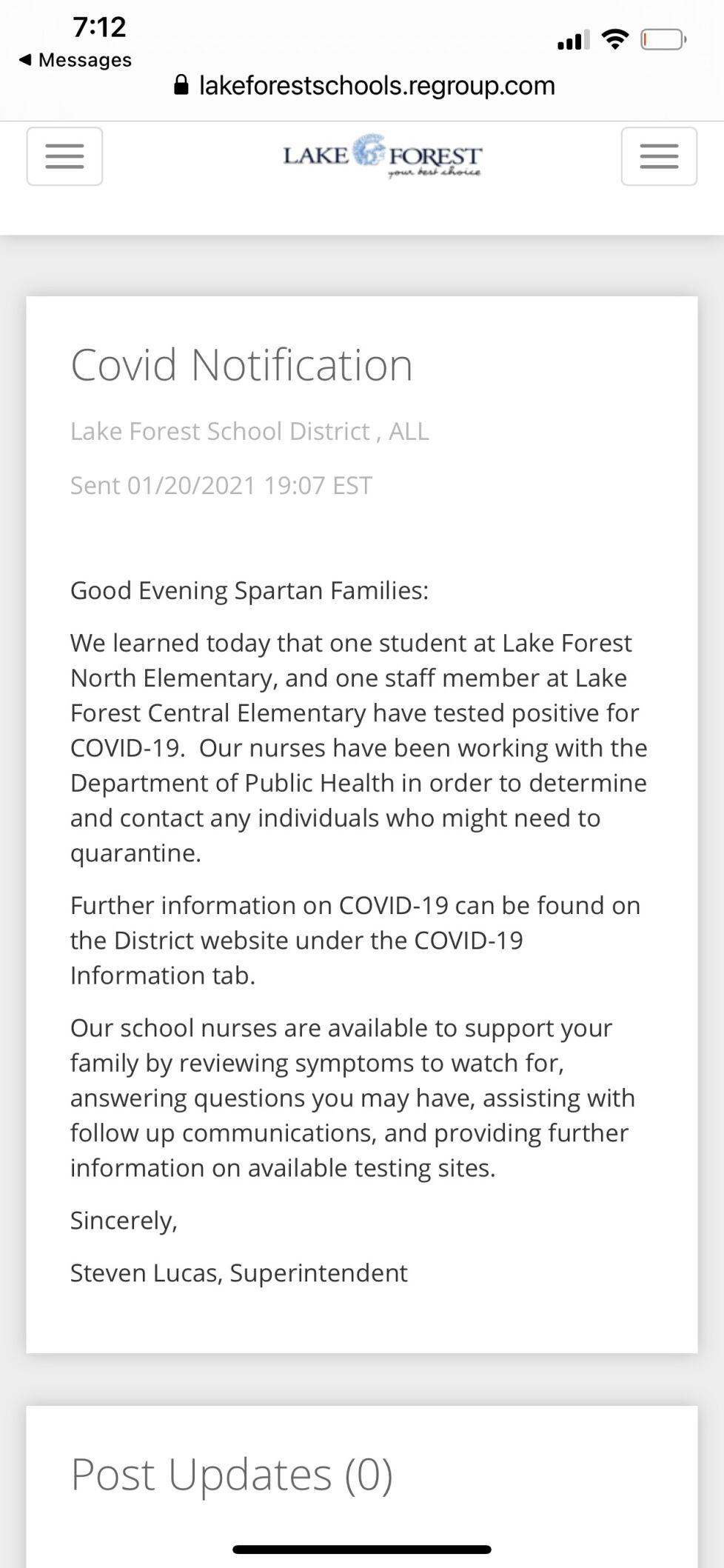 "[Lake Forest's policy aims] to keep their families aware of positive cases in the district and this allows families to make the medical health and safety decisions to keep their loved ones healthy," said Ferguson.
The district is also being accused of violating teacher's HIPAA (Health Insurance Portability and Accountability Act) rights.
Ferguson said as building union representative she's been copied on numerous emails, which have included medical notes and information related to teachers still attached.
Cooke pointed out that HIPAA rules don't necessarily apply to schools.
"It is only in the rarest of situations when the district may be a covered entity under HIPAA," Cooke wrote to WDEL. "Rather, we follow common law principles and the ADA with regard to privacy. We cannot comment on any particular instances of staff members' medical records being circulated, but we do know that staff frequently circulate documents concerning disabilities, COVID clearances, and leave requests to the administration, nurses, and union leadership."
At the Board of Education meeting, district officials indicated hybrid teaching was going well, but information obtained by WDEL indicates that just 166 students attended in-person school at Dover High School on Tuesday, January 19, 2021. That's only 56% of the assigned hybrid students in one of two groups who signed up to attend in-person learning.
At one point in January, three zip codes within the Capital School District were registering positive coronavirus cases at two to three times the number the Centers for Disease Control (CDC) listed as at the highest risk of transmission in schools.
Governor John Carney and DPH have stressed the data shows a lack of virus transmission occurring within schools.
"We are following the advice of the governor and DPH," wrote Cooke in response to an inquiry from WDEL. "We review our data daily and participate in statewide calls to support our schools operationally."
Ferguson also claims that there are not enough substitute teachers at the school forcing class sizes to be increased beyond recommended limits.
"We're potentially putting others at risk because of the policies that are being enacted by bureaucrats, not public health professionals," said Ferguson.
Following publication of this story, WDEL received the following statement from Delaware Secretary of Education Susan Bunting:
"To our knowledge, Capital School District has been following all COVID-19 protocols and adhering to Division of Public Health and CDC guidelines. Capital School District cannot discuss  employees' personnel matters unless there is consent from the employees."
According to CNN, President Joseph Biden is pledging to reopen most K-12 schools within 100 days, even as teachers across the country fight some plans to reopen.
Teachers' union leaders said they're pleased with Biden's sense of urgency and focus, but they warn that the 100-day pledge may need to be a goal as opposed to a fixed target.