Twinkle Borge doesn't like the word "homeless."
"Homeless, to me, is very degrading. We houseless in our own homes. Hawaii is my home...our grandparents lived the way we live," she said.
Nestled on Oahu's west-side is a houseless community tucked away in the forest, along the water. The community was founded by Borge, who's now its de facto leader.
"Everyone in the village will refer to me as 'mama'...I'm mama to all the kids, even the ones older than me," she said.
She got that nickname by giving up what's hers.
"If somebody came in with kids, I would give up my home just for you. I've done it many times, almost seven times, so I would build up my area, and someone would come in with kids, and I would ask them if they had a tent, and they would always say no, and then I would be like 'let me grab my things, you can have this area, and I'll work with you, I'll get the agencies in to help you.' I was one who always built and gave away my things, and I would just stay in my car."
For Borge, things don't mean much.
"No, [they] don't even have a value on it," she said.
All she needs to live, in what many of us would call a simpler life:
"Love and respect...food is always there, water is always there, but it's the love and respect."
The Harbor has 300 residents, 48 of them children, and none of them would ever tell you they don't have a home. When you first walk in, Borge said you'll see a donation tent.
"It'll probably bring you back to the western on how people used to live," she said. "Everyone builds their own area, including the walls in it...my tent is actually like a 40x80--three bedrooms--that's where most of the kids in the village stays at. Put them through school and everything."
There's a game center for kids, and Borge is working on a community wifi tent. They also have a goods donation tent.
"...which looks like a mini Ross', and right across from me, I just got done building a food pantry. So we don't only service the ones in our village, but we also service the ones in-home," she said. "People don't actually know that there's a houseless community in their area, we're actually hidden, so we're out of sight and out of mind."
Being "out of sight" may be a small piece of what's led to The Harbor's success.
"Oahu has some of the strictest anti-homeless laws in the country, especially around Waikiki and other high-tourist areas, where, in those areas, it's actually illegal to sit or lie down on the sidewalk," explained Ryan Catalani, a Hawaii native, who recently moved back to his home state, after working for Family Promise of Northern New Castle County.
Catalani said conditions in Hawaii, in Delaware, and across the country are more similar than people might think.
"Especially in Wilmington, there has definitely been a sort of a punitive approach to homelessness and to poverty, some would say, and in Hawaii that's definitely true too," he said.
The New York Times has called Hawaii's measures some of the most stringent anti-homelessness measures in the country.
"The government here does regularly--almost every day, several times a week--conduct what they call 'sweeps,' which are when they sort of bulldoze people's possessions from the street," said Catalani.
Despite pressure to stay out-of-sight, Pu'uhonua o Wai'anae, or The Harbor, as its affectionately called, has survived as a thriving, cohesive community, that's now relatively immune to sweeps.
While Hawaii, to outsiders, is often viewed as paradise, the state actually has the highest rate of homelessness per capita in the country. Borge found herself houseless in 2003.
"While I was working, my significant other at that time--I didn't know--was using drugs. All they had to do was sign and send the rent in, I was the worker. I finally realized after receiving a letter that we was being evicted, I couldn't understand. That's when I realized there was nothing in my account," she recalled. "I was the breadwinner."
Borge traveled to Delaware for the first time last week, to speak about her unique solution and vision to end houselessness at the third annual Millennial Summit in Wilmington. In addition to Mama, she's the self-proclaimed CEO of the village on Facebook.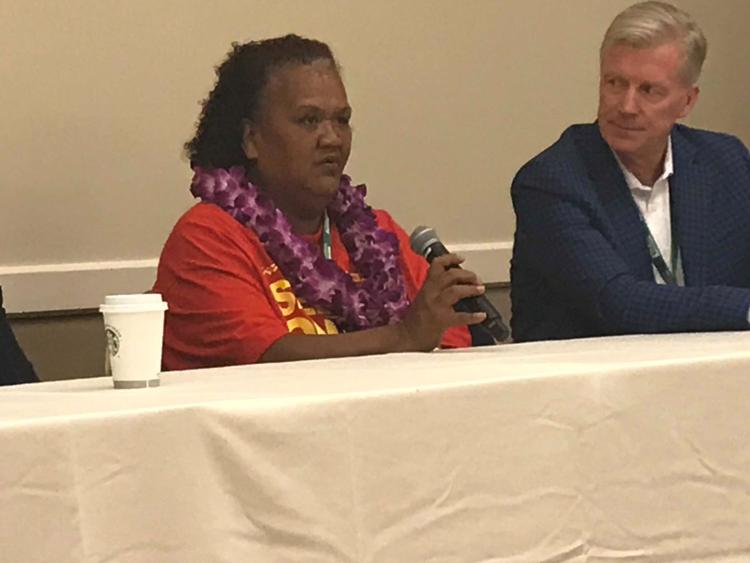 "Because I'm the blunt one, I'll fight anyone, especially for where we live. I'll put you right into your place whether you like it or not, and I am the first person you have to meet before you even are allowed to move in. I have created my own data; I have my own Census, so even everyone that moves in, I take a picture of them even with their animals...and have it on file."
Without the rules, The Harbor probably wouldn't survive.
"No noises after 10 p.m.  You are responsible for your guests, even when leaving you need to walk your guests out. All dogs need to be tied up because we do have almost 168 dogs--so that is kind of like your security for your area. In each area, I do have 11 captains...in each section there's about 25-30 people, so they're responsible for any situations that arise, they come up with the solution, and if they cannot figure out one solution, I'll step in.
One sure-fire way to get kicked out of The Harbor:
"Rule number one: no stealing," she said. "If you're caught stealing from anywhere around the neighborhood or even in the schools, I built a relationship with them, and if they send me the pictures, you're immediately out. That's one thing I will not do. Where we live and what we have--that's all we have."
"If anything do arise, I said I'm not having it, I said you're out, I will not hesitate to kick you out. That's when things started shifting, things started being more solid...laying the rules down on the foundation, building up leaders in our areas, and working with the people. I must say, it's amazing," Borge said.
State and local officials are using POW as a model to address homelessness in the state. Residents of The Harbor launch community service projects, and conduct outreach to other homeless camps in hopes of inspiring them to create a similar community. Borge said she's helping the houseless in two other areas of Oahu.
"Kakaako, they're part of the belly of the beast because they're not out of sight, they're not out of mind, they choose to live in front of businesses, not homes. So for me, they're a little bit more rough, they would have a hard time adjusting, but I've seen leaders in their areas that are now starting to work. Now, they're starting to do community clean-up, and I said, and you go introduce yourself to the businesses, and help them clean their area because it's people like you guys that trashes their area, so now we're building relationships in their community."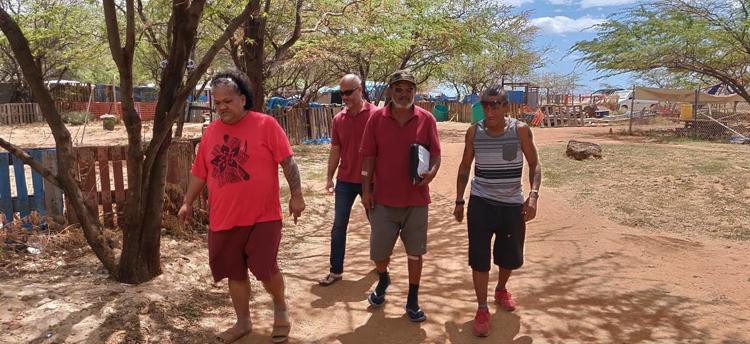 Borge--who also leads Hui Aloha, which works to apply lessons from POW in other houseless camps across Hawaii--has big plans to transform The Harbor.
"I would love to see that once we buy land and build homes for them, at least their home will be secured, they will be able to leave and lock their doors knowing that they can come home to everything."
They're countering for a 20-acre property, working with G70, a large architectural firm in Hawaii, which has donated time to help The Harbor.
But Borge doesn't have to be houseless anymore. She chooses this life.
"I took care of my dad the last five years; my dad just passed away--he left me everything, including the home," she said. "I actually can go back home to a four-bedroom house, but my job is not done yet, not until I can get every child into a home. To me, the first time I ever went to the Harbor it was like home to me, I could get rid of all my problems."
Could a community like The Harbor be replicated in Delaware?
During her few days in Delaware, she spent time in Wilmington meeting with those experiencing homelessness.
"I've noticed the houseless community, there is a lot of mental illness...being displayed out there. I watched a lot of them walk up to the cars and just doing things out of the ordinary, and I guess they do it because they know they're going to get something from it or someone's going to just hand them money to leave them alone," she said.
She pointed to non-profits to play a more an active role in the community.
"A team should go out there and of assessment on the people and help them. We need to get more agencies out there, more active, because the grants they signed for, these agencies, that's what they get paid for--make them do their job."
Borge was asked her whether The Harbor could be replicated in Delaware or anywhere in the U.S.
"Yes, as long as there's a sense of family, it's very important, but they have to build the relationships. They have to build their agencies out here," said Borge. "I think [mental health agencies] need to step up on their games because they're not...I witnessed that...so they're not."
Delaware already has a number of non-profits and shelters, many of which help those experiencing homelessness. Borge admitted she's not familiar with Delaware's laws or non-profits.
"In Hawaii, it's mostly a cultural thing, more of a Ohana sense, like a family, so a lot of them will come out to help--that's the compassion that they have...here needs that too, it's not about all business. Sometimes, we have to understand the personal side."
She called on Delaware to provide more than just warm beds for folks to sleep and for more inter-agency work to get people the help they need.
"Hold classes for addiction, see if they can read, help them, teach them to read--maybe that's the one thing that they're having a difficult time in doing applications because most of them can't read. It's like in Hawaii too, a lot of my adults couldn't read, it was my children in the village that started teaching them how to read. Today, they can sign applications."
While Delaware faces an obvious weather issue with its harsh winters forbidding people from living outside for long periods of time, there are portions of The Harbor and Borge's spirit that could be replicated here.
"I think the big part, that in part, could be replicated elsewhere like in Wilmington are the relationships," said Catalani. "A big part of both keeping the community together and keeping it in-tract in spite of outside pressure has been Twinkle's ability to keep those relationships, both within the people who are living in The Harbor--making sure they follow the rules and expectations of the community--but also building relationships with the stakeholders outside the community--so the governor's office, mayor's office, people who have an interest in maintaining a certain image of Hawaii that The Harbor is sort of in opposition to, but she's been able to not only able to build those relationships, but expand upon them to now be able to fund-raise to build their own, more permanent housing."
But a tiny home village for the houseless could help create more affordable housing in Wilmington. Catalani described the best lesson other communities can take from the unique and special living:
"What the Harbor shows is that one size doesn't fit all, that the best solutions come from within the community itself. So what Twinkle did, they didn't start with trying to build a permanent village, they didn't really even necessarily start with knowing that I was going to be such a long-term thing at all. What they started by doing was just sharing the kindness with each other and trying to live together despite the circumstances, and eventually, I think those relationships paved the way to the solution as--we know that 'OK we know that like this village-style living, this sort of communal, family-style living, how can we make this a safer and more permanent solution?' And then they took the steps to do that."
"Instead of starting with an outside model and saying, 'we can apply this here,' they literally started from literally the grassroots, where they're living, and then built up from there."
He said Delaware and other states across the country need more resources dedicated to homelessess and its root causes.
"Because homelessness doesn't just sort of appear out of a vacuum. At Family Promise, what caused a lot of the homelessness for families were economic circumstances, they were already living paycheck to paycheck, and something happened--an illness or a car broken down, and they couldn't afford housing suddenly. Mental illness, I think, is another one of those precipitating factors that can lead to homelessness. Certainly not just in Wilmington, here in Honolulu, there definitely are people that you know need professional help that you can see on the street."
Catalani called on both states to step up their game.
"We definitely need, I think Delaware and Hawaii, or any other state, but certainly those two, could definitely be more leaders in dedicating resources to these issues," he told WDEL.
But it also takes reducing the stigma.
"Making people feel comfortable around people who they're not like, who they don't normally encounter, so reducing the stigma of poverty, not just homelessness or houselessness, but of poverty, and having people more used to living in mixed-income communities will be a big part also."
But it would take collaboration to get there.
"I think it would take a combination of government, of private sector, of non-profits, and ultimately, just some really dedicated individuals to make this happen. To do something like the Harbor, I think what it really takes are...one person or a small group of really dedicated individuals who really believe in this and will see it through all the difficult times," he said. "While I think having a nonprofit, or the government or a private company dedicate resources to this, ultimately, I think what it will take is just someone who truly believes in it."
Someone like Twinkle Borge.
"Maybe one day when you come to Hawaii, you can come visit us," she said with a smile.