As Delawareans, in some sectors, prepare to go back to work in Phase 1 of reopening, which begins June 1, 2020, some employers are being urged by the state to stand up testing options for employees, based on risk and possible exposure to COVID-19.
"We're advising employers to coordinate with us, especially if they have any questions, concerns, or want support on how to coordinate testing," said Dr. Karyl Rattay, director of the Division of Public Health.
The state used the Centers for Disease Control and the Occupational Safety and Health Administration (OSHA) guidance to come up with its recommendations. OSHA categorized workers into several groups based on risk from very high, high, medium, to low risk.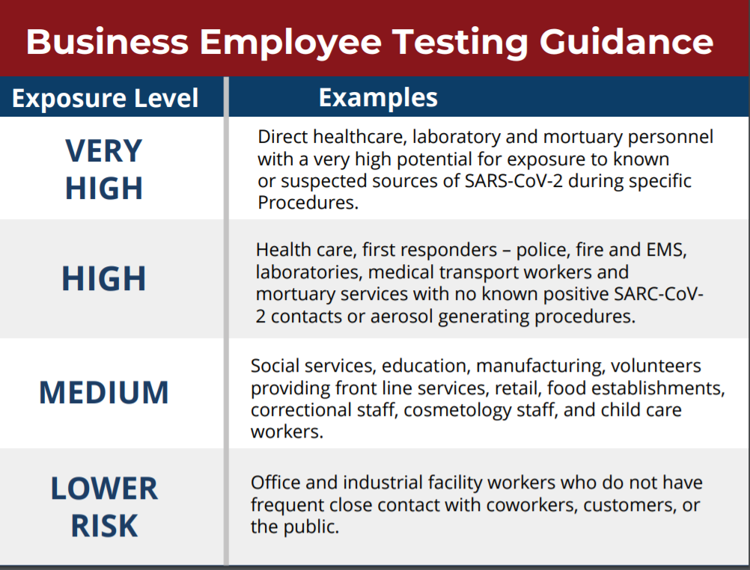 Those at the highest risk were all deemed essential from the beginning of the pandemic, including health care, lab, mortuary, and poultry plant workers.
"They are working with people with known COVID-19 and performing procedures that aerosolize particulate matter or plant workers, where it is more difficult to social distance in the work site," explained Rattay.
Those who are at medium risk of contracting COVID-19 include:
"People who provide social services, or education, manufacturing...as well as others providing front-line services, those in high-volume retail, or food establishments, correctional staff, cosmetology staff, as well as child care workers," she listed.
But Rattay noted some in that group are at higher risk than others.
"Like those who are in tight quarters for long periods of time or like cosmetology staff, who are in very close contact with individuals for prolonged periods of time," she said.
Those at low risk are the majority of workers in office or industry facilities jobs--many of whom are working from home right now. But just because their risk is low doesn't mean they should rush back to the office.
"If it is at all possible, unless anything significant has changed, if people can continue to work at home, at this time, that is the best option," Rattay recommended.
But she noted, it's not an option for all. For those who must return to the office, she recommended symptoms be monitored daily.
"Many of us do direct monitoring where we take a temperature and somebody's asking you about your symptoms as you enter--that really is the best."
Additionally, employers should encourage employees to stay home if they're sick and have the support they need to do so, Rattay urged.
Workplaces must provide social distancing work environments-- with desks or cubicles at least six feet apart.
"Employees should be wearing face coverings, especially if they're around anyone else, and this goes for both staff and customers; additionally, staff should be regularly hand sanitizer and hand-washing," she said.
Hand sanitizer should be present in the workplace and frequently touched surfaces should be disinfected every 15 minutes to two hours.
Businesses that need personal protective gear, can click here for a list of suppliers.
Testing options
While there's no one-size-fits-all approach to testing, Rattay outlined a multitude of options for employers and said DPH will work with them to determine best options.
"We encourage testing through primary care providers, so that's a primary option for individuals, but also, of course there's the hospital and other community testing sites that we're doing throughout the state," she said.
Click here to check testing locations by county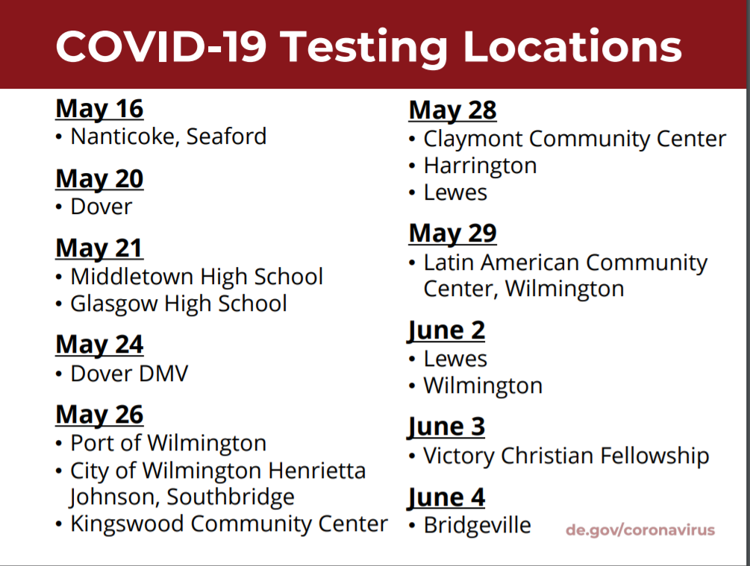 About 1,400 tests are being administered in Delaware per day--a doubling compared to the first two weeks of May, Delaware Emergency Management Director A.J. Schall said.
"It's going to be a road show, really, that we're moving around, but we know the drive-through's are only going to get certain people, so we're still working with our community partners to make sure we can drive down to those that might not have transportation or don't think they need to be tested, and really do more of the outreach at the community level," Schall said.
She said some larger employers may be able to partner with private labs or health systemsto stand up on-site testing at the office.
Additionally, Rattay said LabCorp provides a home COVID-19 test.
"So employers can ask their employers to just sign up to get this test sent to their home, and they could ship this back," she said. "We know the technology and options around testing continues to change so we expect the options for employers to change as we go forward."
For more information for businesses regarding reopening, click here.