A new report by the Environmental Working Group finds high levels of contamination in public drinking water supplies, for the first time, in several major cities, including Philadelphia.
A recent series, "Fighting Fire with Fire" on WDEL highlighted the chemicals' presence in military firefighting foam and firefighters' gear -- and now this report released Wednesday, January 22, 2020 -- finds the chemicals at much higher-than-previously reported levels.
"The results confirm that the number of Americans exposed to PFAS from contaminated tap water has been dramatically underestimated by previous studies," said Scott Faber, Senior Vice President for Government Affairs for EWG. 
Volunteers and staffers from EWG sampled tap water from 44 cities and towns in 31 states and Washington, D.C. between May and December of 2019. Those samples were then tested by an independent lab for 30 different PFAS chemicals.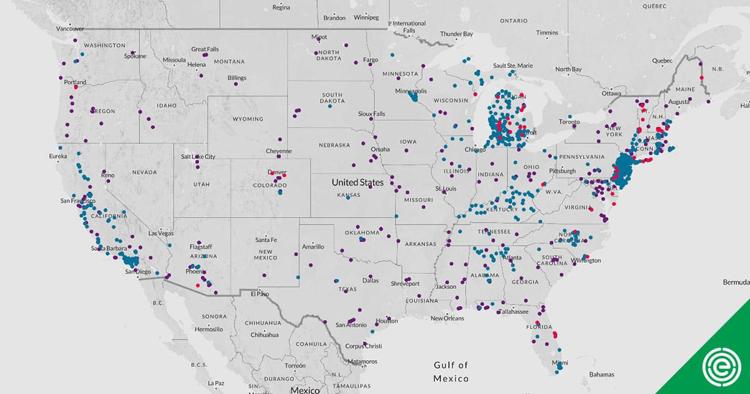 Other locations with high levels of contaminated drinking included Miami, New Orleans, and northern New Jersey. EWG's testing also identified the chemicals in 34 locations, where it claims prior, limited Environmental Protection Agency testing did not. 
"Our results are meant to highlight the ubiquity of PFAS and the vulnerability of the nation's drinking water supply to PFAS contamination," said spokeswoman Monica Amarelo.
The federal lifetime health advisory for PFAS and PFOA chemicals in drinking water is 70 parts per trillion. But EWG's tests found 185.9 parts per trillion in the water supply in Brunswick County, North Carolina, and 109.8 parts per trillion in the Quad Cities of Iowa. Other cities, which saw high rates, including Philadelphia, the suburbs of New York City. 
EWG's testing found types of PFAS chemicals that also have not been found in drinking water before.  
Among cities tested, only Meridian, Mississippi saw no detectable contamination.  It draws its drinking water from wells more than 700 ft. deep.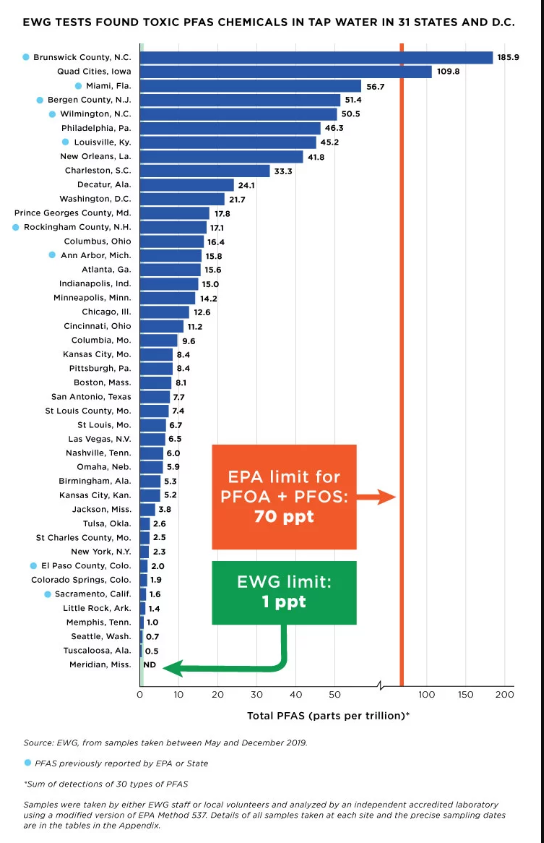 The chemicals were also identified in drinking water at Dover Air Force Base in July of last year.
The "forever chemicals", contained in Teflon and once manufactured by DuPont, have ceased usage, but because they don't break down in the body or the environment, their contamination is widespread. The chemicals have been linked to cancer, immune system disorders, and reproductive health issues.  
The chemicals' deep-rooted contamination of Parkersburg, West Virginia, and attorney Rob Billot's decades-long crusade to uncover it, were also the subject of a feature film, starring Mark Ruffalo, called Dark Waters.  
"Sounding the alarm is important, but that is not enough," said Ruffalo.
The actor-turned-activist highlighted America's failure to act.  
"Despite everything we know, we have not stopped industrial releases of PFAS into the air and the water; we have not stopped PFAS from being used in food packaging, cookware, cosmetics, and other everyday consumer products; we have not stopped PFAS from being used in firefighting foam, although the [Department of Defense] will have to phase that out by 2024," said Ruffalo. "There is still no legal requirement to filter PFAS from tap water, and so more than 100 million Americans are likely drinking water contaminated with PFAS. Who is paying for our failure to act? We are, the people are."
EWG's findings are in line with Dr. Graham Peaslee, a nuclear physicist at Notre Dame University, called PFAS contamination the "largest pollution problem" the U.S. has ever faced.
"If I were to take a five-gallon bucket of typical firefighting foam and accidentally spill it, then the calculation that I come up with is that that 70 part per trillion would contaminate about 400 Olympic-sized swimming pools, and that's from a single bucket," he told WDEL.  
Scientists may also lower exposure levels.
"It could go as long as 100 times lower than that, which would be one of the most dangerous chemicals," Peaslee said.
EWG wants to see PFAS chemicals regulated at one part per trillion.
"Science about the health effects of these chemicals has driven the notion of what is a safe level, lower, and lower, and lower. We're now way down in the parts per trillion ranges...other state agencies are moving to much lower levels than the 70 parts per trillion that EPA has set as guidance without a final regulation that's enforceable for drinking water--that's key. The more we learn, the lower these safety limits tend to go, and this is true across a wide range of toxic chemicals," said Ken Cook, president and co-founder of EWG.