After more than two years of silence, Glasgow Court landlord Kelli DiSabatino is speaking out about quality of life issues and code violations rampant in the mobile home park.  
During a land use change several years ago to jump-start plans for a grand vision to transform the park, 20 trailers were moved to other portions of the park.  
DiSabatino's husband, Robert Redick of Capital Builders, pulled the permits to facilitate the moves that were then done by other companies. 
"We have not not tried our damnedest to help the people in Glasgow Court. Capital Builders never moved a home in Glasgow Court, and Glasgow Court never moved a home in Glasgow Court," DiSabatino told WDEL.  
Residents have complained to WDEL that their trailers were dropped during moves and left in disrepair.   
Those permits Redick pulled were never closed and were left to languish; as a result, certificates of occupancy were never issued as WDEL uncovered, forcing residents to live illegally for years. 
Rick Stevens told WDEL that his outdoor oil tank never moved with him, nor did his shed. 
DiSabatino's attorney claimed contracts were signed between homeowners and movers regarding what property would be a part of the relocation. A copy of Stevens' contract with mover Marshall & Bailey Contracting, provided by DiSabatino's attorney, David Zerbato, did not include an oil tank, but did list a shed, to be moved. 
The Delaware Manufactured Home Relocation Authority, which allegedly paid for the moves, refused to answer specific questions about moves and contracts with tenants.  
Stevens' Power of Attorney Bill Kinnick, president of the Manufactured Housing Association, who fights for tenants' rights, said it shouldn't be in dispute whether the oil tank was to be moved.  
"The relocation was supposed to set [him] up as if he never moved [with] all items working and connected plus occupancy approval as well," said Kinnick. "Bottom line is, why didn't these homes get the proper treatment and set up so the families could live with all that they had paid for?  To date, not all have livable homes."  
Stevens withheld rent for lack of a certificate of occupancy and was eventually evicted under a court order.  
Stevens and Kinnick had claimed that once Stevens' trailer was moved, he was locked out for a period of several months, until he signed a lot increase. Kinnick said he had documentation regarding the lock-out, but was unable to produce it in time for this story.   
DiSabatino and her attorney said the Stevens' were locked out for one month DiSabatino claimed Stevens got into an altercation with the mover during the time his wife was deathly ill. She said she was forced to start an eviction process--at the request of Stevens' now late wife--to physically move the trailer.
"We provided him with several extensions...he had until November 2016 to actually vacate and move the home; the reality is he didn't do that, and there was an actual eviction that occurred," said Zerbato. "The reason we gave them a new lease in March of the next year was because we didn't want them homeless.  There was no legal obligation to do anything, at that point, because the eviction had occurred, however, we did give them a new lease, and they moved in."  
'Trying Times' in Glasgow Court
In a nearly 90-minute interview, that at times was emotional, DiSabatino called the in-park moves "difficult," due to the structural condition of many of the trailers, adding many contractors didn't want to work in Glasgow Court, so she had her husband pull the permits--something she now regrets.  
"My responsibility in this is that I was concerned for my residents and what was going to happen, and so I did what I thought was best because that's what I always do, and it has backfired," she said. "I take full responsibility for asking Bob and Capital Builders for doing that," said DiSabatino.  
DiSabatino is also stepping up to ensure that all code violations that would forbid a certificate of occupancy from being issued are taken care of, at her own expense, after the county approached her attorney in the wake of WDEL's stories. 
These issues include finding a permanent heat source for some residents, who had been using space heaters.  
"So a space heater does not quality as permanent heat, and you cannot get a CO without permanent heat or I would not be incurring the cost to repair and fix and hook up all these heaters that are not working right now," said DiSabatino.   
Too much time has now gone by since the moves to accurately determine what code violations may have resulted from the in-park moves.  
"How do we know that the heaters even worked or were in the homes prior to the move? Because when the county and Heather and the new contractor were out on-site, several homeowners said, 'Oh, well our heater never worked before we got relocated.'"  
But County Councilman Dave Tackett, whose district includes Glasgow Court, has said all issues need to be resolved. 
"I think, now, given the severity of the issue, the weather, that absolutely all the issues need to be fixed, and we have to err now on the side of residents," he told WDEL.
When asked whether she thought it was unfair that she incur the costs DiSabatino said:  
"I do, but what else am I going to do? I mean, they don't have heat, correct? Nobody else is stepping forward and taking responsibility or liability--not the county--not the individuals that moved the houses, and so what's left to happen?  Should I just say, 'No, I'm not going to do it,' and let's go to court and fight it?" she said. "My residents are not able or capable of taking care of these matters themselves, which is one of the reasons why I've sat back and not said anything because I've tried to work with the county, and we've tried to work with our residents, and I'm in a position to do what I can do."  
DiSabatino said she incurred $35,000 in costs associated with the trailers' relocations, including taking skirting down, debris removal, permit fees, inspections, and concrete work for the mover that was never reimbursed.  
"Right now, where we are, including all of my costs...I would probably say, goodness, upwards of $60,000, maybe, more close to $100,000 with the original move," she said.  
In addition, Redick has dropped an appeal of fines that were issued by the county.  
Under an extension granted by New Castle County, DiSabatino has until March 19, 2019, to make all the necessary repairs in order to obtain certificates of occupancy so residents can live legally.  
A Grand Vision for the Future
DiSabatino called herself "idealistic" when she took over management of Glasgow Court at a young age after her father's death. She claimed to make extensive repairs, replace street signs, and host annual pig roasts, and implement community watches to quell drug activity.  
"There can be a different way, some place that is safe," she said. 
It's quality of life issues from crime to code violations and unaddressed social service issues in Glasgow Court and along the Route 40 corridor that has propelled DiSabatino to turn the trailer park into what she hopes would be something better in the Crossings at Salem--a place she coined a "social service community."  It's a vision that includes detoxification, inpatient substance use treatment with different tiers of sober living or mental health assistance as well as a shopping center wherein tenants would hire people in their program, and senior living too.   
She said, in some ways, being a landlord at Glasgow Court perpetuates the problems that plague the community that she wants to solve.
"It's going to require a lot of partnerships, a lot of community involvement, and a lot of changes that need to be made, and I have taken a lot of risk, and I have taken a lot of punches to my chin, and I'm not comfortable even being here to discuss it, and that's why I haven't before," she said. "I hope that by doing this, it sheds a different light on it and we can repair all of the fractures in the relationships across the board and get assistance to these people that they really do need."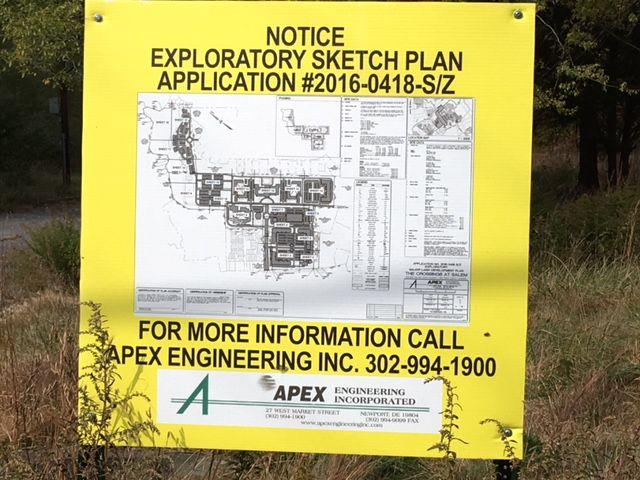 She admitted, her vision is lofty and will take time, possibly years, to come to fruition. 
The county has said all of DiSabatino's outstanding taxes on all properties must be paid before any plans move forward.  
"All my taxes on all my properties that I own are paid, and they can't do that anyhow, that is illegal. Glasgow Court is its own entity...Glasgow Court doesn't own anything but Glasgow Court...I don't own Glasgow Court, I'm the managing member," she clarified. "I don't own [the Fortis] properties...I am not a part of that LLC at all...and nobody that I'm related to owns it either."  
But New Castle County tax records link the properties to an address on Cornell Drive in Glasgow Court, which DiSabatino mentioned in the interview.  When asked who owned them, DiSabatino replied:  
"I'm not at liberty to say."  
The day of her interview with WDEL, DiSabatino paid the back taxes on the Refuge--the substance use disorders in-patient treatment home, she owns on Kirkwood Saint George's Road near Bear. She's also the Chief Operating Officer of Aquila of Delaware, recently received $1.5 million from the state, and some money from federal grants, for that initiative.  
"All I see is a vision of people having opportunity that Glasgow residents can take advantage of, that the surrounding communities can take advantage of...and it's outside of being a landlord...and I have absolutely no regrets...I don't care what people say about me because I know these people need to have a voice, and the only way to have a voice is for somebody to take the bull by the horn and to make change happen."