At just 4 weeks old, Meredith Delacruz is the youngest resident of the New Castle County Hope Center. 
"Everybody loves her, they call her the 'hope baby.' She came in here at 2 and a 1/2 days old."
Meredith's mom Loralai Delacruz never saw herself needing a place like the Hope Center, but coronavirus changed everything for everyone.
"I lost my job with corona, and then I found out I was pregnant, so then I lost my car because I couldn't have a job, and then everything just kind of snow-balled," she told WDEL.
At 42, Loralai is a first-time mom.
"When I found out my first reaction was, 'yay!' And then I was like 'Oh my God how am I going to do this because I just lost my job?' But I was like I don't care, I'll figure it out. I'm not missing out on this shot," she said.
She got connected with the Hope Center through the Birth Center, where she was receiving pre-natal care.
"I'm 42, it's my first baby, I've been waiting my whole life for this, so I was like well we're going to roll with it, so we just did what we had to do to get by, so yeah, it's been a rough year, but this makes it all worth it," she said while cradling her newborn in her arms.
The Hope Center welcomed new mom and baby with open arms
"She moved in here a week before she gave girth, and so the baby is here, the baby has been here since she came home from the hospital," said Carrie Casey, New Castle County's Community Development and Housing manager.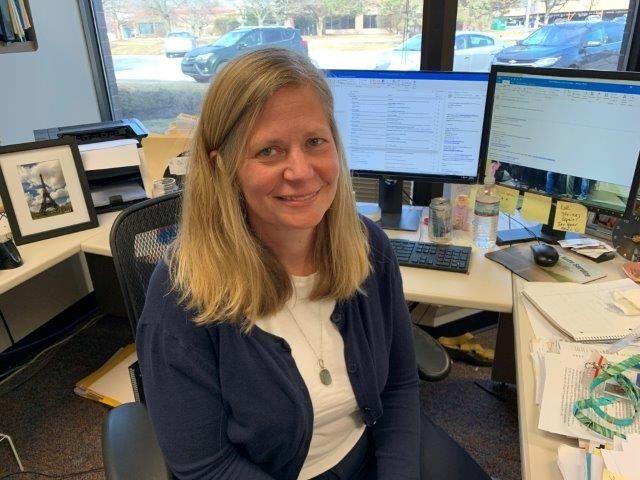 Loralai said Meredith is a chill baby and rarely cries. She attributes that, at least in part, to how comfortable they both feel at the Hope Center.
"The staff here is amazing, and just anything you need--they always make sure I have bottled water to make formula supplements when I'm supplementing formula; they always make sure I have juice and snacks because they know I'm eating a lot because I'm breastfeeding. They make sure I get to my appointments on time, and they're always asking me--'do you need anything? Do you need anything?' They always fuss on her, which makes me happy."
"Isn't she adorable?" asked Casey.
The Hope Center's 200 guests of all ages are served three meals a day, have access to a Little Library, and a host of in-house services that help them get on the road to permanent housing. The only thing lacking here, Loralai said, is:
"Laundry facilities. I will be honest that's a pain in the butt, not just for me, but especially for me, cause with the stroller and trying to drag a load of laundry to the laundromat and everything, it's just a hassle."
Casey, who basically runs the Hope Center with a lot of help, said they're hoping to change that.
"[The Friendship House] thinks that the laundry partnership we have with the PC laundromat person, we give them the token, and the pod, and the bus ticket and the laundry bag, is much more empowering--because they have to get there--than having actual onsite laundry. We're getting bids to do the laundry in the banquet kitchen, it just depends on how much that costs."
The hotel-turned homeless shelter, was bought at auction with $19.5 million in federal CARES Act money, enabling New Castle County to turn the former Sheraton hotel into an emergency pandemic shelter. New castle County Executive Matt Meyer has pledged county taxpayer money will not be put towards the facility.
"That cost ultimately will not be born by county taxpayers, or it's very unlikely to be born by county taxpayers. There are many resources available, federal and state resources, to fund transitional housing like this. It's been used in the past by organizations like the RVRC and the YMCA, whose shelters have closed," Meyer told WDEL at the onset of the endeavor.
But the laundry issue aside...
"They're on top of stuff. I had to transfer my mail here because I will be here a little bit longer than maybe some people just because I'm recovering from a C-section, and it's going to take a little while to find an apartment, so I transferred my mail here. They always make sure I get my packages and my mail; people are sending my baby gifts and stuff. They always make sure I get everything I need," she said. "They're just great here...they're just amazing. They are not here for the paycheck. They are here because they want to be here, they want to help the people that are here, they're kind, they're respectful. They treat us like human beings rather than just like somebody who's just here to fill a day."
It's like an extended family. Every day I come down and 10 different people say, "Hi Meredith, hi Meredith. Hi Loralai, hi Loralai."
Advocates for the homeless say without shelter--a roof over one's head and a place to call home, even if temporary--it's easy for every other aspect of life to fall apart.
Being at the Hope Center helps Loralai focus on what matters most--Meredith.
"I spend all day staring at her; they say sleep when the baby sleeps. A lot of times I end up realizing that I've wasted my entire time she's napping just staring at her and taking cute pictures."
But from day one the focus at the Hope Center is on what's next, with the message being:
"Welcome to the Hope Center. Let's work on your plan," said Casey.
For some that's a scary conversation, but the Hope Center aims to make it less daunting. Delacruz didn't even flinch or pause before we asked her that question.
"Well, we're going to try and find ourselves a little apartment. I'm working with the rapid rehousing team of Delaware to do that, and then, hopefully, I'll be able to find something doing remote work at home so I can stay home with her. I really don't want t put her in daycare until she's old enough to talk with all the horror stories you hear out there. I want her to be able to come home and tell me about her day and what goes on. So I'd really prefer...I get one shot at this at my age, so I want to be home with her."
Tuesday on WDEL in Part 2 of Tales of Hope, we'll take a tour of the New Castle County Hope Center and hear from the inspiring staff who instill a sense of hope in residents and helps them get back on their feet.