"The environment that we are trying to create at the Hope Center is respecting each individual where they are."
With 200 residents, 70 of them children, it's a tall task, but one Carrie Casey, New Castle County's Community Development and Housing manager, has taken on with grace.
She smiles at residents and staff as we pass through the hotel-turned-homeless shelter's hallways, introducing me to everyone.
"Good morning, how you doing? This is Rob Coates, he's the assistant general manager of the Hope Center. Rob was with Sheraton, so he stayed on-board with us, yay, and manages the all the hotel operations," said Casey, who explained the county contracted with the hotel's former owner, Hersha Hospitality, to continue managing hotel operations.
Casey works with Nicole Waters, a housing management analyst with New Castle County, who serves as operations director for Hope Center.
"A lot of the folks that live here, if ever, haven't had that just dignity of a conversation or 'how are you doing?' type of feel. So I think from day one we've tried to create that environment," said Casey.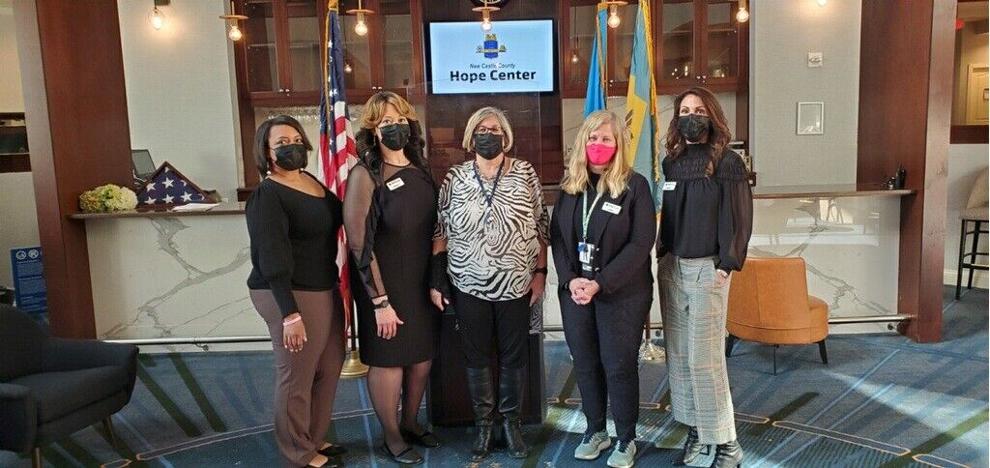 Residents here are largely confined to their rooms because of COVID. They can leave the facility during the day or for work, but there's no hanging out really aside from a small courtyard where smokers gather.
"So the coffee in the morning is a way for me to do a wellness check. 'Good morning, how you doing, here's your coffee,' but not having them come down," said Casey.
The nonprofit Friendship House in Wilmington, which has jumped on-board this project with New Castle County, delivers lunch, dinner, and breakfast for the next day to every room at 11 a.m. They wheel a cart down the halls carrying pre-packaged items.
"We have refrigerators and microwaves in the room, and it's a way for me to do a wellness check to make sure you're OK because if we haven't seen you in 24 hours, we're going to go into your room and make sure that you're doing OK."  
There's also a small library in the lobby, and some day, when COVID-19 is a distant memory, Casey hopes they can use the pool and the fitness center.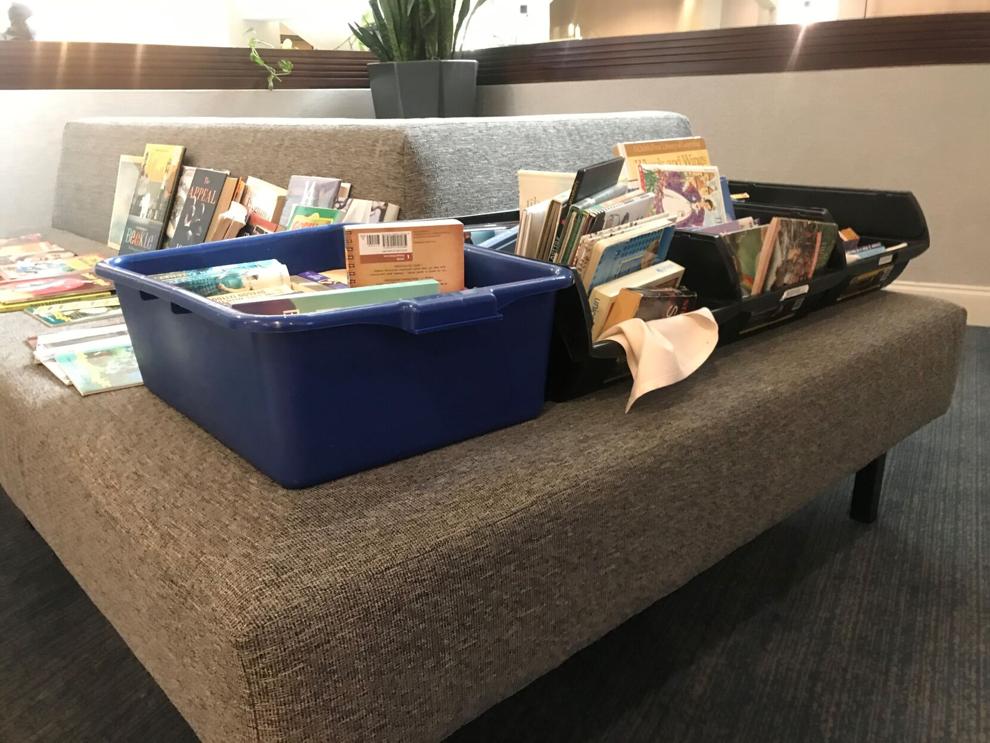 In mid-September, WDEL broke the news that New Castle County was planning to use federal CARES Act money to purchase the Sheraton hotel on Airport Road at auction for $19.5 million with a goal of turning it into an emergency homeless shelter to prevent the rapid spread of COVID-19 among homeless populations. Casey said the model was based on similar efforts in California.
"No other state in the other country had the opportunity to bid on something to create new housing; now in California, they spent $700 million buying hotels--mostly for people who are currently living in them--due to COVID. That's the way to keep people safe is to put them in their own room with their own bathroom," said Casey.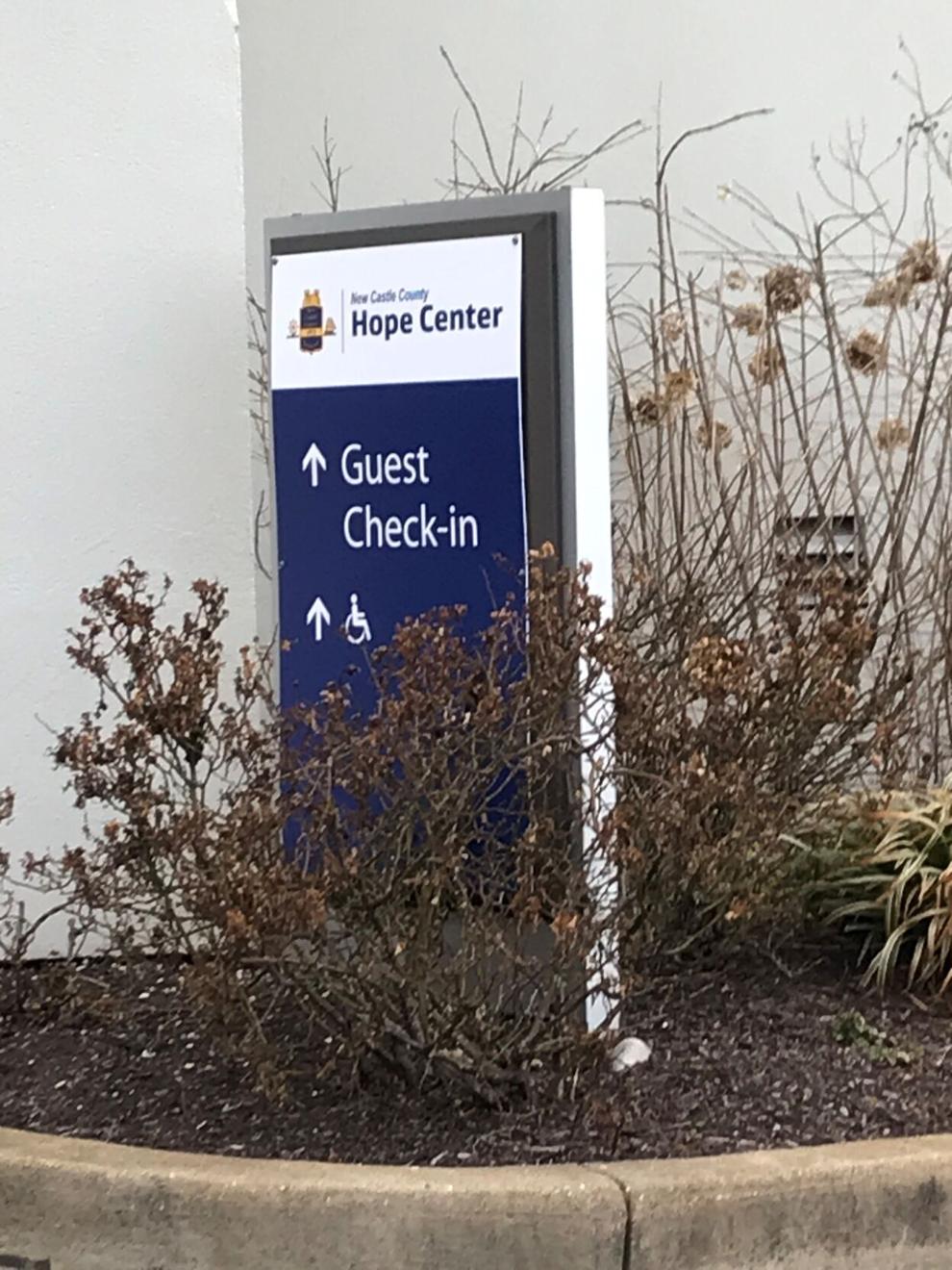 They closed on the property, ripped down the Sheraton sign, and erected a new sign calling it: 'The Hope Center.' It opened its doors--with a new life and a new mission just two weeks later--on December 15, 2020, coincidentally, it was the same day we saw our first snow fall from the sky this season and coronavirus was spiking.
"We've seen evictions, people coming with the clothes on their back, so we feel that we're seeing increases, and we've heard multiple times, people saying, 'I would not have lived this winter because I wasn't allowed to go to the places that I normally would go in the wintertime,'" recounted Casey.
County Executive Matt Meyer, whose efforts also made this possible along with unanimous support from New Castle County Council, called it a tremendous feat.
"As elected officials, it's relatively easy to support the most vulnerable when times are good, when the economy's kicking, when the tax revenues look great. But when things get tough, when there's a global pandemic, when the economists are making comparisons to the Great Depression, that's when we're truly tested as a community. That's when we need to look ourselves in the mirror--who are we really? How do we treat our most vulnerable when things are tough?" asked Meyer.
A number of social service partners have jumped on-board to provide in-house services at the shelter. 
"I think it really is truly not just the stable housing, which I think is a big piece of it, but actually to have interactions with people and to start addressing some of the underlying issues that caused them to be homeless. Having Dr. [Sandra] Gibney, having the state service center, having the Bridge Clinic--people that have come here--we don't have like an agreement in place, basically not even a handshake deal or an elbow pump deal," laughed Casey. "...to come here and provide care to people here, but they keep coming back and there's no expectation. They're just here, showing up. The Bridge Clinic was here the first day we opened; they're here every day with a commitment to really serving this population."
Other organizations with an on-site presence at the Hope Center providing services to needy residents include ChristianaCare, Wilmington First Rapid COVID testing, Full Circle, Grace Transportation, St. Francis St. Clare Van, Faithful Friends, and Family Promise of Northern New Castle County.
The community has also been generous with entire rooms full of donated supplies--everything from hygiene products and diapers to food and bags of clothes and sheets.
"When you're here and you have all the services on-site and your whims are taken care of, we're also trying to empower them. We're also trying to make sure that they understand how to get what they need and want as they're transitioning out," said explained Kim Eppehimer, executive director of the Friendship House. "So we try not to make sure that we have absolutely everything they want, but everything they need."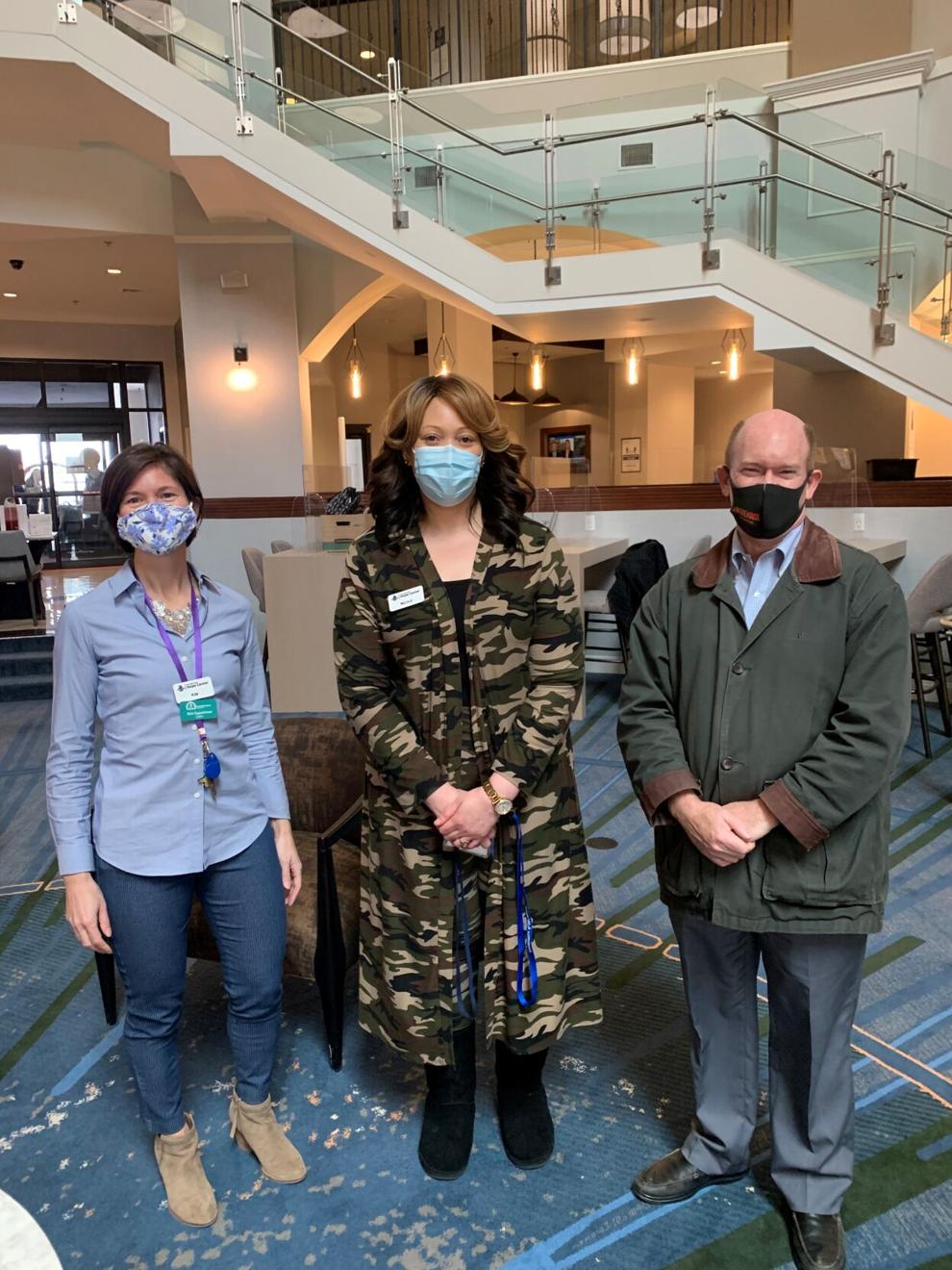 Initially, Eppehimer said they handed out free bus tickets.
"A lot of people are getting dependent on the bus tickets. They've been here for a few months, and if they're working, [we say] 'OK let's do a budget. Why can't you afford your bus tickets? Let's figure out how we can get you doing your own transportation.' But we don't expect that day one. We get them settled, what's happening, figure out the most crisis things, and then we start working them on the empowerment piece," said Eppehimer.
But the Hope Center isn't for everyone. It can be isolating being alone in a hotel room.
"One of the biggest challenges--there's two--one, having that closed door. That's very scary and isolating when they've been in the outdoors, but for people who have substance abuse or behavioral health [issues], it's actually more isolating and some of them have dipped deeper into their diseases," said Eppehimer. 
For many the recovery journey is a long road, filled with bumps. The Hope Center accepts those bumps, but also acknowledges:
"As much we want them to stay here, that's not necessarily a fair thing to do to put your expectations on them, to plead with somebody to not mess it up," a notion Casey said she had to learn.
Another ideal that sets the Hope Center apart from other shelters is that it's a place they can call home during the daylight hours, and there's no time limit on how long people can stay.
"They key is--what is that balance between 'welcome to the Hope Center' and not putting a timeframe on when they have to leave--because that also causes a lot of anxiousness by the way--saying to somebody, 'oh, well, you have a month. Let's get you moving.' [We] don't want to do that because that's an anxiety-inducer. But that sort of balance of 'welcome, let's work on your plan' from day one or day two. I really truly believe that the way that we can show that this model works is by looking at exits within 90 days of being here, and I would even hope, some day, it would be 60 days or even 30 days."
Later this week on WDEL and WDEL.com in Tales of Hope, you'll meet Mellissa Summers. She's the Hope Center's first success story. But perhaps a measure of success isn't just how fast people exit, it's how many lives the Hope Center saved in the pandemic in the middle of winter.
"We're changing and saving lives. There's a gentleman who's been out of his addiction, I want to say for six or seven weeks now, and he has said repeatedly: 'This was the winter I was going to die. You have saved my life,' recounted Eppehimer.
And it's saved the lives of many more. Wednesday, you'll hear one such story on Part 3 of Tales of Hope.