Every Thursday, residents of the New Castle County Hope Center wait outside one of the suites on the sixth floor just to see Dr. Sandra Gibney.
The local emergency room doctor is popular. Her no-nonsense down to Earth attitude and strong desire to help enables her to connect with this population in a way few can.
"The medical problems here, they're all flavored a lot by not having resources," she said. "When people come here, they've ignored oftentimes, or put aside all of their other medical issues for lack of simple things like food security and housing, and we see a lot of folks over and over again until we can get them right."
Residents of the hotel-turned-homeless shelter come to her with open arms, often with little resistance to treatment. Many, she says, would've never gotten to a doctor, and instead would've wound up in her emergency room when their ailments became insufferable. 
"I kept seeing the same people, and it's like 'wait a minute, this is broken. Why do I keep seeing the same people? Why can't I fix them before they get here?' Because the ER's become just a big catchment area for people that fell through with their family doctors for one reason or another--can't have one, COVID closed them, telehealth only, don't know how to navigate the system," she said. "So my goal is to keep these people out of the ER."
Carrie Casey, New Castle County's Community Development and Housing manager, who runs the Hope Center, said, perhaps, a measure of success for the facility can be on saved health care costs. 
"A lot of these folks use 911 as their primary healthcare, so we have people who would call 'my leg hurts', 911."
That's where Dr. Gibney steps in with either a phone call or a house call.
"It's like why are you calling. Let me talk to him. Put him on the phone--'Mr J. it's Dr. Gibney, I'm here for you, what's going on?' Talked to him for awhile, 'OK I'll see you at 9 o'clock.'"
If residents don't show up for their appointments, no worries, they're just a floor away so Dr. Gibney or Casey can easily track them down.
"The no-show rate here is almost zero because they're here, and it's really great, because we don't have trouble catching them," she said.
Gibney has cracked some of these residents' hardened shell to the point where she sees gratitude, and after a few weeks...
"My goal is to get everyone as well, physically and mentally, as I can, because that will make them better served to join the community again. Because a lot of these folks are fall-outs; they've been living in their car. One of the young ladies I talked to said she was sleeping in a cemetery every night. I said weren't you scared of getting knocked off or whatever. She said what I would do just kind of dust all the leaves off one of the tombstones on the ground, and I put my blankets down, and I felt kind of safe there. That's not a unique story. And then for awhile, she said, 'well I was sleeping behind a lawyer's office before they kicked me out.' Very commonly, a lot of these folks have their 'mobile home,' which is their car, which couldn't be drivable because it's filled all the way to top with all of her personal items. So to come here and have a Taj Mahal room with whatever any functioning person would say is a luxury hotel, I can't even tell you how many patients cried when they left here, not cried because they're sad, but they're relieved that that they were treated with dignity, and respect, and understanding, and empathy."
Gibney has always had a penchant for helping under-served populations. She devotes whatever free time she has--in fact I'm not sure she ever sleeps--to places like the Sunday Breakfast Mission, or you'll find her alongside Lt. Governor Bethany Hall Long handing out Naloxone on the streets.
"I mean the average doc will oversee two to 3,000 people; we're talking less than 200 here--it's not a big lift, for me," she said. "I think honestly God chose it for me--that's just how I feel. I feel this is a gift that I've been given to do this, and my mom would be proud."
During COVID, before this hotel-turned-homeless shelter existed, Gibney helped round up people experiencing homelessness to take them to motels so they could have a safe space without fear of the virus running rampant. She said this hotel, purchased by New Castle County at auction with $19.5 million in federal CARES money and turned into an emergency homeless shelter, came at exactly the right time.
"I don't want to put these people back on the street again because what I was seeing they were stabilizing; their substance abuse went down; their hygiene improved; their medication compliance increased. They started taking good care of themselves--they mattered," she said. 
And without that roof over one's head, advocates for those experiencing homelessness said nothing else can come together because substance abuse issues and behavioral health issues take a backseat to basic needs.
"Everything else just doesn't matter if you don't know where you're going to eat and sleep," said Gibney.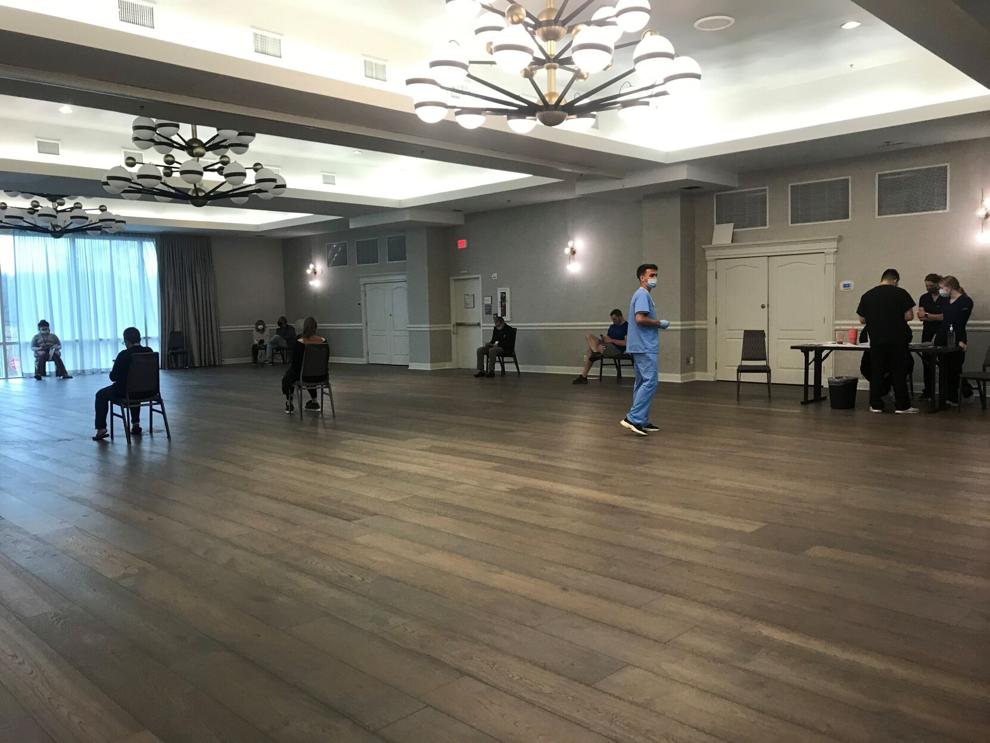 She's also ensuring the homeless population is getting access to the COVID-19 vaccine. Gibney distributed first doses of the Pfizer vaccine to dozens of Hope Center residents Wednesday in a hotel ballroom-turned vaccination clinic.
"Left or right, what arm do you want the shot in?" she asked.

"Dealer's choice," said a resident.

"Your arm might be a tiny bit sore tomorrow, that's natural--that's your body having a normal immune response, OK?" she reassured patients.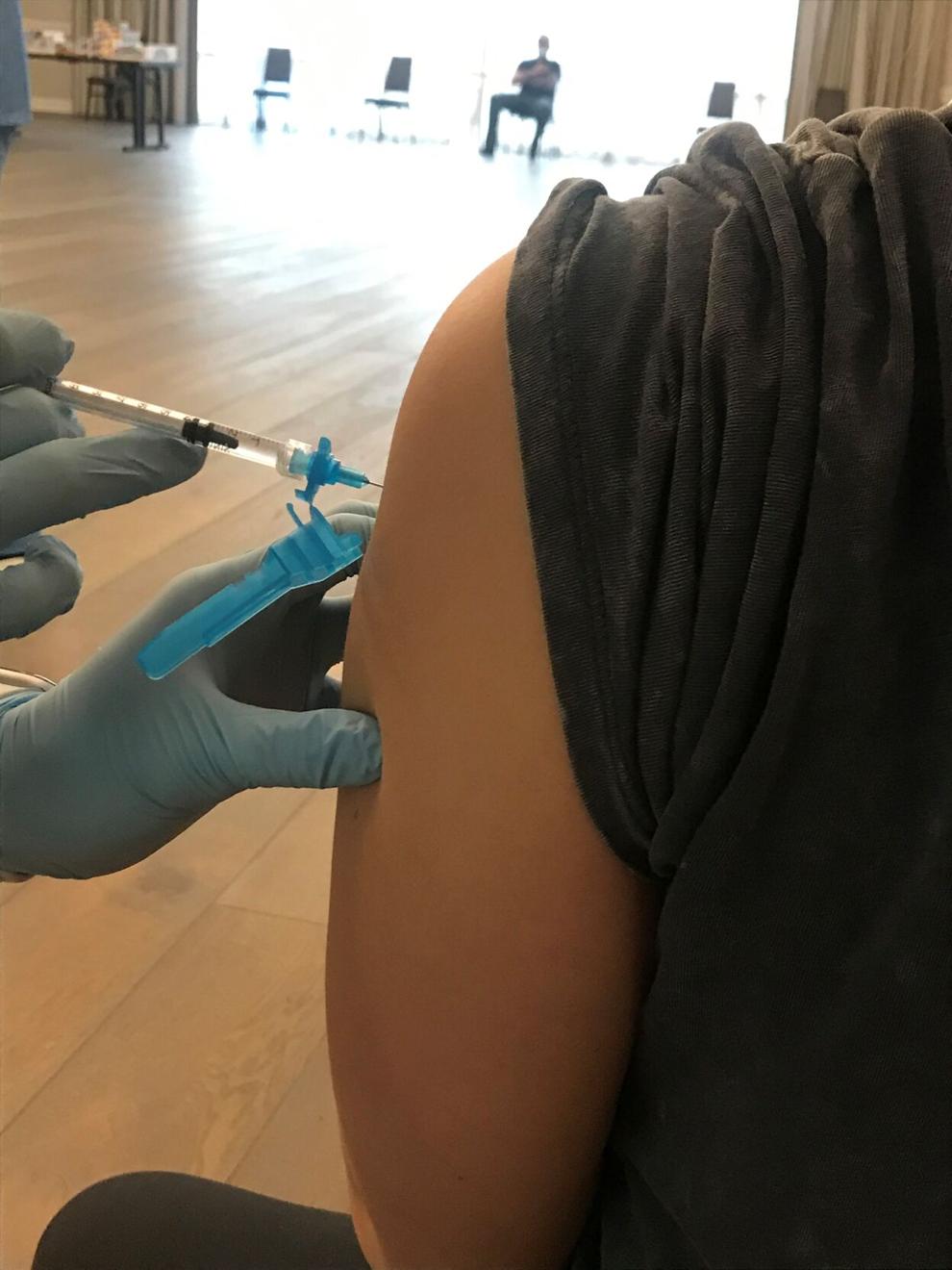 "So my other charge, if you will, is to take that vaccine into the communities, where I pulled these people. They're lucky they're here--they're captured--but there's some left behind."
Stephanie Kardos 37, and her husband, Jamaal Chavis, 38, both from the Wilmington area, were vaccinated Wednesday.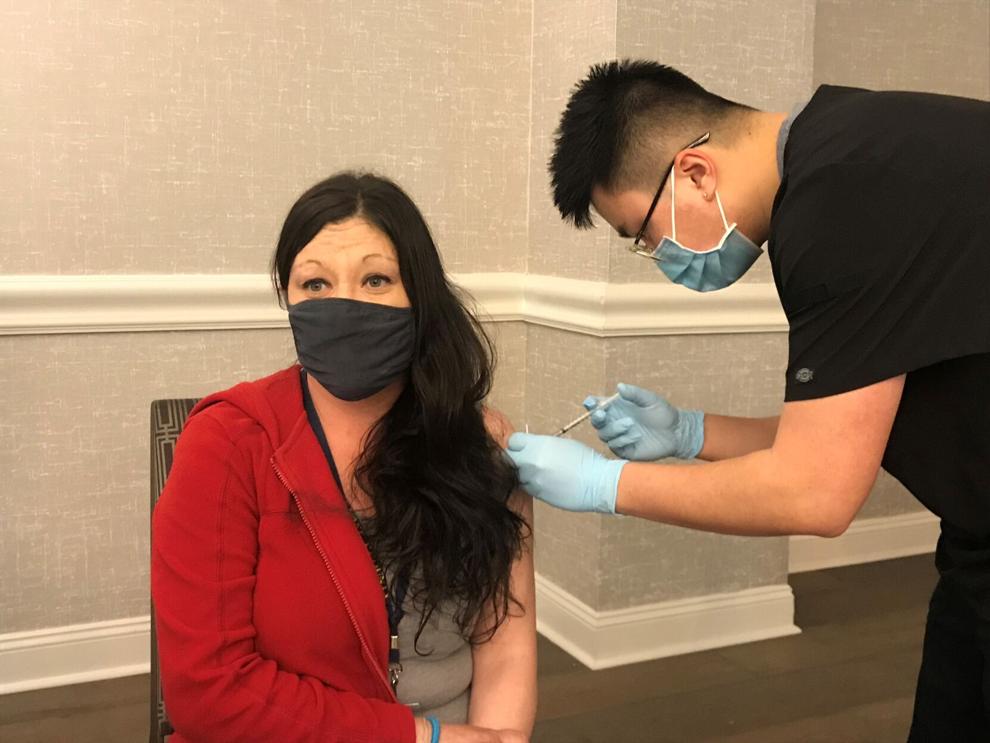 "I was kinda iffy. I was like like a little ehhh. That was only because I was scared because I've had the flu shot and the pneumonia shot, but with his health, he had to get it, so I was like if he gets it, I might as well just get it, and just suck it up, even though I don't like needles," she said. "I didn't even feel it! I was like 'you're done!?' The needle looks so long on TV...I mean I'm very, very grateful," said Kardose.
"It's beautiful, and I appreciate it, said Chavis.
They've been at the Hope Center since it opened its doors on December 15, 2020. Both are patients of Dr. Gibney.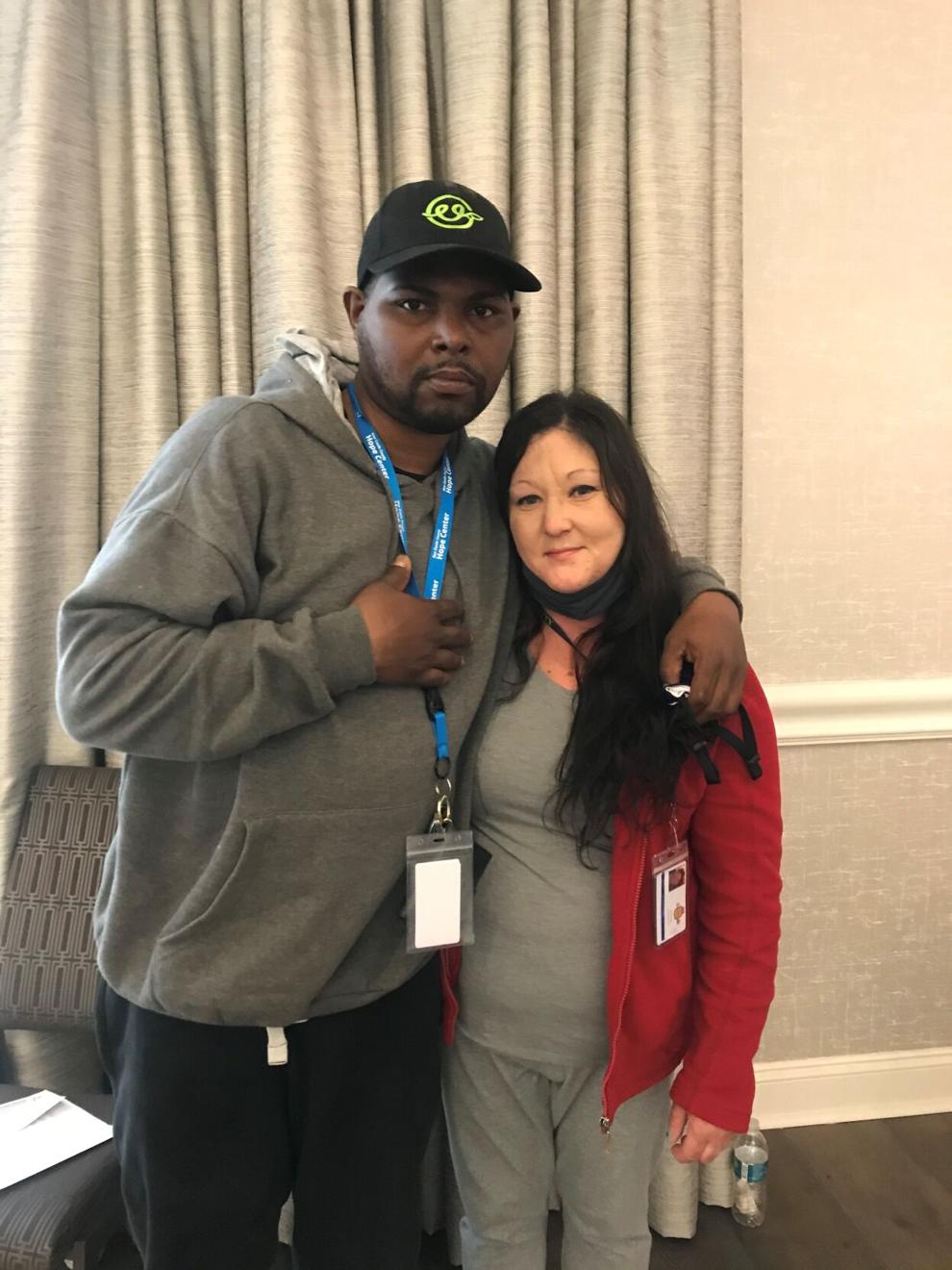 "Oh my God, she is excellent. She is excellent, excellent, excellent. She's got all of his medications under control for his stomach," said Kardose.
"Dr. Gibney is very gifted. She helps you out a lot; her spirit is beautiful," said Chavis.
And she's very caring, very, very respectful, understanding. She went back into all his records and made sure that all the medication she gave him would help him and not harm him in any way," Kardose said.
Gibney's goals fit with the Hope Center's overall mission of meeting people where they are.
"Going to them is our best chance of protecting, not only them  but getting the best amount of folks vaccinated in our state, "she told WDEL. "To forget them, is basically is saying that we've not done our job," said Gibney.
Her mobile team, consisting of 41 volunteer students studying medicine or nursing, goes anywhere.
"Now it's called the COVID Caddy," she laughed. "Because I have a Cadillac SUV, so [it has] all of the stuff that I need--testing supplies for COVID and now vaccines."
Gibney's mission is simple really--it's about taking care of people so they can have a good life. 
"This is not bougie. This is taking care of people where they live, but they come with baggage, and so we're trying to peel that onion off with worst first and get to the point where we've got a sweet spot for their life. And then we start doing the bougie stuff with exercise and all those other things that fill out my lifestyle...they deserve that."
"The dignity of life is that everyone deserves their best life, and so connecting with people on that level like you're just like me, you just had a different journey. I took a different journey, and I'm trying to get you back on a different journey for you."
And the Hope Center won't be their last stop, but Gibney will always be here for them.
"I guarantee you that we're going to have some folks that will return even after being launched, and that's OK, we'll catch them, and we'll try to launch them again.
Friday on WDEL in the final installment of Tales of Hope, you'll hear about the Hope Center's first successful launch--a woman whose time there proved so valuable, she's now ready to get out on her own.