New Castle County's doctor is in, and it's putting COVID on notice. 
"We are launching our new product. It's the first virus-killing filter treatment for air filters," said Thrupore President and CEO Franchessa Sayler Thursday. "As air flows through the filter, the carbon actually captures it and brings it close to the active ingredient, which actually kills viruses."
The genius of Dr. Filter lies in its simplicity, Sayler says, which only contains two ingredients: carbon, "which is essentially like charcoal,"  she says, and zinc oxide, which is "found in diaper cream." And it's had astounding results. 
"We have been able to demonstrate 99.99% efficacy against several different viruses," Sayler said. "So it should not only help prevent COVID from spreading, but also other future viruses and existing viruses, like the flu and other things."
The treatment is applied to air filters, so it's an appealing option for large institutions looking to make their buildings safer currently through more costly solutions like brand new HVAC systems. This treatment is simply applied to air filters purchased at an average home improvement store and placed into existing HVAC units. 
Thurpore and Dr. Filter were funded through a $167,000 New Castle County CARES Act Innovation Grant, which helped clear a path to EPA registration. 
"A year ago--almost exactly, like 51 weeks ago--I addressed my staff," said County Executive Matt Meyer. "I remember saying...we don't know what we're getting into here, we don't know how long it's going to be, and we really don't know what course this virus is going to take, but...we do know that, one way or another, innovation is going to get us out of this."
Meyer said that while companies like Merck, Pfizer, Moderna, and Johnson & Johnson are getting a lot of the recognition for their efforts in innovation, he's proud to see a New Castle County company playing a role. 
"A lot of that innovation is happening right here in New Castle County," Meyer said. "One of the first things we did is we put together an Innovation Taskforce to identify those innovative ideas in our community, in any industry in which they sat, to help us get out of COVID--both here in our community, and around the country and around the world."
The product was debuted in front of 11 Reads Way, the first office building to receive the Dr. Filter treatment.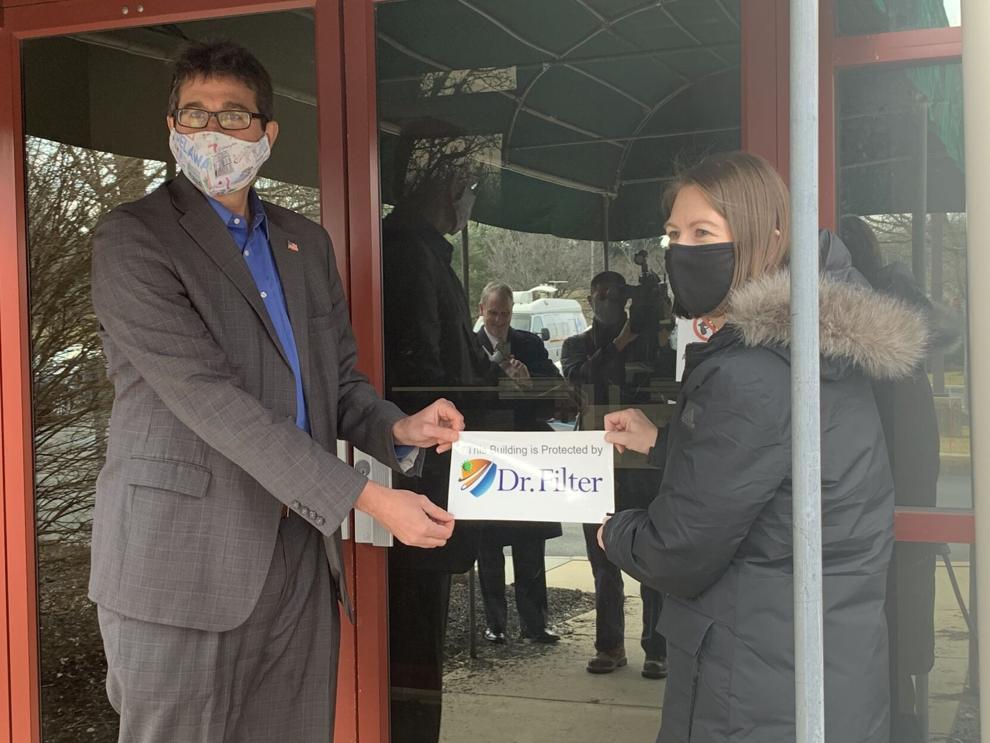 In addition to debuting Dr. Filter, Thrupore Vice President of Business Development John Currie says announced the company would also be making a donation back into the community that invested in them.
"We are giving away 1 million square feet of free treatments to New Castle County office buildings," Currie said. "That's a very big deal."
He added they don't have any companies or locations designated yet, but there isn't really any particular type of location off the table.
"We're looking at commercial real estate, anybody who has a building," Currie said. "This could include schools, it could include small buildings like restaurants. We're targeting larger office complexes, but it certainly would count if businesses want to check this out. So, I don't think there's anything we're not going to consider."
That type of reinvestment is what makes New Castle County great, Meyer said. 
"It's one of the real advantages of having leading technologies here," Meyer said. "One of the ways that local communities benefit, is you have entrepreneurs who care about the community...who prioritize not just getting their product out there, not just finding a market, but saying they care about the community and making sure people in the community are safe and that government buildings are safe is important to them."