With shards of glass heaped on the sidewalks of Market Street and security alarms blaring, dozens of volunteers came out to survey the damage and pick up the broken pieces on Sunday morning following a violent night.
The vibrant and revitalized section of downtown was the site of mayhem Saturday night after riots erupted following a separate, peaceful protest in the wake of the police killing of George Floyd in Minneapolis. Minneapolis police officer Derek Chauvin was seen on video kneeling on Floyd's neck for several minutes, with three other officers, standing by, watching. Chauvin faces third-degree manslaughter charges and was fired, along with the other officers.
The riot and looting in Wilmington mirrored incidents in several major cities across the country Saturday, including Philadelphia, New York, and Los Angeles.
Cars were vandalized in Trolley Square and Little Italy, but Market Street was hardest-hit. Stores like T-Mobile were looted, with cellphones strewn into the air, while windows were smashed on restaurants like Bardea Food & Drink, La Fia, and Merchant Bar, which were all ramping up to reopen for dine-in service Monday following an eight-week shutdown tied to the coronavirus pandemic.
Al's Sporting Goods at the corner of 2nd and Market streets, which has been in the city since 1935, had the inside of its store "completely destroyed" and looted and won't be opening regularly as planned when stay-at-home orders are lifted. Stores along Shipley Street were also damaged.
Some businesses had posted signs or painted on their windows "black owned" and those WDEL saw were undamaged.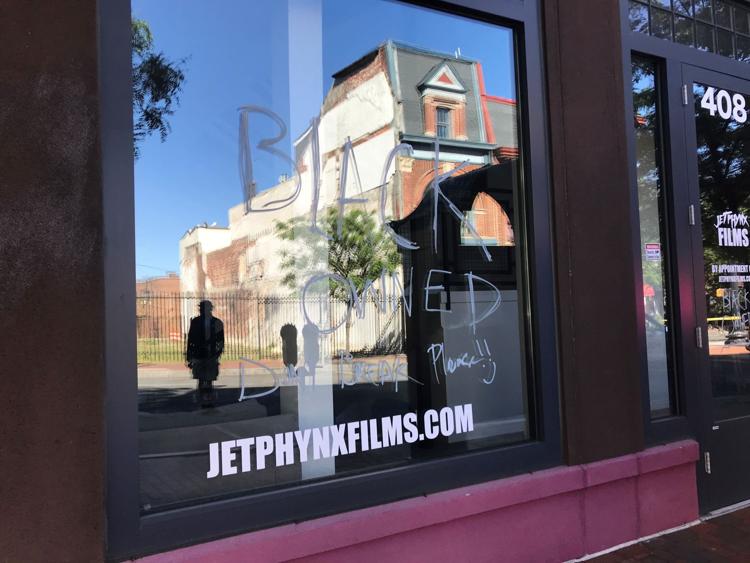 A community clean-up had been organized, but was canceled after city public works crews and Downtown Visions worked all night into the early morning hours to clean the streets. By 9 a.m., a significant portion of the evidence of destruction was gone. But the sound of saws and drills boarding up storefronts and police caution tape at every corner of Market Street were a stark reminder.
Erin Chudzik-Pryor of Wilmington is the wife of a veteran Wilmington firefighter, who was working Saturday night.
"We live in the city, and we love the city, and we wanted to demonstrate to our children that this can only get fixed when we stand together, and when someone needs help, you have to be the one to help," she said. "My husband and I have spent our life in community service; he helps people every day, and we need to see that, we need do demonstrate that for our two boys every day in our everyday lives, so we're here cleaning up because tomorrow's a new day."
Chudzik-Pryor called the riots scary and destructive.
"You worry about all the people...the rest of the community as well, and if we keep silent and don't speak against injustices, we're just as bad as those who are perpetrating the crimes--we have to speak up," she said.
Her son, Jude Pryor, 11, was sweeping glass by her side.
"I feel great about helping out; last night was scary," he said.
Jessica Fitzharris, 21, of Hockessin helped cleanup outside Dragon Cuisine, a Chinese restaurant at the corner of 4th and Market.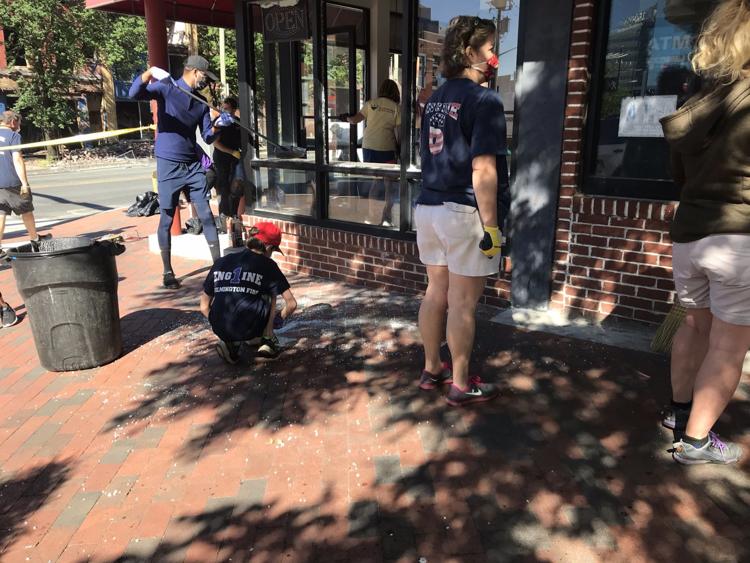 "Just a lot of broken glass, a lot of items, in the businesses on the ground and empty businesses, most of it was cleaned up, but then we came down here and saw that people were still trying to clean this up, so we jumped in to help," she said. "I really like that everybody, all these people are volunteers, and that we're here to help clean the city and help the people that were affected."
U.S. Congresswoman Lisa Blunt Rochester, who joined Saturday afternoon's peaceful protest for a time, was in tears surveying the damage Sunday.
"There are forces out here that don't mean us good, that don't care about our issues and just want to stir up trouble and stir up hate so they can then point a finger at us," she said. "Find ways to make your voice heard, but be heard, don't just be seen. We've got to be heard, and we've got to be able to see that change, I just came out here...I don't have all the answers, but I know we're tired, and I know that we've got to come together...we've got to love each other."
State Rep. Sherry Dorsey Walker, who represents Wilmington, had a broom in-hand as she sought to boost spirits.
"Peaceful protests are encouraged, disorderly conduct is completely discouraged, and when something shifts from being peaceful and it turns into disorderly conduct, you lose the message, and the message is that we are tired; we're tired of police officers killing people of color; we're also tired of black people killing one another as well, so in all of this, the level of frustration just keeps rising, and it does feel like a daily struggle from time to time."
"The symbolism of the knee being in Mr. Floyd's neck--it's unconscionable for 8 minutes 46 seconds, but we can't lose site of the messaging, and when there's violence in the community," said Dorsey Walker.
Wilmington City Council President Hanifa Shabazz called the rioting and looting evidence of years of trauma in Wilmington, rooted in social and economic inequities. 
"It's a clear sign that our babies are hurting. We know that no one really thought that the actions at all was appropriate, but it's just a sign of just how bad, remember, not only are we in a pandemic here in Wilmington, but we're also in an epidemic--a trauma--so how do you act when you're traumatized? Most of it is erratic behavior...on top of another trauma in brother Floyd's death--after awhile, the keg is going to pop, and that's just what happened here and across the country," she said. "There's no words to say at all that this is OK, but it's definitely a clear sign that we have to address the...issues of our children."
Dorsey Walker prays for future, peaceful protests and begged the community not to hurt Wilmington further.
"Do not loot the city, do not change this from what could potentially have been a social movement to shift everything, all the isms, and then shift it to something where it becomes a riot; it's totally unnecessary...just really think it through...we're working diligently to uplift our communities, our selves, and these are the kinds of things that don't lead to positive results."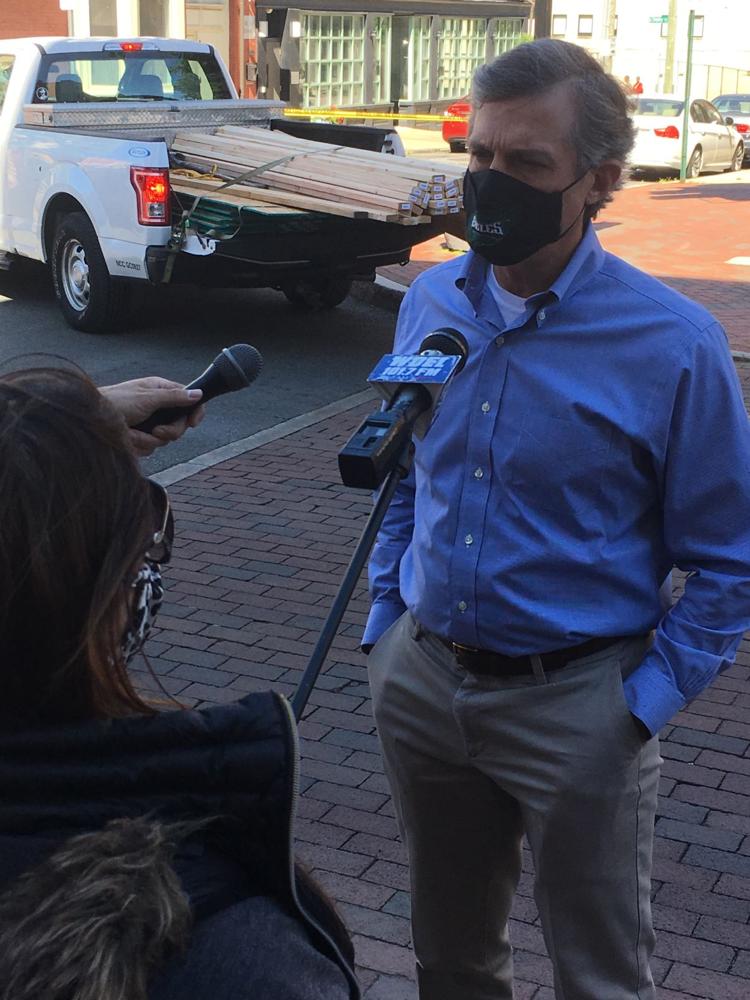 Governor John Carney called it heart-wrenching and noted violence is never the way.
"We have some serious problems we need to address, it starts with educating our youngest children," he said. "But this is not the way to make progress..it's just really difficult to see."
But in Wilmington, Sunday, he also saw optimism and hope.
"What's impressive is the positive energy I see among business owners and even ordinary Wilmingtonians have come out to help clean up, and that says a lot about our resilience; we need to be resilient, and we also need to address the serious issues that gave rise to this kind of destruction."