President Trump told reporters in the White House his administration is "fully committed" to serving justice for George Floyd, but said he believed the looters and violent protests are distracting from that goal.
"All Americans were rightly sickened and revolted by the brutal death of George Floyd," he said. "My administration is fully committed that for judge and his family, justice will be served. He will not have died in vain. But we cannot allow the righteous cries of peaceful protesters to be drowned out by an angry mob. The biggest victims of the rioting is peace loving citizens in our poorest communities. And as their President, I will fight to keep them safe. I will fight to protect you.

"I am your president of law and order and an ally of all peaceful protesters. But in recent days, our nation has been gripped by professional anarchists, violent mobs, arsonists, looters, criminals, rioters, Antifa and others."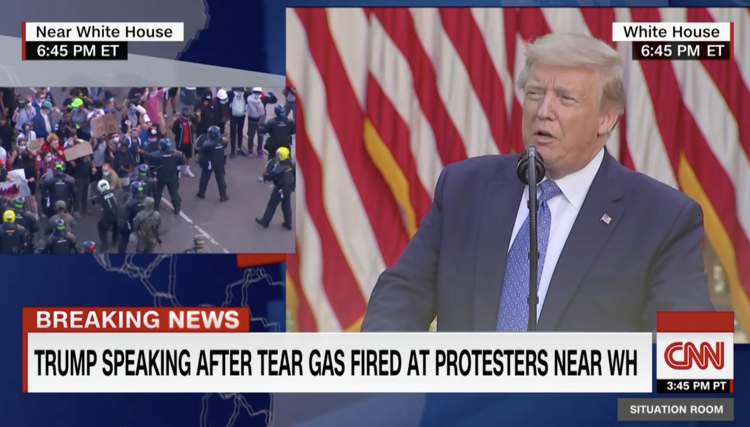 He invoked the Insurrection Act, an 1807 law, to mobilize the military around the country, which he said will "quickly solve the problem."
"I will deploy the United States military and quickly solve the problem for them. I am also taking swift and decisive action to protect our great capitol, Washington, DC. What happened in this city last night was a total disgrace," he said.

"Those who threaten innocent life and property will be arrested, detained and prosecuted to the fullest extent of the law. I want the organizers of this terror to be on notice that you will face severe criminal penalties and lengthy sentences in jail."
During his remarks, CNN reported loud bangs from the protests could be heard in the Rose Garden. 
Trump said he is taking immediate presidential action to "stop the violence and restore security and safety in America" and is mobilizing federal resources to stop rioting and looting.
Trump said his measures would be effective "immediately" and said he has "strongly recommended" to every governor to deploy the National Guard in "sufficient numbers that we dominate the streets."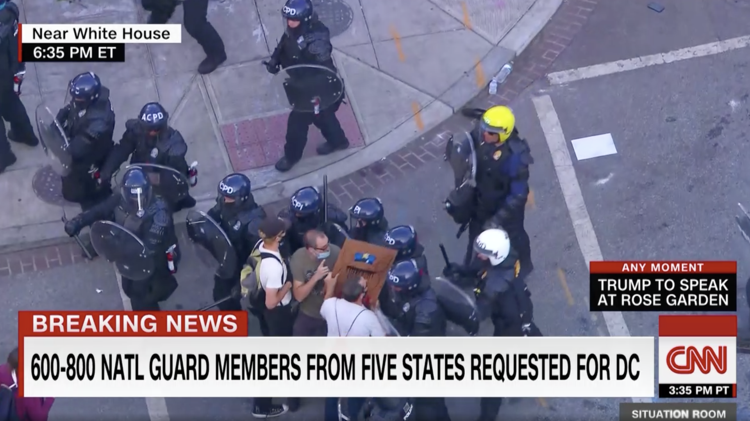 Trump said mayors and governors must establish an "overwhelming law enforcement presence until the violence has been quelled." If the city or state refuses to take the actions, Trump said he would deploy the US military.
The president said he is also taking "swift action" to protect the nation's capital including dispatching "thousands and thousands of heavily armed soldiers, military personnel, and law enforcement officers to stop the rioting, looting, vandalism, assaults, and the wanton destruction of property."
He also said the 7 p.m. ET curfew in the city will be "strictly enforced."
An additional 600 to 800 National Guard members from five states have been requested to supplement the DC National Guard responding to civil unrest.
"This evening the Department has been working with the Department of Justice and other officials and the city of Washington, DC, to provide sufficient forces for protecting the city and maintaining peace this evening," a defense official said.
"The stated goal is to help the city with their needs," the official added.
The entire DC National Guard, a little more than 1,200 personnel, have been activated.
The requests for additional National Guard forces were made to Delaware, New Jersey, New York, Ohio, and Utah.
A senior defense official said that not all of the forces will be carrying lethal weapons, but that some would, "should the President decide to arm them."
The official said the forces will be tasked with safeguarding "monuments, White House, property and generally helping the DC police and DC law enforcement respond to any threats on life."