It's been over 65 years since Roger Bannister cracked the 4:00 mile for the first time in history, and Saturday night, Kieran Tuntivate looked to bring that history to Delaware.
Tuntivate, who set a personal best with a 3:57.354 mile at the Boston University David Hemery Valentine Invitational in February looked to carry that form to his home state, and break the elusive barrier in the First State.
The fastest official mile run on Delaware soil - in a race with at least six starters - is 4:01.1 set indoors by West Virginia University's Morgan Mosser in 1971.
Tuntivate took to the oval at Saint Mark's High School with seven friends, including Saint Mark's coach Mike DiGennaro, who hosted the event under the lights in front of about 100 spectators.
On the 400-meter oval, Tuntivate had to run 4 laps, plus about 9 additional meters at the start.
At each lap point, he was very close to the pace, finishing at just about 1:00, 2:00, and 3:00 unofficially.
With a line of spectators socially distanced on both the outside and inside of the track, Tuntivate turned for home.
"I could not really see the clock until there was about 10 or 15 meters left to go, and by that point you pretty much know what you're going to run. The homestretch was a dig, I gave it all I have."
He crossed in 4:02.1, believed to be the fastest outdoor mile on Delaware soil, narrowly missing the state overall record, and running's most famous milestone.
Afterwards, Tuntivate was all smiles.
"It's so much fun. I was expecting maybe 15 or 20 people to come, it's just so cool that everyone in the Delaware running community can get behind something so fun, no matter the time."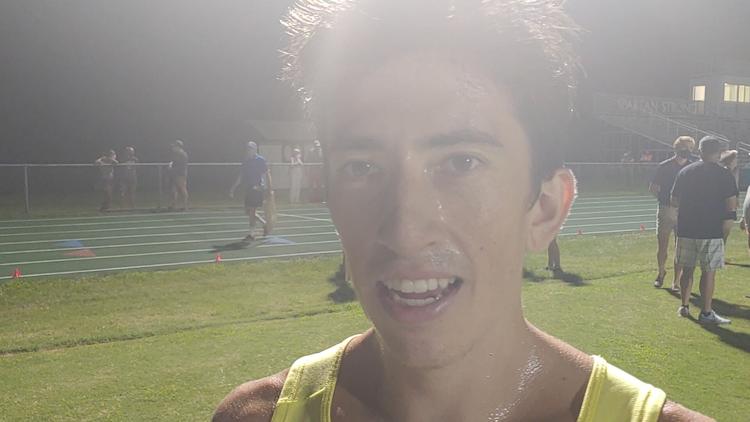 He added that Saturday's effort is only more fuel to his fire to make sure the record in Delaware soon begins with a "3".
"It would have meant a lot. It's going to happen eventually, if it's me or someone else. It's fun to be a part of the group that's trying to get it done in Delaware."
Tuntivate was a championship runner at the Charter School of Wilmington before going on to Harvard, and said he's matured a lot since he left DIAA competition.
"It's the same race, but it's completely different. The runner that I am now is in every way different. I'm more experienced, I'm smarter, tougher, and four more years stronger."
Tuntivate's pacers were DiGennaro, Darian Sorouri, Chanon Tuntiate, Iddriss Iddriss, Chris Slate, Tommy Higley, and Eamon McCoy.
When he was done, Tuntivate thanked the crowd for coming out on a slightly humid Saturday night.
"I'm sorry I couldn't do it this time, but I promise I'll keep trying, thanks so much for coming." 
Tuntivate said besides trying to crack the 4:00 barrier, his major goal is to qualify for the 2021 Tokyo Olympics, where he would represent Thailand. 
He said he needs to either be ranked in about the top 60 in the world, or throw out a qualifying time, to become eligible to compete.
Roger Bannister first broke the 4:00-mile in 1954, it feels like that day is coming soon to Delaware.