A year after the University of Delaware came under fire from state lawmakers for a lack of diversity and low in-state enrollment, President Dennis Assanis touted achievements in both areas even as the university stares down a $250 million deficit and declining enrollment amid rising costs due to the ongoing COVID-19 pandemic.
At its budget hearing before the Joint Finance Committee Thursday, February 4, 2021, the university requested $126.3 million in funding from the state, about $1.3 million more than the amount it received last year. The funding request matches what Gov. John Carney's budget proposal had allocated to the university.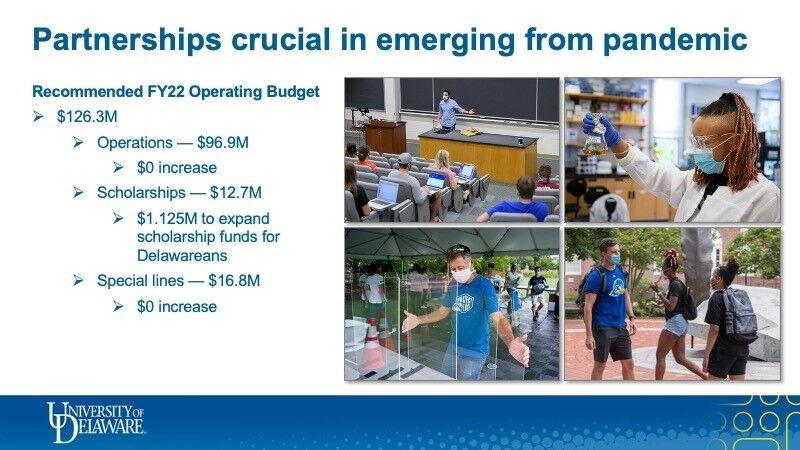 UD projects it will be feeling the effects of its massive budget deficit through 2025. In an effort to close the $250 million gap, which Assanis said amounts to a quarter of UD's overall spending, the university instituted layoffs, early retirements, pay cuts for senior administrators, including Assanis, as well as pay cuts from November through June for non-unionized staff, a hiring freeze, and cuts to discretionary spending and deferred maintenance.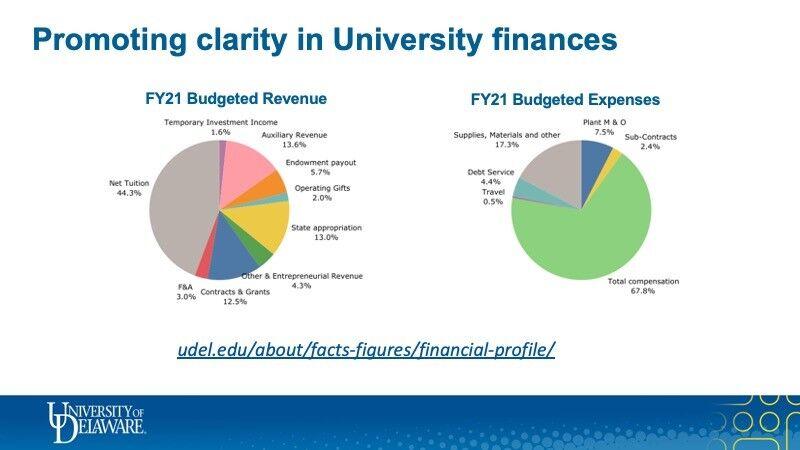 "These are extraordinary times, you had to make a lot of extraordinary adjustments. I know that you're working hard. I appreciate the fact that there's been some shared sacrifice among the senior leadership," said JFC co-chair Trey Paradee (D-Dover). "Several months ago many legislators received some outreach among employees at the university. There were a lot of concerns that some of your employees on the lower end of the pay scale were really being adversely affected by cuts and layoffs. It is somewhat reassuring that there has been some shared sacrifice."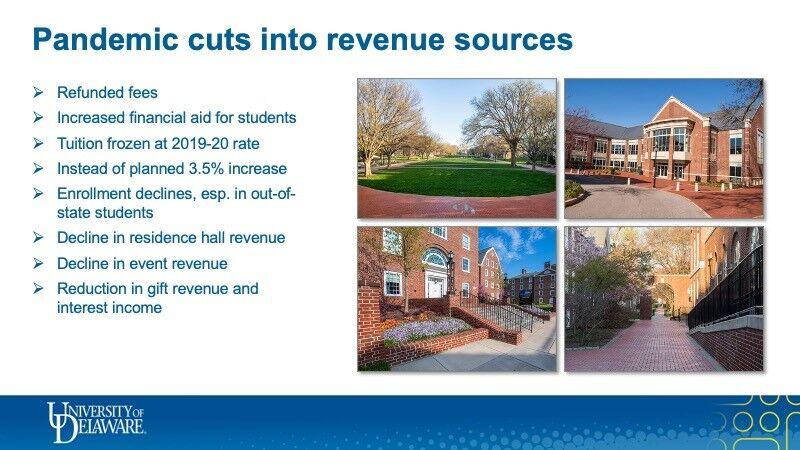 The university also took $102 million from its $1.35 billion endowment, which state Rep. Kim Williams (D-Stanton), pointed out was a quarter of the state's entire budget.
"[Taking from] the endowment means that we have reduced by about $4 million our future annual dividends that could have been used for scholarships and other programs. And that's not just one year; it's every year. While this was necessary to deal with our immediate situation, we cannot sustain this level of spending over the long term," Assanis noted.
But as UD tightens its belt, it's being forced to spend more. UD has had to spend funds on COVID-19 testing, personal protective equipment, and specialized cleaning supplies and protocols. It's also spent $6 million on technology to provide a supreme virtual learning experience for students and faculty. To mitigate those costs, UD did receive $32.5 million from the governor's Higher Education Relief Fund.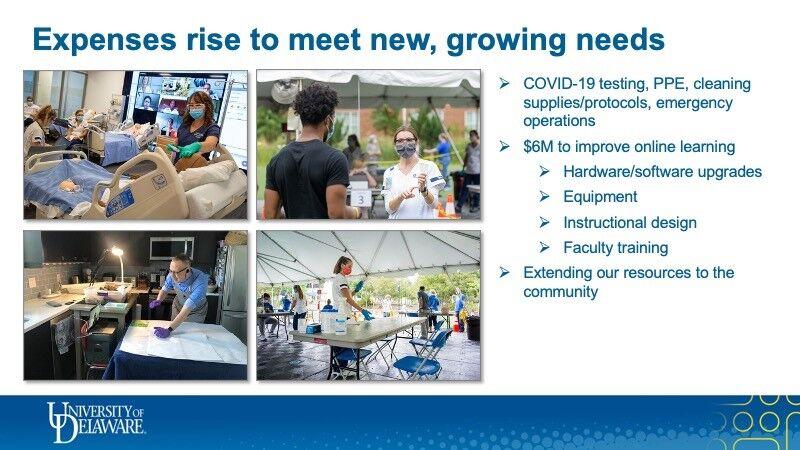 Additionally, $12 million of $30 million in federal aid went to increased financial aid to help families hard-hit by job losses tied to the pandemic. The university also froze tuition at last year's level, foregoing a planned 3.5% tuition increase.
But even with these boosts, enrollment for first-year students is down 10% and there's a 5% drop in returning sophomores. Of those, 3.5% are out-of-state students, who pay higher tuition rates. 
"Many students and their families were understandably concerned about their safety on a college campus, and many others were simply unable to afford tuition, room and board because of the economic downturn," said Assanis. "Universities around the nation are experiencing similar--if not worse-- shortfalls in their enrollments this year.
Assanis touted efforts to increase in-state enrollment, noting that they offer admission to 90% of in-state residents who apply, even though that pool is smaller than out-of-state applicants.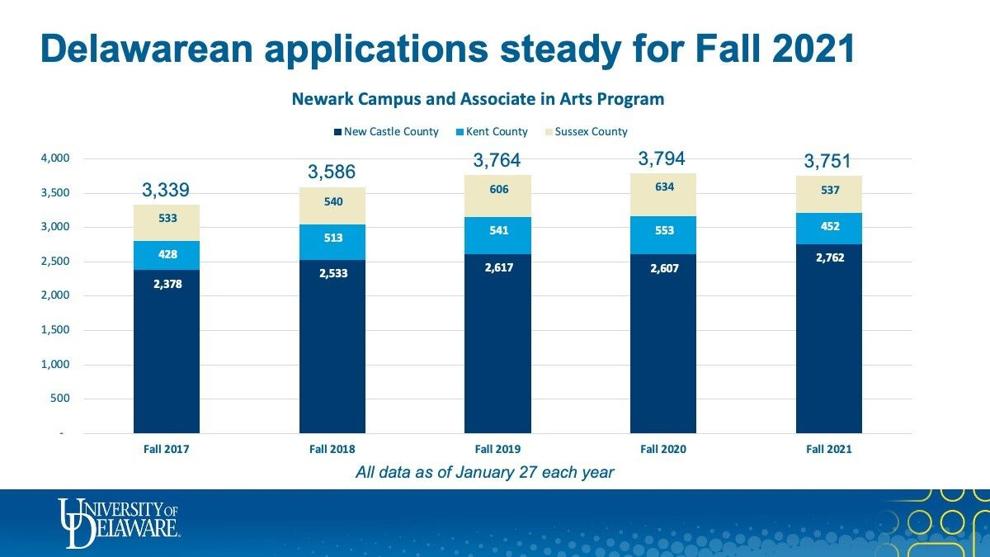 "Delawareans make up about 40% of our student enrollment, even though they account for less than 12% of our applicant pool. The University of Delaware is absolutely committed to remaining accessible to Delawareans, and we will find a place for every qualified state resident who wants to attend," said Assanis.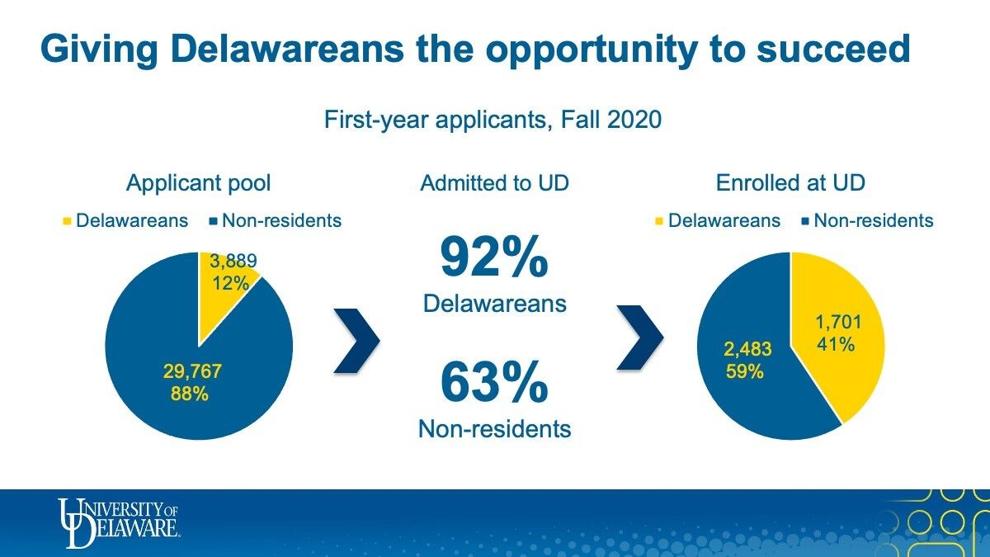 Paradee applauded UD's improvements amid challenging times.
"It's very clear that you have taken a lot of our comments and a lot of our concerns to heart," said Paradee (D-Dover). "A lot of what you had to say today, especially, talking about expanding opportunities for Delawareans in the lower part of the state, you were certainly speaking my language."
In his presentation, Assanis noted diversity is up 21% from five years ago. 
"We are pleased to note that 33% of our Delaware-resident applicants this year are Black, Hispanic or other underrepresented minorities. We've seen this number increase consistently every year," said Assanis. "The diversity of our applicant pool parallels the diversity of our student community. Right now, 26% of our Delawarean undergraduates come from an underrepresented minority group."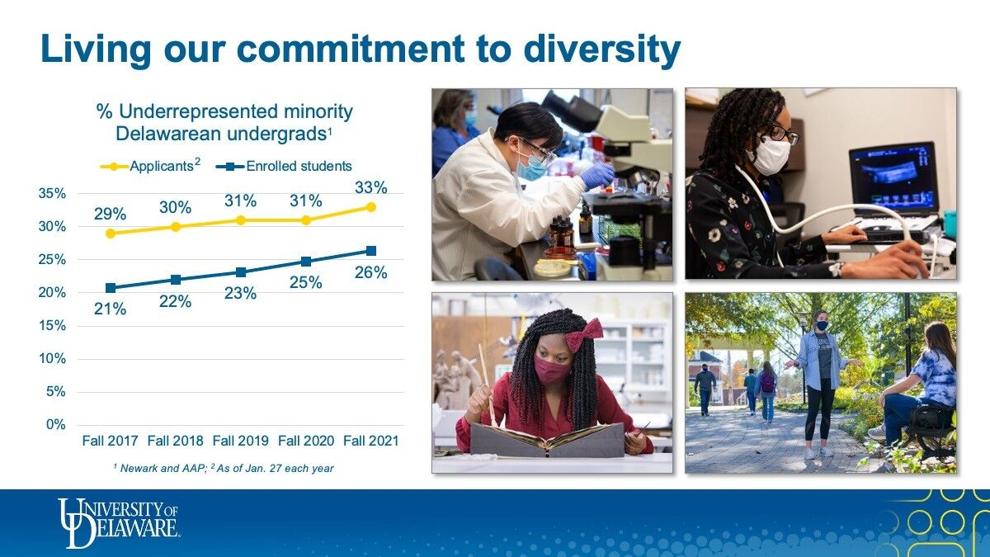 State Rep. Laura Sturgeon (D-Brandywine Hundred), who's an educator and a UD alum, echoed Paradee's comments, saying it's "very noticeable" UD has made strides in areas of concern identified last year.
She called the university's Early College Credit Program--a new initiative that aims to strengthen the pipeline of students from local high schools to UD, "music to her ears." The free dual-enrollment program allows high school students to earn UD credits at zero cost with nearly 300 students from 13 schools in all three counties taking part in the opportunity.
"In some of those schools, only 50% of the graduates go to college, so we hope this program attracts some students to UD who never thought they could attend or afford college. This year, nearly 300 students from 13 schools in all three counties have registered to participate," said Assanis.
"It sounds like you are making a real effort to support those students who may becoming out of their high school programs in Delaware with some areas where they still need to grow, but if given the proper supports can be very successful at the University of Delaware," said Sturgeon. "It's just really good to hear that you acknowledge that there are students who come to the who are not quite there, but almost there, and you are trying to help them kind of close the gap...keep doing that because often those...are the students that come from more disadvantaged backgrounds."
Assanis said he's proud that UD encouraged 500 more students from Delaware, who had not yet met the college-ready benchmarks, to apply.
"To me, that's a sign of success, and if we can lead those people to graduation, that's amazing," said Assanis. "So every time we can help a person who did not quite have the same opportunities in life in terms of preparation, to lead them to the finish line that's just a moment of pride for us."