University of Delaware students have issued a list of demands regarding changes they'd like to see surrounding the handling of domestic violence, sexual assault, and gender-based violence on college campuses as they grow weary of a lack of university action in the wake of a violent off-campus assault between students.
UD sophomore Kiera Spann organized protests on-campus amid mounting frustration among students after the university's silence in the days that followed the brutal domestic assault of a student a Newark apartment just five minutes from campus.
Spann said students feel "unsafe, scared, and at-risk" on-campus due to what she called a lack of "safety protocols and enforcement" and "too many" unreported incidents of sexual assault and domestic violence.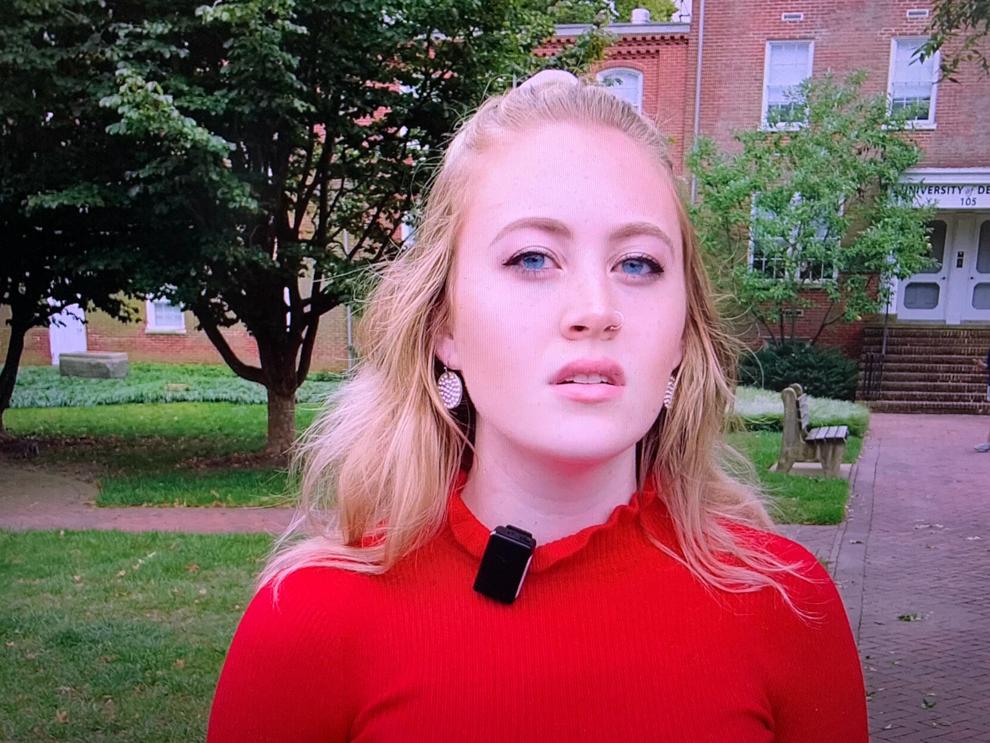 "Many of these perpetrators still walk around our campus, go to class, and participate in extracurricular clubs and activities."
Brandon Freyre was charged with kidnapping, assault, strangulation, and terroristic threatening in connection with a violent assault inside a Newark apartment Friday, Oct. 8. Court records, obtained by WDEL, allege he beat the victim, spray-painted her eyes, threw a fan at her, choked her until she passed out, and then threw her down the stairs.
It took the University of Delaware four days to issue its first statement on the matter further fueling students' anger. When the university did speak out hours after the first protest Tuesday, Vice President of Student Life, José-Luis Riera, and Fatimah Conley, interim chief diversity officer, said:
"We are writing to acknowledge the harm inflicted, denounce the violence reported, and call for our community to come together and advance our goals of a campus climate free of all violence, including gender-based violence and violence against women."
They added Freyre has been "separated from campus." A university official confirmed to WDEL his separation includes a ban from campus, classes, and activities.
A petition circulating online calls for Freyre's expulsion.
Spann, at the time, called the university's initial statement "too little too late." She organized a second protest Wednesday that drew hundreds who shared their powerful stories of abuse.
Since then, University of Delaware President Dr. Dennis Assanis met with students, including Spann on Thursday night. He also sent an email to students and staff, obtained by WDEL, apologizing for the university's delay in acknowledging the violence.
"While the university's operational response was immediate, our community outreach following the incident was not as timely as it could have been, thus, regrettably creating a perception that our campus is unsafe. We simply did not live up to our aspirations and we all want to do better," he wrote.
Spann said students bravely voiced their concerns in an open forum with Assanis and other university officials. 
"The students were pretty brutal, they did not hold anything back, but the university was genuinely very, very receptive to the things we were talking about. Obviously, words don't speak the same way that actions do so I hope that they do follow-through on some of these things," she said.
In the email, Assanis spoke of assembling a task force to suggest best practices and recommendations to improve management of all efforts pertaining to safety, crime, and sexual violence in the future. 
Students are also hoping to host a vigil on-campus for survivors of sexual assault, domestic abuse, and gender-based violence next week.
"The university is helping us plan that; they really want to be involved, and they actively told us last evening that they know that there was an issue communication-wise, and they asked us 'what can we do? What can we make better to better improve communication between the administration and the students?'" Spann said.
Amid moving, raw stories from empowered survivors Wednesday, students also shared a list of demands in hopes of sparking change on-campus.
"They are being very pro-active, so I'm actually pretty happy with their response right now. Long-term, I'm hoping it pans out...but we do know a lot of times once these incidents are no longer the center of attention, they kind of get swept under the rug or swept to the side," said Spann.
Spann also met with legislators state Rep. Paul Baumbach and state Sen. Kyle Evans Gay Friday.
"We talked about creating better Title IX policies and resources for survivors, legislatively...they are very very supportive about helping us get in contact with important people that we need to talk to as well as push through legislation, hopefully, that will help improve the safety of everyone involved," said Spann.
UDel students demand change
Among the demands issued on behalf of many students, they want to see compliance rates rise among members of frats and sororities in their participation in a comprehensive hazing, alcohol abuse, and college sexual assault prevention program designed specifically for fraternities and sororities.
"While these are required of most organizations, sadly, this rule is typically not enforced, and some fraternities have exceptionally low completion scores, some as low as 26%," she said.
The demands list calls for an 80% completion rate in order for Greek organizations to remain active on-campus.
Their second demand calls for the university to enforce its code of conduct policy against complicity.
"We would like to see the university...placing members of organizations on probation or suspension, if they're found to have previous knowledge of domestic abuse, sexual assault, or gender-based violence event occurring and failed to report."
A third demand calls for the Interfraternity Council, IFC, to require all colleges and universities to implement new leadership that focuses on women's and students' safety.
The students are asking that city of Newark install blue lights across the city. Some already exist on UD's campus.
"Many students live off-campus, and it's unrealistic they'll be able to get to a blue light in time, if they're in trouble," the collective said.
They're further asking that police ensure all blue lights on-campus are functional.
"Many are broken or unresponsive, proving useless in a student's time of need," they said.
Lt. Andrew Rubin said the city has installed its own blue light phones around campus, including on the James Hall and Pomeroy trails and noted developers who are building student housing have added safety measures like lighting, cameras, and emergency phones.
"Most importantly, the city has installed a large network of its own cameras, which are monitored by our police communications center," said Rubin. "We are always willing to discuss additional ways to improve the safety of the Newark community."
Lastly, the students want to see all fraternities and organizations on UD's campus focus on issues of domestic violence.
"Inviting survivors and speakers of domestic abuse and sexual assault to their chapters, so they can better understand how women--and all students--feel being the targets of violence," they wrote. "Education is the most useful tool to engage and activate change in our community."
Spann said Greek life organizations in campus stood alongside survivors at Wednesday's protest and have been supportive of their demands.
"At least 40% of the people that were present at the protest were members of Greek life," she said. "I know the IFC and the [Panhellic Conference] both of those councils have already met and are already implementing new safety [policies before we even asked them to, so they're definitely taking the initiative on that."
Spann also had a meeting Friday with university officials to discuss their demands.