Chanting "protect women" and carrying signs that said: "My college fund shouldn't pay for my funeral" and "Protect your students not your reputation," University of Delaware students protested a second day after a violent off-campus assault between students sparked no immediate reaction from their school.
University of Delaware sophomore Brandon Freyre, 20, of Arnold, Maryland, was charged in connection with a brutal attack on a fellow student that occurred in an off-campus Newark apartment.  According to court records, on Oct. 8, 2021, Freyre beat the woman, sprayed her eyes with spray-paint, threw a fan at her, broke her phone, choked her to the point of unconsciousness, and then threw her down a flight of stairs while threatening to kill her so she couldn't "call police and ruin his life." It's unclear whether Freyre has an attorney. 
Protest organizer Kiera Spann, a sophomore, at the University of Delaware said Tuesday's protest came amid growing frustration over the university's silence after the attack and in the days that followed. Spann pointed to an incident last week after a University of Delaware student shot at people with a BB gun noting they received a notification within 15 minutes, but after this alleged assault, she said they heard nothing.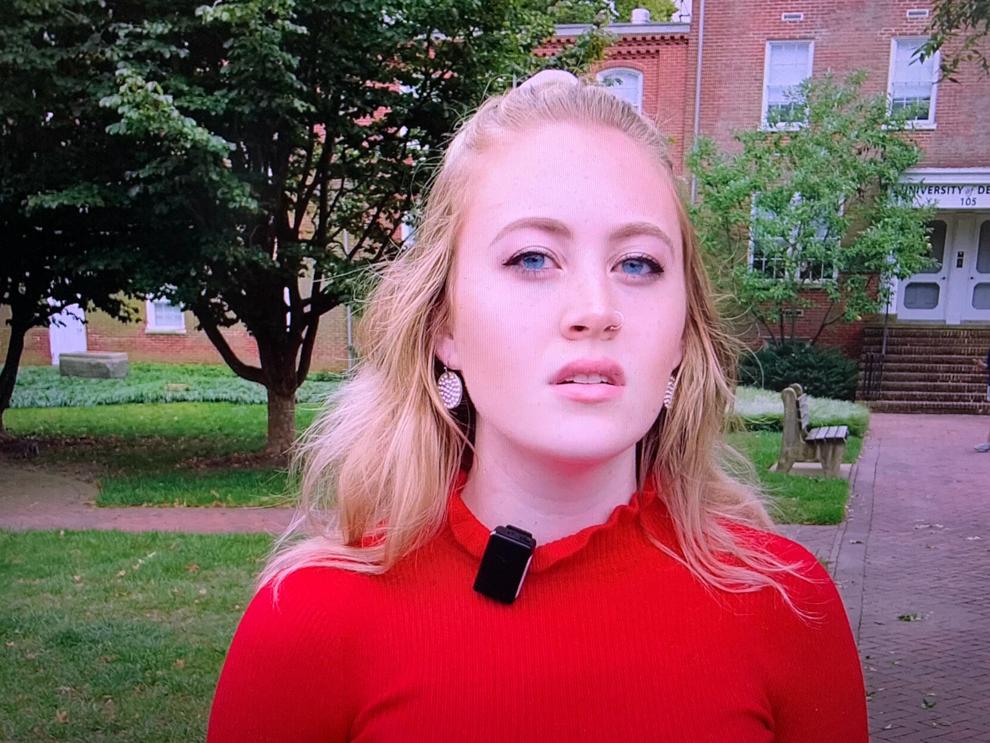 "Yet when something like this happens--such a violent occurrence between students--even if it happened off-campus, it was less than five minutes off-campus--and the fact that it took four days to get any sort of response...until everything was big on social media they were posting as normally," she told WDEL.  
Hours after Tuesday's protest UD's Vice President of Student Life, José-Luis Riera, and Fatimah Conley, interim chief diversity officer, issued a statement:
"We are writing to acknowledge the harm inflicted, denounce the violence reported, and call for our community to come together and advance our goals of a campus climate free of all violence, including gender-based violence and violence against women," they wrote.
They added the incident prompted "immediate" action on the part of the university, noting that Freyre has been "separated" from the university and expelled from his fraternity, Kappa Delta Rho. A university spokeswoman clarified "separation" does not mean expulsion--it means Freyre has been barred from campus, including participation in all classes and activities. A petition, by students, which had more than 12,000 signatures by Wednesday, is also calling for Freyre's expulsion.
The university also mentioned resources that are available for students, including a 24-hour support line reachable at 302.831.1001. Students can also text "UDTEXT", or "STEVE" for students of color, to the phone number 741741 to connect with confidential text message support. The Center for Counseling and Student Development is also open Monday through Friday for students.
Spann called the university's statement "too little too late."
"Seeing how something as violent as this would have happened and having the school not react at all...and not saying anything until we physically had to protest and post about it, and then them still not reacting after the protest and not until things started blowing up online, it just seems very performative."
But regardless of how the attention ended up on the university, she's glad the issue of violence on campus is now getting the attention it deserves. 
"It definitely is scary knowing that they care more about the way that they are perceived than us, and they don't do anything about it until it becomes a problem," she said. "Regardless, this is a problem for universities across the country. Universities care more about their reputation than their student body." 
Spann said she didn't know the victim of the attack, but she's since reached out to her to thank her for her efforts and is recovering.
A second protest occurred Wednesday at 5 p.m., wherein Spann and others planned to issue a list of demands to the university, pushing for change.