After six weeks of declining initial unemployment claims, the Delaware Division of Unemployment Insurance reported Thursday an increase in initial claims.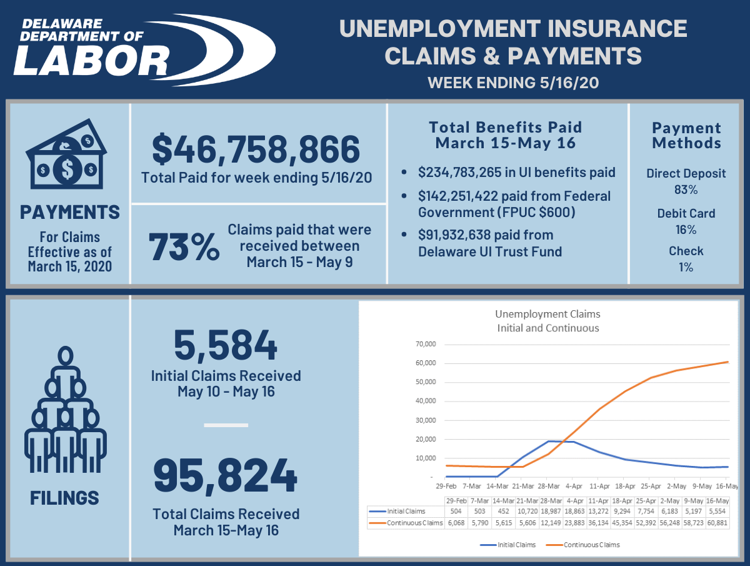 According to officials, Delawareans filing initial unemployment claims for May 10, 2020, through May 16 reached 5,584. It wasn't completely unexpected, as the state launched it's Pandemic Unemployment Assistance Program and new filing system for the self-employed and independent contractors at the tail end of last week. 
"[The increase] was slight, and I think part of the increase in initial claims, we believe we identified potentially 1000 individuals that would qualify or may be eligible for the Pandemic Unemployment Assistance," said Darryl Scott, director for the Division of Unemployment Insurance. "Some of the messaging we've been communicating over the last couple weeks is, the first step in applying for pandemic unemployment assistance is you have to submit a regular unemployment claim, be determined ineligible, and then you'll be notified when we've transferred your information to the PUAP system. We think a portion of that increase is related to independent contractors and others submitting their initial applications...We identified over 14,000 individuals that may be qualified, and we loaded their information in the system...We have had a strong response and we are expecting a large number of individuals to to apply for assistance."
The previous week-by-week initial claim breakdown were as follows:
March 15 - 21: Initial Claims - 10,720
March 22 - 28: Initial Claims - 18,987
March 29 - April 4: Initial Claims - 18,863
April 5 - April 11: Initial Claims - 13,258
April 12 - April 18: Initial Claims - 9,294
April 19 - April 25: Initial Claims - 7,754
April 26 - May 2: Initial Claims - 6,183
May 3 - May 9: Initial claims - 5,197
May 10 - May 16: Initial claims - 5,584
Just shy of 20% of Delaware's workforce remained unemployed, as Scott put his division's estimation around 19%. While Delaware plans to enter Phase I of reopening on June 1, 2020, continuing claims haven't begun decreasing, though Scott identified some trends that people may be starting to head back to work. 
"We haven't seen a decline in the numbers. In fact, the number of continuous claims went up again this week," he said. "So we're not seeing a large number of people come off of unemployment entirely. There are people who are reporting wages, which would indicate that they're working part time and with the beaches reopening this weekend and businesses beginning to resume, we are hearing from employers of their intent to reopen and bring people back to work."