A 9-year-old girl, who was critically hurt in a crash when a tractor-trailer overturned along Interstate 95, outside Newark, Tuesday night, has died.  
Delaware State Police confirmed the girl died at A.I. duPont Hospital for Children Wednesday morning from injuries she suffered in the crash.
The crash also killed a 61-year-old Middletown man and injured three others.
According to authorities, a 2014 Kenworth tractor-trailer being operated by a 39-year-old Fairmont, North Carolina, man in the far right lane plowed through three vehicles in front of it as those cars slowed to stops due to congested traffic along I-95 southbound, a half-mile north of Delaware Route 72, around 4:45 p.m. on September 24, 2019. 
The 61-year-old Middletown man operating a 2014 Nissan Sentra was struck by the tractor-trailer first and forced across all the southbound lanes, coming to a rest in the far left lane, according to authorities. He was pronounced dead at the scene, and identification is pending notification of the next of kin. 
A 49-year-old Newark woman operating a Honda CRV directly in front of the Sentra, and a 45-year-old Middletown man in a Toyota Highlander, directly in front of the Honda, were then both forced off to the right side of the road and down an embankment, police said.
The woman was admitted to Christiana Hospital with serious injuries; the child in her vehicle was the 9-year-old who had died.
The Toyota operator suffered non-life-threatening injuries.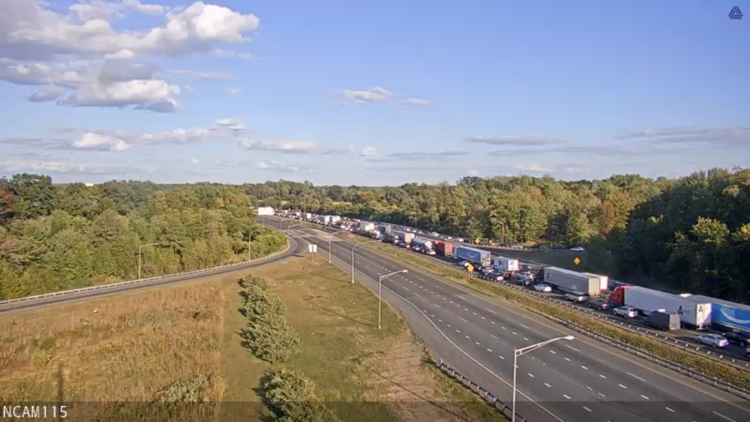 After striking all three vehicles, the tractor-trailer veered left, overturned on its right side, broke through a guardrail, and overturned further, wheels pointed in the air. It came to a rest in the grass median and partially in the left lane of I-95 northbound. 
The tractor-trailer driver suffered non-life-threatening injuries. 
I-95 southbound was completely shut down for roughly seven-and-a-half hours while the scene was investigated and cleared. 
An investigation is ongoing and anyone with information regarding this incident is urged to contact Delaware State Police at 302.365.8484.