Reports of an active shooter on Delaware State University's Dover campus have been unfounded, according to police and the university, and a campus lockdown was lifted.
"We have no reports of shots fired, no reports of any injuries, or any kind of incident," M/Cpl. Mark Hoffman with Dover Police confirmed to WDEL.  
University spokesman Carlos Holmes told WDEL there's no active shooter on-campus.
"Some of our students got an anonymous text message about a potential shooter on campus; they reported it immediately, and immediately our active protocol was activated, which meant all buildings were locked down, and students, faculty, and staff were directed to stay in those buildings while our university police did a search of the campus with assistance...they found nothing," Holes said in an interview.
Holmes could not say exactly how many students received the threatening text message.  
The lockdown was lifted around noontime.
Prior to the investigation, the university sent an "Active Shooter Alert" to students at 9:57 a.m. on September 17, 2019: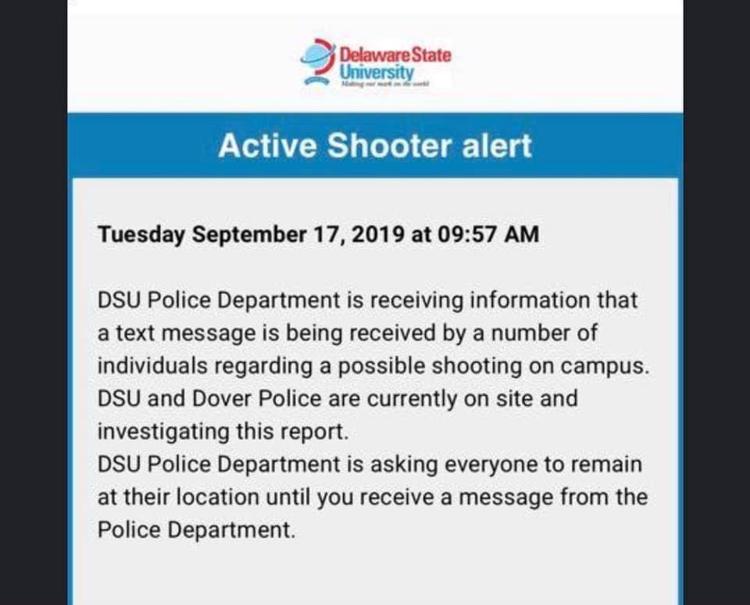 The message asked the campus' 5,000 students and additional staff to remain "in place" until further notice.  
"They were pretty cooperative, too...because when you have police searching the campus and the buildings, you don't want people walking out and making them think that they're possible suspects, but they were very cooperative, and police were able to do their work," said Holmes. 
Classes were canceled Tuesday and convocation was postponed as a result of the incident.  Class will resume, as normal, Wednesday.  
During the incident, WDEL went to DSU's website, under the alerts section which mentioned nothing of the campus lockdown.  
"Websites are the last place people go to for this kind of thing. Our priority is more in terms of activating the emergency alert system, but...point taken," he said.