Update, May 8, 5:20 p.m.: A man who exchanged gunfire with police after shooting two people in the Delaware Veterans Memorial Cemetery off Chesapeake City Road Friday morning was "located deceased" in the wooded area where the exchange with authorities took place.
Police said there is no current threat to public safety and the area is secure. An investigation is ongoing, so those in the area will continue to see a heavy law enforcement presence, authorities said. 
 ---
WDEL's Mike Phillips confirmed with authorities troopers arriving in the 2000 block of Chesapeake City Road located a male and female victim at the scene, and subsequently exchanged gunfire with the suspect. 
The suspect then fled into the woods, which back up to Brennan Estates. It is one of several area neighborhoods currently on lockdown where individuals are being ordered to shelter in their basements, according to residents communicating with WDEL.
A large perimeter was established about the wooded area between the cemetery and the Brennan Estates community. An aerial unit was assisting with the search.   
Two Middletown ambulances moved into the scene under police escort to retrieve the victims, then moved back out. There were no injuries to law enforcement currently reported, thought dozens of shots have been reportedly heard  from the woods along Route 896, just north and east of the cemetery complex. 
There was no information available regarding the identities of the victims and police has so far not confirmed any details of the suspect.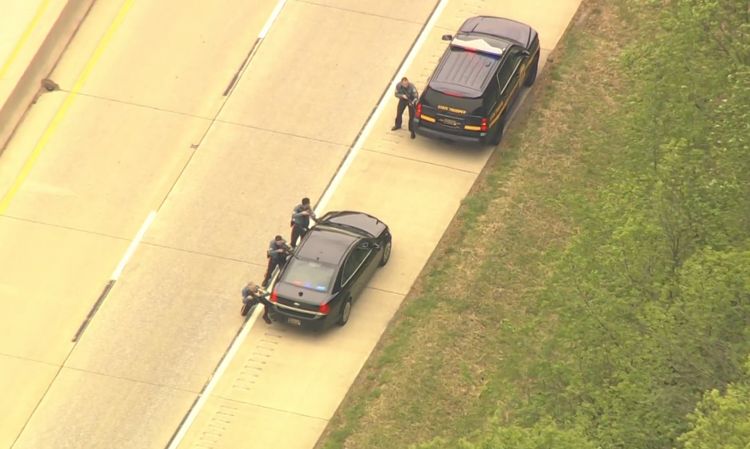 "Police have concentrated on that woodline as far as setting up perimeters and reportedly, have now taken fire themselves from the woodline," he said. "They are using the median wall to barricade; this continues to be an unfolding situation here."
Roadways in the area reopened at around 5:40 p.m.
The Delaware Department of State, which oversees the Memorial Cemetary through its Delaware Office of Veterans Services, said 12 employees were working at the time of the incident. 
They said they sheltered in a building on-site, and were released, unharmed, at 3:30 p.m.
A memorial service had just taken place at the cemetery chapel just before the reported shooting, but all had departed, and there were no other visitors.