Delaware State Police announced the shooter at the Delaware Veterans Memorial Cemetery was a 29-year-old Middletown man, who was found dead following a standoff with police and a double-shooting Friday afternoon.
A firefight of around 50 gunshots between police and the gunman was heard by WDEL's Mike Phillips in the area woods between the cemetery and Brennan Estates where the 29-year-old was found. The two-minute altercation took just place just after noon. It's not clear if the shooter was killed at that point.
Police said an elderly husband and wife were shot on cemetery grounds. The 85-year-old woman was pronounced dead at the scene while her her 86-year-old husband remained in critical condition at a local hospital.
Delaware State Police arrived at the cemetery where the couple was shot near the mausoleum around 10:15 a.m. on May 8, 2020, prompting a manhunt in the woods behind the cemetery.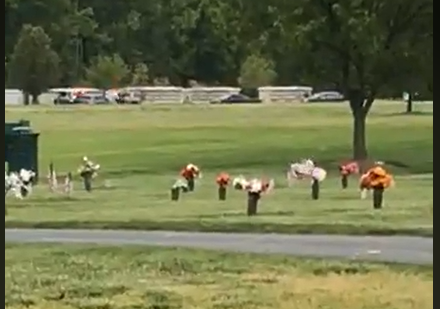 A large perimeter was established in the wooded area between the cemetery and the Brennan Estates community. Local residents were asked to either shelter in their basements or evacuate the area for several hours at the height of the altercation.
The Delaware Department of State, which oversees the Memorial Cemetery through its Delaware Office of Veterans Services, said 12 employees were working at the time of the incident. 
They said the employees sheltered in a building on-site and were released, unharmed, at 3:30 p.m.
A memorial service had just taken place at the cemetery chapel just before the double-shooting, but all had departed, and there were no other visitors.
Governor Carney acknowledged the incident at the beginning of his bi-weekly press conference.
"It's really sad news to think about that kind of event in what is really a sacred ground and a final resting place for men and women who have served our country so valiantly - the Delaware Veterans Cemetery."